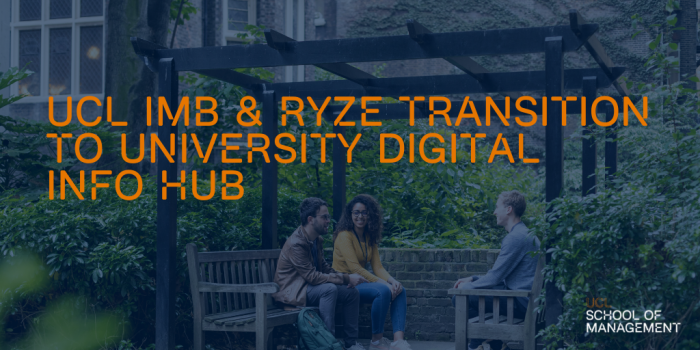 New beginnings can be challenging, especially when it comes to periods as major as transitioning to university. UCL students this year have many new beginnings to look forward to - for some, it will be the first time they meet their peers in person, and study on campus.
In the past, students have mentioned several aspects they wish they knew before coming to university, ranging from how to rent a flat to how seminars work. Our team at UCL School of Management listened to these suggestions, and we are excited to announce the launch of the IMB & Ryze Transition To University Collection.
What is it?
The collection has been launched as a pilot project and is available for first and second year IMB students to access, and is essentially a digital info hub containing videos and articles covering all the topics that former and current students reported relevant when coming to university. It is all broken down into sections called tracks, from a First Week checklist that no fresher wants to miss out on to a track covering everything one should know about finding a place to live in London. The best part is that IMB has collaborated with the Ryze app for this endeavour, meaning every student with the app installed on their smartphone (whether they are on Android or iOS) can enjoy the collection.
What is unique about this project is that it is made for students by students. The content creators and editors for the collection are either former or current IMB students, who give honest and very detailed insights into their experiences so far.
"We really wanted the whole collection to feel very friendly for students. Often times when information comes from a place of authority, like from a teacher or administrator, students do not receive it with the same warmth and openness - it feels more like formal instruction rather than friendly advice. For this reason, videos in the IMB Transitioning collection are mostly done by us, IMB students, with a friendly scope. Adrian Matei, Creative Director for the project and IMB alumnus says: "this is a student-to-student interaction".
Who is it for?
Incoming first-year and second-year students can access the collection via Ryze, as the content will be most beneficial to those cohorts - Year 1's because it's their first time at uni, Year 2's because it's their first time on campus. We really encourage everyone to download and view the collection, because it will be constantly updated using user feedback.
What's behind the initiative?
"As students, we really wanted to help next generations of freshers adapt more easily to life at university. Regardless of if they come from five or five thousand miles away, adapting to life as a student in London is most likely to be challenging. Most of us learned the lessons we share in the collection the hard way - we wanted to give incoming students the chance to learn everything easily and know what to expect." - Adrian Matei
The students created the content from all corners of the world, and in fact, the videos were recorded in three out of five continents. They overcame numerous time-zone differences and keeping the videos homogenous.
Overall, the team reports having had great fun while creating the videos for each track, and are excited to see the impact their effort will have.
Deputy Programme Director for BSc Information Management for Business and collaborator in the launch of the Ryze app, Dr Sarah Warnes explains why the Transitioning collection was set up and how she hopes it will support incoming IMB students before they even arrive.
The main goal
The collection is designed to be a further digital resource for IMB students. In the app, students can find useful phone numbers, advice for handling common, yet challenging, situations as well as tips on how to build a network.
"It's like an always-available administrator. When in need of info, instead of waiting for someone to reply to an email, students can just check on the collection and they are likely to find the info they seek. If our work helps even one student have an easier time transitioning to university, then we can easily declare our efforts victorious. Adrian Matei
First and second-year IMB students can access the Transition to University Collection in the Ryze app using an access code which they would have been emailed by their Programme team.