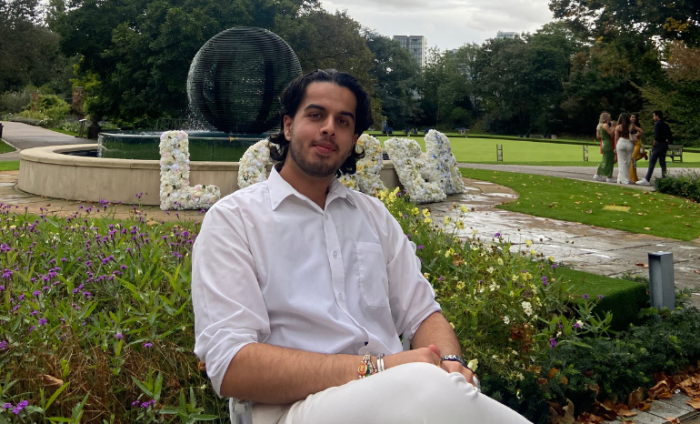 During their third year of study, BSc Information Management for Business (IMB) students are given the opportunity to undertake a placement year at a company of their choice to enhance and develop the skills they have learned on the programme.
This year, IMB student Gurshaan Sethi is completing his placement year at L'Oréal. The world's largest cosmetics company, L'Oréal maintains a presence in over 150 countries around the world and sells a multitude of products within the make-up, haircare, skincare and perfume industries. We recently caught up with Gurshaan to find out more about his experience with L'Oréal.
tell us about the company you are working at?
I'm currently doing my placement year at L'Oréal as a Digital Marketing Intern. Within the company, I'm working with L'Oréal Paris, which is one of the 35+ brands the company owns. With a wide range of brands under its name, L'Oréal has established itself as a giant within the beauty industry.
WHY DID YOU WANT TO DO A PLACEMENT WITH L'Oréal?
I've always had an interest in showcasing my creativity to the outside world. Whether it's in performing arts or having an online blog, I've always wanted to show off my creative talents. Since my school days, I've always had an interest in marketing, a role which pairs well with my creative abilities, so it was a no-brainer when deciding the roles I wanted to apply for. L'Oréal has been rated as a top student employer and before joining I'd already heard about the impressive level of responsibility interns are given, so it was always my top choice once I started looking for placement opportunities.
How did you find your placement?
It was November 2021 when I learned that we could apply for a Year in Industry and, without a second thought, I was researching placement opportunities. L'Oréal follows a really thorough application process, which consisted of two separate rounds of questionnaires (based on competency and logical thinking), an assessment centre case study, and finally a competency-based interview. The company's early careers team has always been on top of their game and were always available to clear up any confusion or ease any doubts throughout the entire application process.
WHAT TASKS ARE YOU undertaking AS A PART OF YOUR ROLE?
As a Digital Marketing Intern, I am working across all L'Oréal Paris categories and I am primarily concerned with collecting product reviews before they are launched in the market. These reviews play a big role in a product launch so I have to follow a strict time frame to ensure we are good to go live. I also design the Product Display Pages on the L'Oréal Paris website and I'm currently working on redesigning the homepage so that's something I'm really looking forward to! I did expect to do some of these tasks when I first started the position, especially with managing online content, but I did not expect to be working on reviews, so it was a pleasant surprise to see how much reviews matter to the company and what the process behind it actually is.
WHICH ELEMENTS OF THE PLACEMENT DO YOU ENJOY THE MOST?
I'm enjoying the level of responsibility I'm getting during my placement. Redesigning the homepage and fetching reviews for various products are the two tasks I'm solely responsible for, which I believe demonstrates how much the company trusts its interns. I'm also glad to be a part of the wonderful digital team which has always been so supportive and ready to help whenever I'm stuck.
WHAT DOES A TYPICAL DAY LOOK LIKE AT YOUR PLACEMENT?
Each day is a new day for me but if I have to describe a 'busy' day, it would be something like this: getting to the office at 09:00 am and instantly joining a weekly catch-up team meeting, then hopping on a call with all of the agencies we work with to stay up-to-date on all the tasks in hand. We also frequently meet with different category teams to touch base on all digital aspects such as review campaigns, product links, new launches, and content creation. So to sum it up, a busy day is all about meetings, working on daily and new tasks, and of course, enjoying our generous lunch break at L'Oréal's amazing on-site café.
WHAT DO YOU HOPE TO DO ONCE YOU GRADUATE FROM THE IMB PROGRAMME?
After graduation, I'm really interested in applying for a Graduate Role at L'Oréal. I have always felt welcome in the company, not only within my team, but also within the wider intern community. The idea of exploring other opportunities always sounds interesting. Like I said, I've always had a soft spot for creativity so if there's a place where I am constantly learning and able to use my creative skills, I'll be there!
Find out more about the BSc Information Management for Business programme.