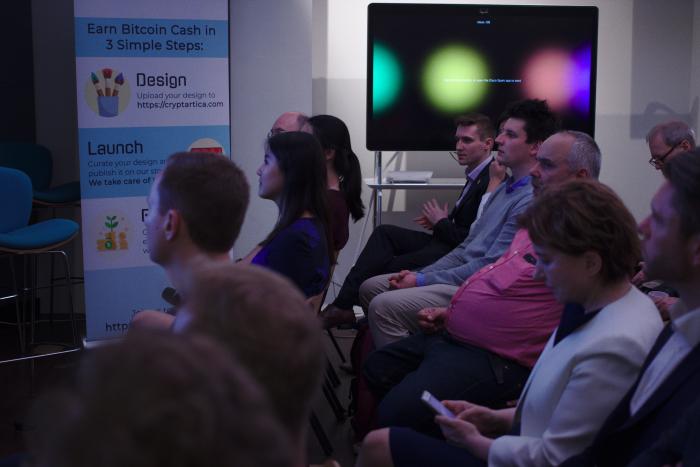 When I first moved to London, I was both impressed and overwhelmed by number of events happening. In the next 365 days, I embarked on an event marathon to explore, learn, and meet new people. I would go to 2-3 new events every week, attending an underground exhibition to the usual three-days conference.
The experience made me realise four noteworthy things:
Like any other cities, London has a lot of badly organised events so choose carefully and don't waste your time.
Good events make you feel welcomed and comfortable enough to ask questions; it feels like money well spent.
The leading minds in new, emerging industries are either in London or travel often here, and so the quality of the speakers in good events is routinely impressive.
Living in a busy city like London, events are great for connecting, learning, and staying in touch with people in your industry.
My company, Cryptartica, was founded soon after a new cryptocurrency, Bitcoin Cash (BCH), was born from a Bitcoin fork in August 2017. We were first to embrace BCH as our default method of payment, and so, our customer target naturally included BCH adopters. Understanding the importance of attending events to meet with my customers and people in the industry, we looked to attend a BCH event in London, but there was none. Knowing that there were a lot of cryptocurrency enthusiasts in London, we decided to start a Meetup group ourselves in November. Our group has expanded from 20 members to more than 450 members since.

Our first Meetup event, attended by about 50 Bitcoin Cash enthusiasts!
Cryptocurrency boomed last year and we understand that education is of utmost importance to new users. Our Meetup group's focus thus strives to educate as well as to build and nurture the Bitcoin Cash community in London. From the very beginning, we aim to set a casual and welcoming environment. We are proud to say that the dynamic of our group never changes; our members remain curious and welcoming. We have personally guided more than 50 people on how to download Bitcoin Cash wallets for the first time. We have explained cryptocurrency, BCH, and its use cases to many more!
Our last event, The London Bitcoin Cash Conference, was a huge success; tickets were sold out and we had 6 amazing speakers lined up. The experience and knowledge of our speakers – including Obi Nwosu, another UCL alumni and CEO of Coinfloor – was diverse. We had speakers from cryptocurrency fund, exchange, wallet, and merchants. You could see our recap video here: https://www.youtube.com/watch?v=NyIkeDa6GWA

We also organised The London Bitcoin Cash Conference in April at IDEALondon
If you are interested in learning about cryptocurrency, our upcoming event, The London Bitcoin Cash Speaker Series, will be on Wednesday, July 25th at Elvin Hall in the UCL Institute of Education from 6-9PM.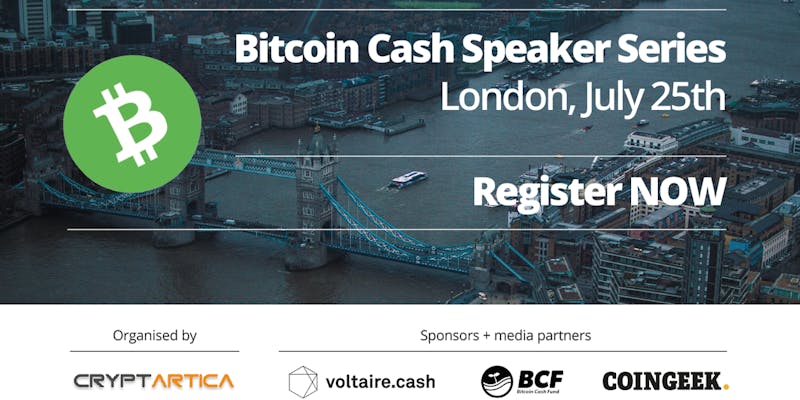 We are proud to host 7 speakers from influential Bitcoin Cash companies and organisations. Among others, we are hosting Dr. Craig Wright and Jimmy Nguyen from nChain, a leading blockchain research and development institution. Semyon Germanovich from Voltaire.cash, a cryptocurrency exchange with BCH as the base pair, will discuss his view on OP_CODE and BCH upgrades. Paul Wasensteiner from Bitcoin Cash Fund will present the organisation's progress and new exciting BCH projects.
To see more about the event: https://cryptartica.com/london-bitcoin-cash-speaker-series-july-25/
Hope to meet you there, and please do not hesitate to say hello to me during the event!