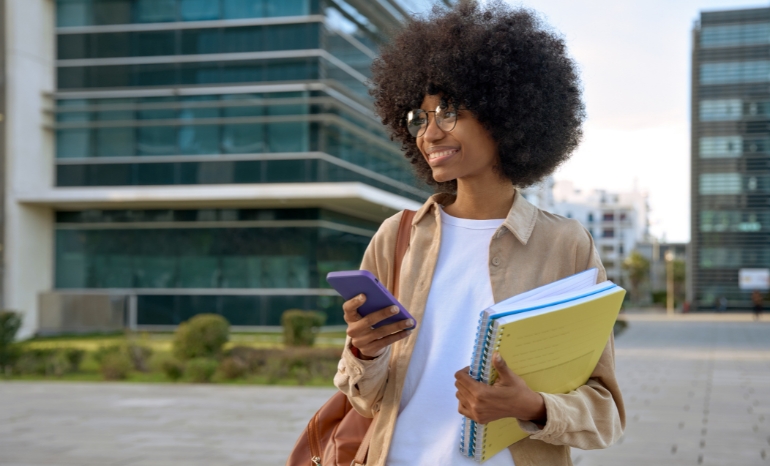 Spending all day on campus for lectures, revising and meeting your peers usually means having a rucksack the size of a suitcase for a weekend break. Understanding no one wants to lug their life around all day, Unibuddy Ambassador and MSc Business Analytics student, Amanda Dickwella Vithanage, shares her top tips for new students and the crucial items needed to help them throughout everyday life at university.
I can recall my first day of high school and how I had a Mary Poppins bag for a backpack. I clearly thought that I had to carry every single item known to man in order to have a good and productive day. That inevitably entailed having to dive into said bag to find anything I wanted; a circus act of pulling out my belongings. Don't do that - learn from my mistakes. Please. Avoid the back ache too. I eventually learnt that quality over quantity should be applied to every and all aspects of life including the contents of your university backpack/bag. Having said that, I am still a maximalist, (never a hoarder) just somewhat more tailored. Everyone has their own preference in the way they learn, so this is solely dependent on what your needs truly are.
I would highly recommend the following items:
MUST HAVES:
There are some items you just can't live without as a student, especially if you intend to spend a large chunk of the day on campus. This list covers my personal must haves and is essentially my checklist before leaving home in the morning. Please feel free to borrow whatever works for you and add to the list to make sure you have your own home comforts and necessities at the ready.
Phone
Student ID
Accommodation/ Home Keys
Oyster Card
Pouch with medicine, lip balm and any other useful products you may need e.g., tampons/ pads and any other essential toiletries
Laptop – note that some professors prefer closed laptops for better engagement and learning experience during lectures so you may want an iPad/ tablet or go old skool and grab a notebook to make notes instead
Chargers - make sure you've got yourself covered for all your electronic devices. Some people even prefer to have a multi adaptor to cover all bases.
Reusable Water Bottle – hydration is key
Snacks – sustenance is vital
Purse/wallet
Hand Sanitiser
Umbrella - we live in England, that should speak for itself
OPTIONAL ITEMS:
Depending on how good your packing skills are or how fashionable your bag is, there are some added extras I would strongly recommend you try to squeeze in. Again, make sure you make this checklist work for you, think of all those things you miss when away from your home desk and get them packed.
iPad/ Tablet (if you have one - it isn't necessary, but it is helpful)
If you are cycling in, I'd recommend bringing bike lock(s)
There are many restaurants and cafes in the area but if you want to bring your own food, microwave friendly Tupperware is necessary in case you want to warm your food up in Level 50s kitchenette area
Face masks
Kindle/ e-Reader/ Book
Bluetooth Mouse/ Bluetooth Keyboard for your Laptop/ iPad/ Tablet
Earbuds/ Headphones
Portable Charger
External Hard Drive/ USB – to back up everything
Pen, it never hurts to bring a couple so you dont get caught out with a broken one
Notebook/ Planner (if you aren't completely digital)
Workout clothes - it can be nice to get some exercise on the way to/from university so I tend to bring an extra set of clothes to get my blood pumping at one point in the day.
Storage in the form of free locker access is available on Level 38 of One Canada Square. It gives you peace of mind that your belongings are safe and that you have the option to leave your bag in a particular place, whilst you do other activities so that you do not have to carry the extra weight.
No matter what you decide to bring, to all incoming students, I wish you the best of luck in your year ahead and I hope that you can balance out your time learning, whilst also doing fun activities.