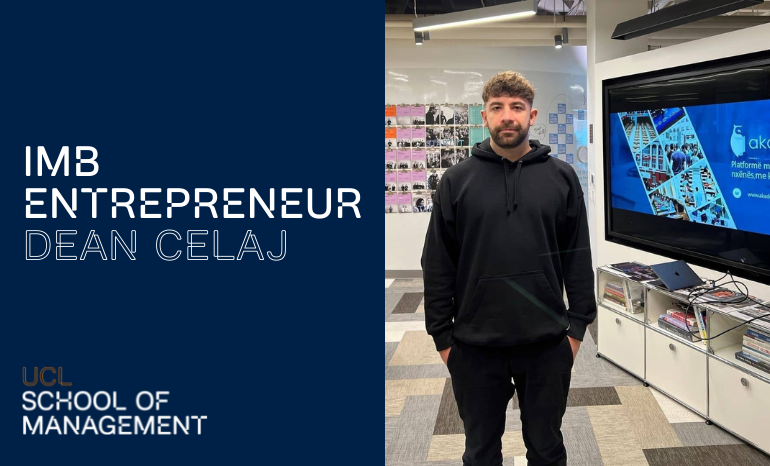 As a part of our BSc Information Management for Business (IMB) Entrepreneurs Series we are catching up with IMB alumni to learn more about their entrepreneurial journeys, the challenges and successes and why they feel the IMB programme helped them prepare and succeed in the competitive environment.
Since graduating from our BSc Information Management for Business programme in 2019, Dean Celaj's startup, akademi.al, has grown from strength to strength and now has over one million global users. The e-learning platform offers free education to Albanian-speaking children and has secured high-profile partners such as UNICEF and the British Embassy.
Dean has received global recognition for his entrepreneurial talents and was named on the Forbes 30 Under 30 list for 2022 and featured on the Social Impact list with akademi.al.
What does Akademi do and how did the idea come about?
Akademi.al is an e-learning platform, and although it is similar to Khan Academy and Google Classroom it is more than that as it merges the two together. The platform was born with the mission to provide free access to an excellent education to everyone in Albania, no matter their location or economic circumstances. During the COVID-19 pandemic, we signed contracts with several governments to become their official platform for distance learning for Albanian-speaking students across the globe. It now has over 1,000,000 users, 2,000 schools, and 20,000 learning videos in Albanian. I am delighted to say that 91% of all students in Albania use the Akademi platform. It offers free pre-recorded courses by the best teachers, as well as live learning functionalities for schools, districts, and teachers.
What have been your biggest challenges as an entrepreneur?
The biggest challenge so far has been managing my startup remotely. I recently moved to the US to pivot the startup for the global market. Having captured over 90% of the market back home, I felt like I was ready for a new challenge. Staying in Albania would mean that my startup could grow much faster in the Balkans region, but moving to the US meant that I could capture a much smaller percentage of the biggest market in the world. The biggest challenge was creating channels for sustainable revenue since we offered the platform for free during COVID-19 to all Albanian-speaking students across the globe. Even though it was the right decision at the time, because many of these kids had no other means to access education, it was really difficult to start charging for a free product later on.
Do you think the skills you learnt on the IMB programme helped you navigate the entrepreneurial process and overcome these challenges?
The BSc IMB programme cultivated in me the desire to be involved in the tech space and I tell this to everyone I meet. While my other "entrepreneurial-minded" friends were thinking about starting SME businesses, such as bars or restaurants, I always wanted to build apps and websites and I can attribute this desire entirely to IMB. During the programme, we had several course opportunities to build entirely new products and create solutions to various problems, which I found particularly helpful. Akademi was actually a project I wrote in one of my second-year projects, which turned out to be a great success after several failed attempts to launch a startup during my studies.
Why did you decide to study IMB at UCL SoM?
In all honesty, coming to London for my undergraduate studies was a top priority for me, especially after living in Oxford for three years. I got offers from UCL for both IMB and Arts and Sciences, but I remember a friend at the time suggested this programme and I can confidently say it was a great decision to come.

What do you think makes the IMB programme so unique?
A unique feature of the IMB programme is an emphasis on tech entrepreneurship and group work. A lot of the coursework was to work in groups to build tech products, which was really interesting. I also met some people that changed my life during the programme (by offering me a lot of knowledge and key advice) so I guess meeting like-minded individuals is also a great reason to be a part of the IMB family.
What were your top three takeaways from the programme that enabled you to pursue entrepreneurship?
Understanding how technology works in the backend e.g. semantic web was really helpful to understand, especially with the emergence of blockchain
Realising what could be a good idea to focus a startup on for me e.g. SaaS products, IoT, AI, etc.,
Corporate life is not for me - I did a placement year at Accenture and that was sort of the deciding factor to pursue entrepreneurship.

What are Akademi's biggest achievements and your proudest moments as the founder?
My proudest achievement is building a product, at the age of 22, that has impacted in small ways one million Albanian-speaking students across the globe. Just the fact that millions of people have heard about it, and recognise our name "Akademi.al", is something that I am really proud of. Probably the second thing I am most proud of is building a team that was persistent and mission-focused. We knew that we were doing something extremely important, but never received any credit for our work. We only started to get some real recognition when the European Commission and UNICEF started writing about our work, which really changed things for us.
What are your future aims for Akademi?
I think that Akademi will continue to make a great social impact in countries in the Balkans region and hopefully across the world. I am committed to building an open-source solution that governments can use for K-12 education, similar to Moodle for higher education. That is probably going to take some time, as I am currently working on a new startup, but I will definitely come back at some point to continue giving back to my country through this free-for-all platform.