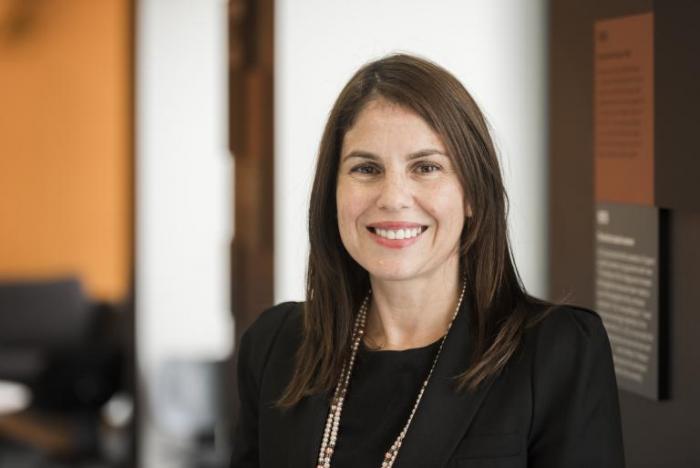 This International Women's Day MSc Finance Programme Director, Leila Pinto Campillo shares her experience as a successful woman in the global finance industry and why she believes the MSc Finance prepares women for a prosperous career in fintech.
Global banking experience
"At just 22, I joined Deutsche Bank in Spain as an intern - what is in effect now a graduate scheme - rotating through different roles, learning and networking throughout the organisation. I learnt about retail banking and institutional and consumer credit, I was responsible for monitoring key banking metrics, that measured customer engagement and cross-selling, linked to the bank assets under management and return.
I left Deutsche Bank after three years and moved to the United States where I worked at Lloyds TSB Bank, Banco Sabadell and other International Finance Banks. I spent 10 years working in international banks in the United States in roles related to asset management, wealth management, private banking, corporate banking and credit.
In my last banking role, I was the head of the wealth management, private and corporate banking departments, in which I was responsible for one-third of the bank assets under management (AUM) and revenue. I was also part of the credit committee, which was responsible for decisions surrounding risk management.
The disparity of female representation at senior levels
There are many women working in banking but unfortunately, most of them reside in less senior or customer service-related positions. Women in general engage very well with customers, they are very empathetic and know how to listen and offer solutions that are genuinely appropriate for the client.
Positions at that level are more customer-centric and focused on providing good service rather than analysing revenues and margins.
As you move up the corporate ladder, the attention focuses on assets under management, revenue, margins and return on equity and it becomes a much more aggressive arena.
This perception of women suited to more emotionally communicative roles and the fact that many women may interrupt their careers to have children – something that men don't usually do - are examples of two aspects that lead to having fewer women on strategic roles or corporate boards.
Global perceptions of women in banking
I have worked in three different continents and there were clear differences in how professional women were perceived across the three.
There was one instance where I was the only female on an interview panel to hire new account executives to grow the bank assets in Latin America. Most applicants were women, great candidates and very well prepared to succeed in the job, but sadly following the interviews the rest of the panel began discussing if the candidate on their physical attributes and if they were a good fit to attract new business. This was highly upsetting and unprofessional but at that time I had to keep calm, ignore this ludicrousness and slowly refocus the conversation to the skills and knowledge of the candidates and not their appearance.
Sadly, in my experience, this is not uncommon in finance but fortunately there is more gender equality now than when I first started. The Guardian recently reported that the number of female directors at FTSE-100 companies has increased by 50% in the last 5 years and women now represent more than one-third of the roles in boardrooms in Britain's top 350 companies. Women are more independent, determined and educated to compete, under equal conditions, with men for any role.
Increasing diversity in finance
It is very important to have diverse teams of women and men from different nationalities, academic and professional backgrounds, and cultures in all industries. Some industries are still dominated by older white males, and this could be because of the historical lack of access to education and opportunities for other demographics which in the past made this group more skilled for the roles, but the landscape has changed.
For example, at UCL School of Management, we welcome students from over 150 different nationalities all working together on a daily basis to successfully engage on different tasks and projects. Diversity brings new ways of thinking, new experiences, new ideas and innovation and much more to a team. Part of this diversity is having more women in professional teams at all levels within organisations.
MSc Finance programme investing in young women
Since its launch in 2017, the MSc Finance cohort has consistently been comprised of 40% of female students. As the Programme Director, I work hard to create a diverse cohort and take and an intersectional approach to ensure we have a healthy mix, not just in terms of gender, but of students from different countries, religions and cultures and that they work successfully together in teams throughout the programme.
The programme provides a supportive environment for all, to help our students realise their full potential. I engage with every student from the admissions process to graduation and even during their first job search and, can proudly say that our female graduates are at the same level or higher than the best male graduates in finance in the UK.
One of my female students recently asked me for a reference for a potential job. When I spoke with the company director, he told me she was the best candidate out of 70 from the best universities in the UK demonstrating very solid knowledge throughout the interview process.
How industries can encourage women into finance
Industries just have to be fair in interview processes, reduce biases against women and give them the opportunity to start and add value to the firm.
On many occasions, the lack of opportunities to join a firm or to be promoted is caused by biases and pre-conceptions that are obsolete. Women are no longer a passive player in this industry, they are well trained and capable of generating returns, thinking outside the box, innovating and leading teams whilst being the head of their households and having children if they want.
To all women trying to break the glass ceiling and succeed in the finance industry, I implore you to study hard, work hard, be brave, speak up and don't give up!