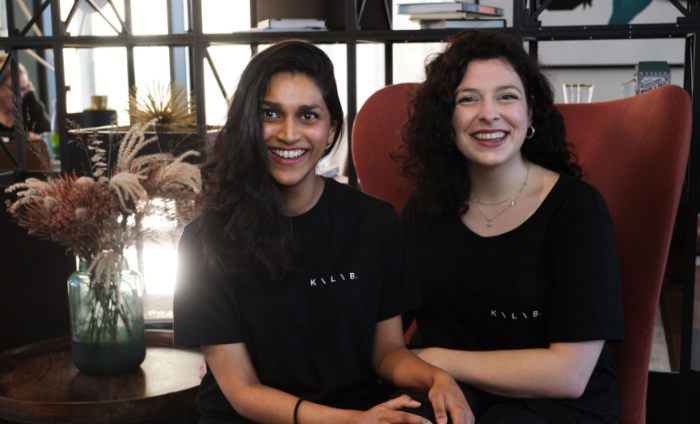 Celebrated annually on 19 November, Women's Entrepreneurship Day is a global movement that honours, celebrates and empowers female entrepreneurs around the world. According to the United Nations Development Programme, women that participate in the labour force often receive less pay and have less access to social safety nets. Women's Entrepreneurship Day hopes to alleviate this gap by celebrating and supporting women in business worldwide.
To commemorate the day, UCL School of Management are showcasing the journeys of some of the female UCL alumni that have gone on to dominate the entrepreneurial arena. We recently caught up with Florence Ettlin, co-founder of KALAB, an online tool that empowers emerging musicians through the management of live gigs and performances. Ultimately, Kalab hopes to showcase the potential of the creative arts.
what is kalab and what made you launch the business?
KALAB is a holistic software supporting hospitality brands to design curated experiences. With our tool, brands can streamline all experiential and community programming operations - from building their cultural experiences and managing creatives to event ticket sales. We also simultaneously address the needs of the rising number of creatives wishing to gain artistic and financial independence by providing them with a tool that manages their administrative needs and live engagements.
My co-founder Talitha and I are both very passionate about the arts and believe in its power for good. Growing up, we were fortunate enough to have the opportunity to immerse ourselves in creative expression in the form of piano and violin lessons, as well as singing and dancing classes. With our background in hospitality, we were able to pinpoint challenges in the entertainment industry and discovered that the process of organising and managing cultural programming is very antiquated, although it plays such a significant role in the value proposition of hospitality brands. This is why we decided to combine our passion and background to create KALAB.
have you always shown signs of entrepreneurial talent?
We have always been very passionate about the process of creating things from scratch but weren't necessarily planning on pursuing an entrepreneurial career per se. During secondary school, Talitha ran a cookie business out of her locker and then further expanded this as part of the social responsibility committee during our Bachelor's degree at the École Hôtelière de Lausanne.
For my final project at secondary school, I decided to compose and write a musical and, during our Bachelor's degree, I joined the team behind Good Festival, which is all about promoting sustainable innovation. We also opted for an elective in entrepreneurship during our Bachelor's, which ignited the spark. We were then given the opportunity to go to Silicon Valley for a startup week, which was sponsored by the Banque Cantonale Vaudois in Switzerland and quite literally got us hooked and influenced our decision to pursue an entrepreneurial career, as well as join the MSc in Entrepreneurship at UCL School of Management further down the line.
what was your time like at ucl school of management?
The MSc in Entrepreneurship programme at the UCL School of Management was the perfect programme for us. We not only met inspiring, like-minded people but also managed to strengthen our foundational knowledge on building startups. Some of the most valuable insights included learning about the financing ecosystem, as well as getting first-hand pitching experience as part of the UCL School of Management Pitch Day.
The hands-on nature of the programme is really in line with what you would expect when running your own business. Finally, all our professors had either built their own businesses or were very entrenched in the startup scene, which gave us access to incredibly valuable advice, knowledge and a wide network that has acted as a great support network.
what has been your biggest accomplishment as an entrepreneur to date?
There are two things with stand out, the first is launching our own technology, together with our incredible Chief Technology Officer Yogesh. The second would be having people really believe in us and what we have built by signing our first deals. We are also very grateful for the hundreds of transactions that have been processed. Nothing compares to seeing what you have been building for a long time come to life.
what excites you the most about the creative arts industry?
This is the moment for ripe disruption. The creative industry has been traditional for so long but now there is a shift towards independence and we're witnessing this huge boom. The rise of the creator economy, which is growing at an astronomical pace, supports creatives in their endeavour to achieve financial independence and creative freedom, and this is exactly what KALAB is aiming to be a part of.
what do you think are the main challenges facing female entrepreneurs and what advice would you give them?
The industry of startups, like many others, is still very male-dominated on both the founder and investor front. This can pose multiple challenges for female founders, including raising investment. Rather than being intimidated by this, never undersell your achievements and always remind yourself of the value that you provide, whether you're selling to a client or pitching to investors. Also, being prepared is the best form of establishing a strong, confident image and doesn't leave room for doubt.
what would you say to your younger self?
Always push yourself to find creative and innovative ways to solve a problem and don't be afraid of change! It shows that you are evolving. Also, it's never a straight road! That doesn't mean it's not the right road, we just got to keep our head up and keep going.
Learn more about the MSc Entrepreneurship programme.