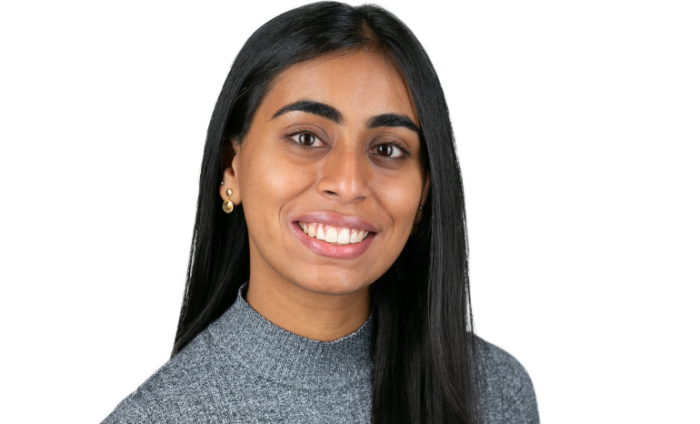 Celebrated annually on 08 March, International Women's Day commemorates the economic, social, political and cultural achievements of women around the globe. This year, the theme of International Women's Day is #EmbraceEquity and, over the coming weeks, we'll be sharing the stories and journeys of some of the incredible staff, students and alumni that make up the UCL School of Management community.
In celebration of female entrepreneurs, we recently caught up with Niyati Takiar, who graduated from UCL School of Management's MSc Entrepreneurship programme in 2022. Niyati has gone on to found Sport For All, a not-for-profit enterprise that hopes to provide underprivileged children in India with access to sporting facilities. Niyati also recently won 'Best Showcase' at our annual Pitch Day, and she shares what this support has meant for her business, as well as her goals for the future and what International Women's Day means for her.
can you tell us a little about yourself?
My name is Niyati Takiar, I currently live in London but I am originally from Cheshire. I was born into an Indian entrepreneurial business family. After my degree in International business, I studied an MSc in Digital Marketing at King's College London, and have just finished my MSc in Entrepreneurship at UCL. I have always been interested in sport and played cricket for the Cheshire women's county team and I am a 2nd Dan black belt in karate, as well as a keen skier.
However, my biggest passion is helping people. I taught at a government school for underprivileged children in India and spent two months teaching in an orphanage for street children in Delhi. Having grown up in a business family, I have always been interested in entrepreneurship, so I came up with the idea of combining my interests and my passion by starting a charitable enterprise in the sports industry.
what is sport for all?
Whilst studying for my MSc in Entrepreneurship at UCL, I wrote a dissertation on the above problem, and carried out primary and secondary market research across 30 government schools and 15 NGOs in India and produced a report on my findings.
I found that underprivileged children rarely have access to sports facilities and education due to government funding constraints, whereby the focus is on traditional education, with sport being considered secondary and less important.
I came up with the idea of building multi-sports pitches for underprivileged children directly in their schools and local communities through a newly-established charity, Sport for All, which partners with the Indian NGO Bucket List.
what is unique about sport for all?
Our unique value proposition is to give underprivileged children access to sports facilities and education which they otherwise could not afford or would not have access to. We aim to build infrastructure-based facilities rather than funding overheads, so that the facilities will be permanent and provide indefinite benefits. We also wish to make the sports facilities self-sustainable so that once they are built, all ongoing overheads and expenses will be funded via an income generation plan by local schools and communities.
On average, only 60-70% of all funds raised by UK charities actually go towards charitable causes - the rest goes towards funding overheads. Sport for All aims to deploy 100% of all funds raised on its charitable activities.
Sport offers positive benefits to children such as physical fitness and wellbeing, education and learning, mental health, employment opportunities, and also offers social benefits such as unity and integration.
have you always shown signs of entrepreneurial talent?
Some of my earliest memories from school were to do with entrepreneurial activities. For example, when I was young, I used to sell my multi-vitamins to friends at school for 20p per vitamin. I also used to sell sweets and crisps to kids on the school bus and, to make extra money, I used to break open the packets and sell the sweets individually.
Also, coming from a business-centred family, conversations around the dinner table and in the car were usually about business. So I was exposed to management concepts from a very young age, and as a result, I gained an understanding of business and entrepreneurship long before I ever studied it. This is what inspired my University studies.
how did you find the msc entrepreneurship proramme at uclsom?
The programme had an equal split of males and females, and there was strong support and encouragement for woman entrepreneurs. Approximately 90% of the cohort were international, so the class was very diverse and gave me a good understanding of entrepreneurship from all corners of the world.
The support I received from my classmates and teaching staff has been nothing short of amazing, and when I first came up with the idea of a not-for-profit startup, everyone was very supportive. If it wasn't for the encouragement I received from my friends and the programme team, I'm not sure I would have started a charitable enterprise.
you recently won best showcase at uclsom's annual pitch day. what did this mean to you?
This achievement meant so much to me, especially since my family and friends were all there to support me. The experience of talking to investors, managing my own stall and networking was extremely valuable, as I need to raise funds for my charitable projects.
Since my startup is a not-for-profit, most of the funds will be coming from donors, so this event really helped with creating awareness spreading the word for my idea.
what does international women's day mean to you?
International women's day makes me think about the important and inspiring women in my life. I am fortunate to be surrounded day-in and day-out by amazing women who lead by example and who break the glass ceiling in their varied fields.
For example, my younger sister dreams to start her own business one day, and my best friend is busy making waves in her field of scientific research through hard-work and determination. These people inspire me as much as I inspire them.
My aim is to take the inspiration afforded to me by all the wonderful women in my life, and empower the young girls I work with through my charity, Sport for All, to persevere and achieve great things in life.
what do you hope to see in your industry in terms of gender equality?
I hope to see both girls and boys attending school across India and participating in sport regardless of gender. In some parts of India, people from socially-disadvantaged backgrounds still consider woman inferior to men. Sometimes girls are not encouraged to go to school, many are frightened or embarrassed to participate in sports, and some are married at a young age.
I hope to help change all of this and give equal opportunities to both girls and boys alike so that they can participate in sports and experience the benefits that sport offers them and help them utilise these benefits to reach their full potential in life.
Also, gender equality is one of the UN's Sustainable Development Goals, which outlines that it is a fundamental human right and is essential to achieving peaceful societies, with full human potential and sustainable development. In addition, it has been shown that empowering women spurs productivity and economic growth.
what's next for sport for all?
After having carried out market research, Sport for All is currently raising a 'Friends and Family' Pre-Seed round of capital. It will utilise these funds on a pilot project by partnering with a local NGO called Bucket List India to build Sport for All's first multi-sports pitch at a government school for underprivileged children in Gurugram, India.
Once this milestone has been successfully achieved, we will start work on raising an 'Early Seed' round of capital which we hope to be 5-10 times the scale of the initial pilot scheme, rolling out sports pitches across several schools and local communities in and around Delhi. We plan to supplement this with a locally-delivered sports education programme.
In addition, we have been invited to sponsor a cricket team at the Street Child World Cup taking place in Chennai in Oct 2023, so we are also exploring sponsorship opportunities.