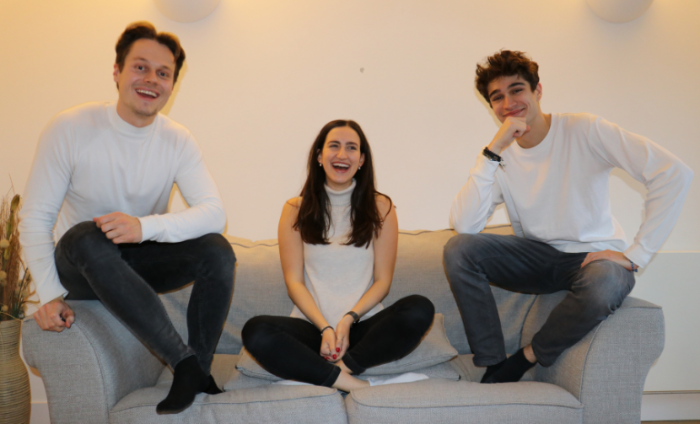 Celebrated annually on 08 March, International Women's Day commemorates the economic, social, political and cultural achievements of women around the globe. This year, the theme of International Women's Day is #EmbraceEquity and, over the coming weeks, we'll be sharing the stories and journeys of some of the incredible staff, students and alumni that make up the UCL School of Management community.
We recently caught up with MSc Entrepreneurship alumna Ina Jovicic, who graduated from the programme in 2022 and has since gone on to found eNOugh, a tech startup hoping to provide a solution for women walking home alone at night to feel safe. A wearable AI-powered badge that attaches to your coat or jacket, the device is equipped with features that both prevent an attack and prompt the necessary support when needed.
can you tell us about yourself?
I was born and raised in Prague, Czech Republic, but my origins are Balkan which is where my parents had to emigrate from during the Yugoslavian war. For my undergraduate degree, I studied Business and Events Management in Bristol, but it was only with my Entrepreneurship Master's at UCL that I fully unlocked my true passion, which is undoubtedly the thrilling startup world. I immediately fell in love with it.
Ever since I can remember, I have had a very entrepreneurial mindset, thinking about potential business ideas 24/7. So now to be building a start-up brings me true fulfilment. Professional interests aside, I am a big sports enthusiast, which is what mostly occupies my free time and helps me keep a healthy balance. Playing for the University volleyball team during my Master's degree was the perfect way for me to disconnect.
can you tell us about enough?
The idea behind eNOugh actually came from an unfortunate personal experience. I was walking home from dinner at around 10pm one night through a safe area when I got surrounded by four men on motorbikes, who aggressively tried to rip my phone out of my hands. I thought that I could put up a fight and win my phone back, but when you are outnumbered, it is just impossible. I ended up being dragged to the middle of a street and the men disappeared with my phone.
This incident led me to talk to several women and I realised that the problem of lack of safety when walking home at night was truly severe. After interviewing many females and asking them questions regarding what could help them feel safer, the product behind eNOugh was born.
eNOugh provides a smart wearable badge powered by AI that the user will clip onto their coat or jacket when starting to walk home. It will have several features that will help prevent danger, protect the person wearing the device if something does happen, but it will also provide efficient help and prompt support in such a moment.
why did you decide to focus your business on this particular area?
I believe it was actually a very lucky coincidence coupled with perfect timing. When my unfortunate experience occurred, I was exactly at a stage of my Entrepreneurship Master's where we needed to come up with a business idea to use for our coursework, and I was struggling to make a choice and find that one idea that I wanted to pursue. So I guess the saying 'everything bad happens for a reason' was really true in my case.
However, it was mainly after talking to several women about the issue that many shared with me much worse stories than the one I experienced. After that, I felt as if I gained this responsibility of building eNOugh and helping prevent more horrible stories from happening.
how did you find the msc entrepreneurship programme at uclsom?
The cohort was incredibly equal in terms of the gender split but also very diverse. We had a pretty much 50/50 ratio, but we also had students with so many different nationalities and backgrounds. As a woman, I have felt encouraged and supported throughout the programme and it was great to see so many startups with female founders - especially those that are in tech, as typically they are more likely to be founded by men.
In addition, many incredible women have come to talk to us to be part of panels or guest speakers, which further demonstrated the programme's initiative to balance the usually not-so-even gender ratio of founders.
you recently won best pitch at uclsom's annual pitch day. what did this achievement mean to you?
It was an incredible experience and I believe that it will crucially define the trajectory of our business. The overwhelmingly positive feedback gave us a significant confidence boost that we are building something that people want, are passionate about and want to hear more of. We used the showcase stand as an opportunity to talk to many potential users but also experts in the security field.
Additionally, it was a great way to practice pitching in front of a big audience full of impressive individuals but also in front of the panel of senior and highly experienced judges who gave us very valuable feedback.
what does international women's day mean to you?
To me, it is a perfect day to appreciate all the strong, brave and ambitious women around me who have been working hard and breaking into previously male-dominated industries. This particular day is a celebration of how far our society has come in terms of gender equality and how many things continue to improve. But it is also a good way of highlighting accomplished women that can inspire all the young girls out there.
what do you hope to see in your industry in the future?
I hope to see even more start-ups being started by female founders and many more CTOs being women, which is still relatively rare to come across. But even more, I want to see co-founding teams where there is a mix of female and male founders rather than just single-gendered teams. I believe that, in our case (1 female, 2 males), it gives the co-founding team a very valuable advantage by having various perspectives and different strengths to leverage from.
what's next for enough?
Our plan is to have an MVP ready by summer. In the meantime, we will focus on gaining further funding through either similar competitions, grants or crowdfunding projects. That would help us cover the costs of building various prototypes and the necessary components for the product.
Once we have the MVP, then the real fun begins, which consists of testing the product with users, getting feedback, adding changes and then hopefully raising investment to move forward quickly and start making an impact in society. Fingers crossed!