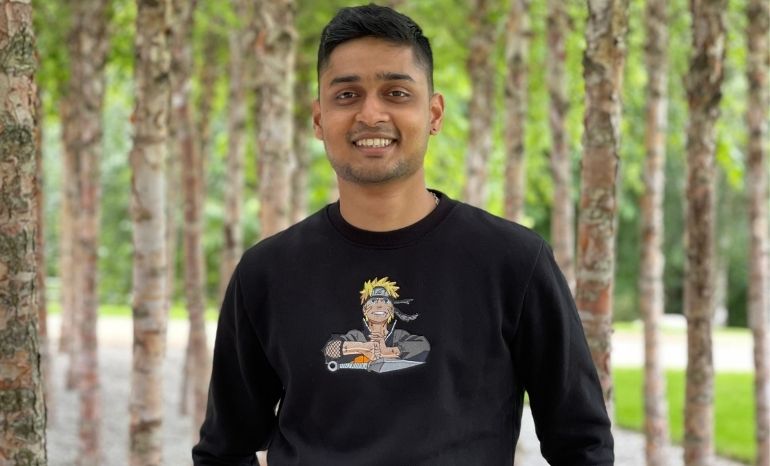 Studying at university is a full-time job in itself, but for those balancing it with a job, it is no easy task. BSc Information Management for Business student Hanson Fernandes shares his experience balancing work with university, the pros and the cons and why he believes the UCL BSc Information Management for Business programme, IMB, is so special.
Why did you decide to study BSc IMB and why at UCL School of Management?
I have always been intrigued by how technology functions and have developed a passion since I was a child. After having completed a BTech Level 3 business, I decided to explore the idea of continuing on with a business-related degree with a blend of technology or computer science.
I came across BSc Information Management for Business, IMB, at UCL SoM and straight away I was interested due to a balance of business and technology-related modules. However, I was scared because I had never studied anything techy before, and the programme stated that there were programming and tech modules.
So, I attended an open day to see if this was the right degree for me and after a presentation by the programme director, I was sure that this was the right degree for me. I was assured that there were no expectations of my prior technology knowledge but that it was more important to be passionate and want to learn on the go. No doubt it was a challenge however, I believed it was the right thing to study for where the world is heading.
There were so many reasons I chose IMB over other degrees.
It had the right blend between business and technology.
It was developed through employer input
It has its own designated careers consultant and a rich alumni network that can help you to network or prepare you for a job.
These three reasons, along with the fact that it was at UCL, made it clear to me that this was where I wanted to study.
How have you found your UCL SoM experience?
I have loved it! I could not ask for anything better. When I joined UCL SoM, we had a new programme director and I believe he was instrumental in building this family type of culture from upper management to the students. I have met some incredible people here; from lecturers who have supported me since day one to my friends who have become some of my closest allies outside of uni. And even though the degree content challenged us in lectures and seminars, SoM never failed to organise stress busters and parties.
To name a few; The James Bond theme night, The boat Party and the end of year party at Canary Wharf. Some of my fondest university memories have been from these events. And even though half of my time at university was delivered online due to Covid, the support I received was immense. Overall, my time at UCL SoM has been filled with a lot of happy memories.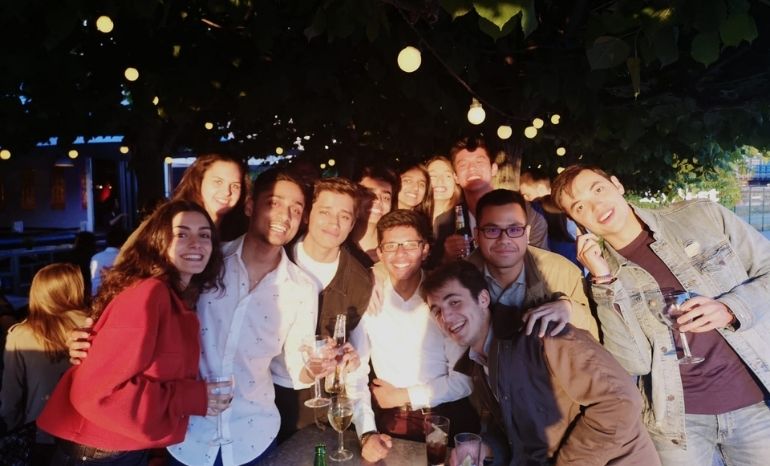 What are the top three highs of your time at UCL SoM?
I've had many high moments but my top 3 are:
Dissertation result
The day I got my dissertation result, I was so proud and happy. I say this because I started the dissertation during the pandemic and there was a lot of uncertainty everywhere regarding lockdowns, meetings in person, seeing family etc. Thankfully I had a very good supervisor who was very patient, answered all my questions and guided me in the right direction. I also had a very good dissertation lecturer who gave us the foundational understanding of how to conduct research as well as how to produce a high-quality paper. After a year of ups and downs, the dissertation result reflected the effort I had put into that project.
Coming first in the IMB design sprint
The design sprint was another moment where I was greatly proud of the final result. I was part of a very talented team looking to find and solve a current problem in the banking industry. In just a week, we developed an idea to emphasise mental health within banking. It was probably my first ever group project over zoom, and while it took some getting used to, it was fun. We competed with teams across all the IMB cohorts, and we had judges from within the industry such as Amazon and Deloitte. We came first hence we were immensely proud and happy as we were just beginning to navigate zoom calls.
Being selected for a KPMG Insight Week
This is another moment that made me happy. An ex-alumnus was organising a KPMG Insight Week and he was going to pick few students for this work shadowing within the tech risk sector. I applied without any prior experience in this sector and was selected. I think I was only one of eight picked from the entire cohort. Thanks to my careers consultant who was instrumental with my application process then and is today as well.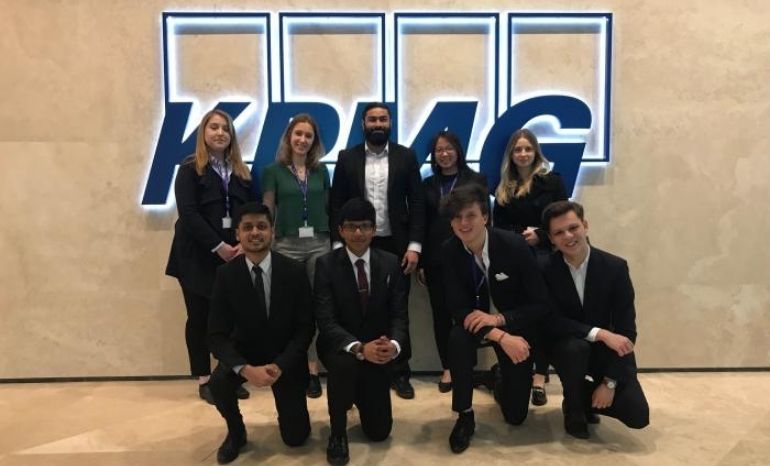 What were the most challenging points and how did you overcome them?
I have had a few challenging moments. But by far the most challenging were:
Covid
There was so much uncertainty plus I had to care for my family members. Honestly, the only reason I overcame this challenge was due to my friends and family who were very supportive. Throughout the lockdowns, I had made a schedule to meet my friends online and play a few games to distract myself from the world. That helped.
First-year imposter syndrome
The second most challenging time was when I joined IMB and UCL. It was new to me, and I did not know what to expect. Plus, my writing skills were not great. I had insanely smart friends, which filled me with doubts about my future on IMB. The way I overcame this was through conversations with my friends and members of staff. I had friends who would make time to show me how they structure their essays as well as guide me on the various ways in which I could learn or improve. A member of staff sat down with me and spoke to me about all the doubts that surrounded me. All this helped immensely and here I am today.
Coping with a loss of a family member
And lastly, I can never forget this moment. I lost my beloved aunt who lived in India on the night I had my last IMB exam. I don't know how I went to the examination hall and sat that exam. But I remember just writing the first two sections and leaving within an hour and a half. If you look back on my grades from year one, you'll clearly see which exam this was. This happened end of the term in year one hence I had time to cope with it and recover for the new term. Here as well, I struggled to cope with grief, but I had the same lecturer who spoke to me about it, and it helped me with my mental health.
You have balanced studying full time whilst working, how has this impacted your experience?
It was difficult at first and it did affect my overall university experience, I did not have days off as Monday-Friday I had Uni and Friday after university plus Saturday, Sunday I had work. It wasn't ideal but I had to do it. It did take away from my social life, and I found it hard to find time for job applications, but I got used to it and adjusted after some time.
Everyone will have their own way of doing it. For me, I tried to make the most out of the time I got at uni. Going into work was not too bad too as Apple was amazing! The culture, people and customers you meet are really nice. Some inspire and motivate you plus the network you build is incredible. It did have an impact on my uni experience but overall, I genuinely enjoyed my time here and balancing uni plus work taught me more life and management skills than I signed up for! I believe no experience ever goes wasted, it just teaches us something extra or new, and often these experiences will prepare you to deal with future situations.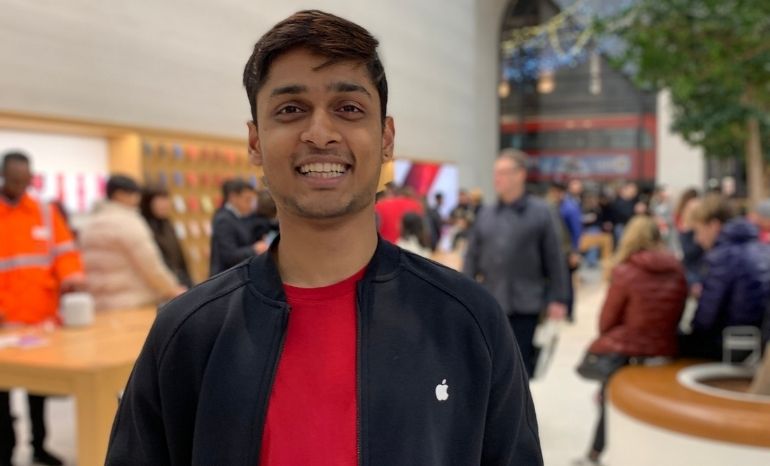 Do you think working whilst studying made you more efficient and disciplined with time management?
It definitely helped me manage time better. I wouldn't say I was an expert in time management since I had days where I pulled some all-nighters. Thankfully some friends would accompany me so it would end up becoming an all-night study group. But certainly, I had to very quickly realise that university was my uttermost priority and make sure that my job did not affect my grades.
However, I also could not afford to lose my job as I had to help my family with the finances. Hence, I had to find the right balance. I did have to pause my social life, which was quite sad because when all my friends were going out during the week, I had to stay back and do all my uni work as I didn't have time at the weekend. I managed it by picking certain events or theme nights where I would go and party with my friends. Now when I look back, having juggled work with the university has taught me the value of time and to plan way in advance.
What do you believe makes the IMB programme so special?
I believe that IMB is special because it accepts you the way you are. And as long as you're willing to learn or are an independent learner, IMB will teach you the skills and knowledge required for the current business world. Then it's up to you on how far you want to build that knowledge. It is a perfect balance of Business management and IT.
IMB also has its own careers consultant which is a massive plus for someone like me. I say this because I had very little knowledge of how spring weeks or internships or grad jobs work, and the IMB careers advisor was instrumental in helping me build that knowledge while also prepping me and making me confident for job interviews. Finally, the alumni network is so strong that wherever your interview is, there will be someone you can contact to get you internal advice. IMB is truly ahead of the game when it comes to business + tech degrees.
You have graduated with a First - congratulations! Did you think this would be achievable on day one of your studies?
Not at all. Even after my first year, I wasn't sure of getting a first as I had little understanding of technology or coding. My style of writing and how I conduct my research and analysis since year 1 has improved massively which helped with the final grade. This was possible through the help of my close friends who gave me constructive feedback to improve my work. Having high achieving friends challenged and motivated me to perform better too. And the programme has some amazing lecturers and TA's who offered office hours. I remember going to quite a few and gaining advice and feedback on certain tasks. As the years 1,2,3 went by, my work had a significant difference in quality which helped me in achieving a first. I genuinely would be happy with a 2:1 because it is still a respected grade within the job industry, and I know how hard I have worked through these years; hence I would always be proud of what I achieved. Nevertheless, graduating with a first is a massive bonus.
What will you do next?
After all the hard work, I have managed to secure a grad job at Microsoft working as a Technology Consultant within the Azure cloud and AI domain. I have been working here for a week and it has been amazing!
Shoutout to the IMB careers consultant for sharing the job advert via email and then going on to help me prep during the interview process. Now as I begin my next chapter with Microsoft, I am very excited for lies ahead.