The School of Management Careers team provides bespoke and exclusive careers support for SoM students and is formed by two teams - our Careers Consultant team who provide careers coaching and guidance via 1:1s and group workshops, and our Employer Engagement team who facilitate connections with employers and alumni both in the UK and globally via bespoke employer event programmes. This is an essential complement to our academic programmes, enabling us to best prepare our students for their future careers and support them to identify and achieve their goals.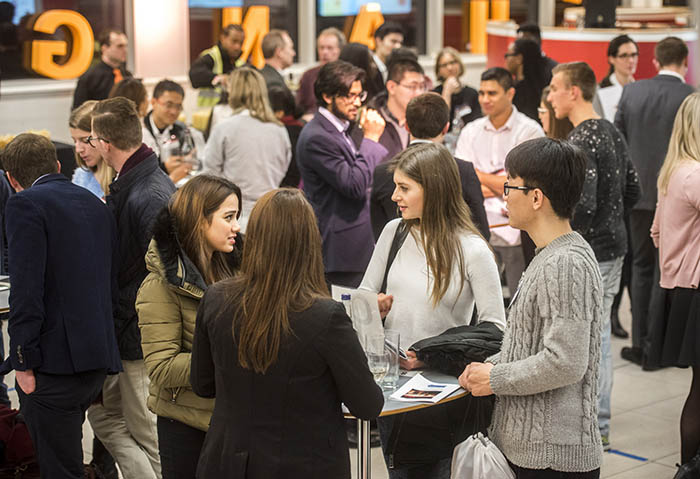 Dedicated careers support
UCL School of Management students benefit from dedicated Careers support via our experienced team of Careers Consultants and Employer Engagement Professionals. This support can be categorised into three main areas outlined below.
Plenary Sessions
Plenary sessions and workshops are delivered both in person and online (via Zoom) and span across three streams; Explore Your Options, Find Opportunities, Prepare to Apply. These sessions focus on key sector preferences of our students, based on the Careers Registration and Graduate Outcomes data collected annually. Find out about our upcoming events and watch this space for further updates.
We run skill sessions, networking events, industry-themed talks and much more to enable students to meet potential employers and to hear from employers and alumni. Our global alumni network is a big part of our employer events, offering top tips on how students can make the most of their time at UCL School of Management and set themselves up for career success. Our team also run talks and workshops exploring career pathways and preparing students for success from initial career planning right through the application and recruitment process.
For our postgraduate students, these sessions make up their Careers and Professional Development Programme, which takes place in timetabled slots throughout the Autumn and Spring terms.
1:1 Support
Our dedicated team of Careers Consultants are available to provide 1:1 support, to ensure every student has access to personal, bespoke support on their own unique Careers journey. The Careers Consultant team are available to provide advice and guidance on any Careers-related query, and support students to excel in the recruitment process: working with students to enhance their CV, cover letter or application, or to prepare for an interview, case interview, psychometric assessment or assessment centre. 1:1 appointments are available both in person and virtually to accommodate all student preferences and ensure maximum flexibility.
Online Resources
Students also have access to a suite of online resources to support career development, these include:
Mentoring opportunities
The UCL MBA Mentorship Scheme is a new student-staff initiative supported by the careers team that aims to pair up experienced MBA students with undergraduate and postgraduate students at the UCL School of Management. UCL MBA students work in a range of industries at senior levels and have a wealth of experience to share, with on average 16 years of work experience in global private or public organisations as well as many having founded and successfully grown their own businesses.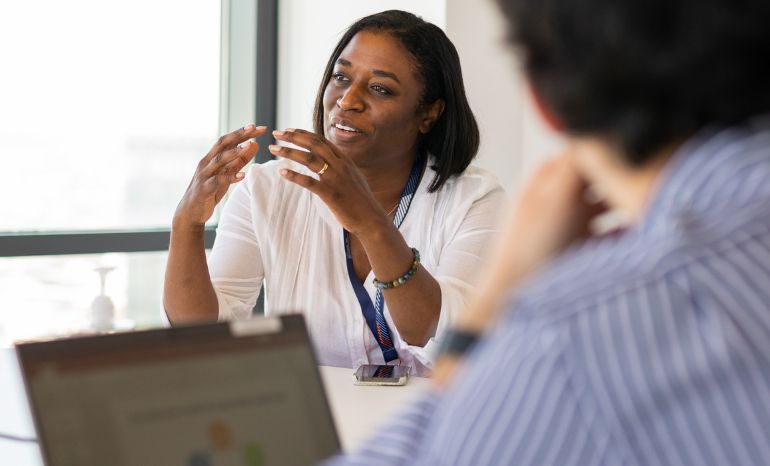 Meet Employers
Working closely with a broad range of employers from all sectors, we organise a programme of activities designed to maximise opportunities for our students to network and build strong connections with employers. Our students participate in activities which allow them to develop a highly competitive skillset and strong and current commercial awareness.
As part of the dedicated employer engagement programme, our students enjoy exclusive access to:
Industry Insight Sessions
Employer led business games and skills sessions
Employer presentations
Employer led CV checking, mock interviews and mock assessment centres
Employer involvement in academic teaching
Access to the wider employer activity programme organised by UCL Careers
Employers who have previously participated in the School's programmes include:
Accenture
Amazon
ASOS
Bank of England
Barclays
Bloomberg
Deloitte
Capco
Capgemini
Deutsche Bank

EY
Expedia
Facebook
IBM
L'Oreal
PA Consulting
PwC
P&G
Sainsbury's
Unilever
Recruit our Students
Whether you need to recruit for permanent graduate-level positions, projects or internships, our global student community can meet the most diverse recruitment needs. Our rigorous selection criteria across our courses mean that, as a recruiter, you can be confident that much of the initial work has already been done for you.
Ways you can engage with our students:
Advertise your vacancies: target your opportunities, internships and placements to specific courses and year groups. We will advertise your opportunities free of charge.
Raise your profile: attend our industry insight sessions, deliver company presentations and support students by offering CV/application checking and mock interviews. You can get involved in these activities throughout the year.
Industry Projects: benefit from an independent perspective on strategic issues by harnessing the expertise of our students. We welcome projects from all industry sectors and will be happy to discuss your needs further.
Student Societies: our student societies are a vibrant part of the UCL School of Management community, led by students for students. Our Women in Management Society for example organises events designed to support our female talent reach their full potential.
Contact our team
To find out more about working with our careers team to advertise your vacancies or raise your profile with undergraduate students, please contact Carly Cheeseman and Priya Chauhan. For the same activities with postgraduate students, please contact Tina Whittle and Nida Siddiqui.