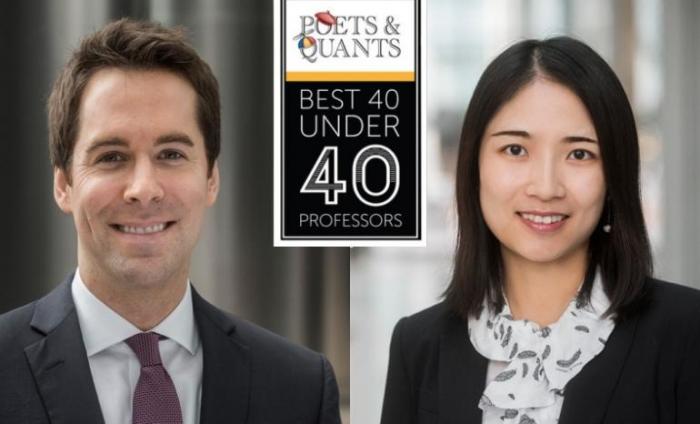 This year, two members of UCL School of Management's fantastic faculty have been named in the Poets&Quants Best 40-Under-40 Business School Professors list. We are delighted to see both Yiting Deng and Blaine Landis recognised on the 2022 list, and are extremely proud to see the school doubly represented in this global list. It is a fantastic achievement for both Yiting and Blaine to have been selected out of scholars across the globe.
This is the second year running that faculty from The UCL School of Management have been recognised on the list, last year, Professor Chia-Jung Tsay was named and received 86 nominations, making her one of the most nominated professors in 2021 and in any previous year.
Yiting Deng
Yiting's main research interests are in digital platforms, advertising, media consumption, and two-sided markets. Her research has been published in academic journals such as Management Science, Marketing Science and many more, and her work on TV advertising is award-winning, and was a Finalist for the Robert D. Buzzell MSI Best Paper Award and Runner-up for the Don Lehmann Award.
Yiting's excellent academic accomplishments combined with her extensive teaching experience and interdisciplinary expertise contributed to her selection for the prestigious Poets&Quants list as one of the Best Business School Professors.
Upon hearing the news Yiting said, "I am extremely honoured to be selected! I am deeply grateful for the support from my amazing colleagues and students over the years, as without them this would not have been possible."
Blaine Landis
Blaine's research takes a psychological approach to understanding social networks in organisations. His published research identifies the personality characteristics linked with advantageous network positions in the workplace, as well as the network positions most closely related to job performance and career success.
As well as receiving widespread academic acclaim for his research in leading journals such as; the Journal of Applied Psychology, Organization Science and Psychological Science, Blaine is also a highly active and visible scholar in public discussions about organisational psychology topics with industry professionals. He has made contributions to public conversations concerning why professionals should take sick days (e.g., Wired), how even the suspicion of cronyism can sow discord in the workplace (e.g., Financial Times), and how online interactions reduce the frequency of beneficial and informal spontaneous interactions in the workplace (e.g., IT Pro).