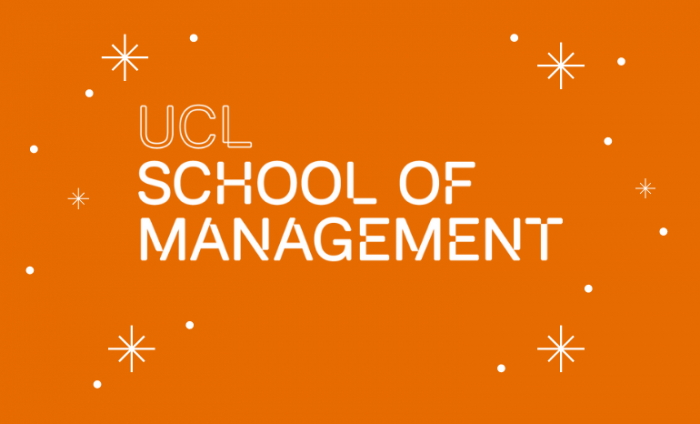 This year had been unique and challenging for us all, and we are extremely proud of the UCL School of Management community for the hard work and determination they have demonstrated even in the most difficult of times.
As the year draws to an end, we are looking back at our talented staff, students and alumni's biggest achievements from 2020. Together we have achieved many outstanding things throughout the year, so it was difficult to select just a few. But we've narrowed it down to our top 5 highlights of 2020.
NSS results
This year UCL School of Management received its highest ever NSS results, with an average student satisfaction score of 93% for its BSc Information Management for Business and BSc Management Science programmes. The results now place The School of Management as the leader in the 'Management Studies' category among all Russell Group universities.
These results are thanks to the hard work of all staff involved with the programmes who take the feedback we receive seriously and act upon it swiftly to ensure we deliver programmes to the highest standards. It demonstrates their dedicated support to students, especially in these unprecedented times.
IMB second-year student wins McKinsey women achievement award
This year UCL School of Management's BSc Information Management for Business second-year student Tuna Turkman won the prestigious McKinsey Women Achievement Award. We are extremely proud of Tuna as this award recognises her talent and determination to succeed in leadership roles where women are usually underrepresented.
The award recognises Tuna's talent and determination to succeed in leadership roles where women are usually underrepresented. UCL's IMB programme equips students, like Tuna, with the necessary skills to be a part of the next generation of influential leaders. When asked if she believes her experience on the programme helped her application to be successful Tuna said: "Definitely! IMB provides an amazing career advisory service. I developed skills on how to stand out in applications during CV workshops, interview preparations and networking sessions. In my application, I emphasised the consultancy projects I have been involved in on the programme which prepare students for the industry. IMB is the ideal programme for anyone who is considering a career in consultancy… Being an IMB student and part of UCL School of Management is an invaluable experience."
We are extremely proud of Tuna for this fantastic achievement and to see how she has harnessed the skills and knowledge developed on the programme.
Heineken invests in Double Dutch
In 2020 brewing giants Heineken bought a minority stake in Double Dutch Drinks, the premium drinks business founded by UCL School of Management MSc Entrepreneurship Alumnae Joyce and Raissa De Haas. The company have purchased a 10% stake in Double Dutch, providing the business with new capital with which they can continue to expand the business and grow into new markets.
The duo have sold more than 10 million bottles to date, and have now grown to the point where they are selling just under a million a month around the world. The drinks brand has also had an excellent new rebrand – check it out on their Instagram
Read more about this exciting new partnership
athena swan bronze award for ucl school of management
We are delighted to share that this year UCL School of Management was awarded the Athena SWAN Bronze Award from the UK Equality Challenge Unit. The award recognises the School of Management's commitment to improving gender equality and representation among its staff and students and the higher education and research sector.
In recent years the only 30% of business schools received the award, and being one of the few business schools to receive the Bronze Award demonstrates that the UCL SoM has begun to implement strong evidence-based action plans to improve gender equality and encourage more inclusive culture.
Learn more about the Athena SWAN Award
UCL rises to 4th and 5th place in the Uk rankings
We're delighted that UCL School of Management has risen to 4th place in the 2021 Complete University Guide UK Rankings for Business and Management. This is an improvement of 6 places from the 2020 rankings!
This year UCL SoM also rose to 5th place in the Guardian's UK rankings for Business, Management and Marketing. This is an improvement of 31 places from the previous rankings and demonstrates the hard work put in by the UCL and the UCL School of Management teams to ensure we are one of the leading business and management schools in the UK.
There have been many other exciting things happening behind the scenes, which we hope to share with you soon.
We look forward to what 2021 will bring and seeing what our talented students and alumni go on to do next. Watch this space to find out more…