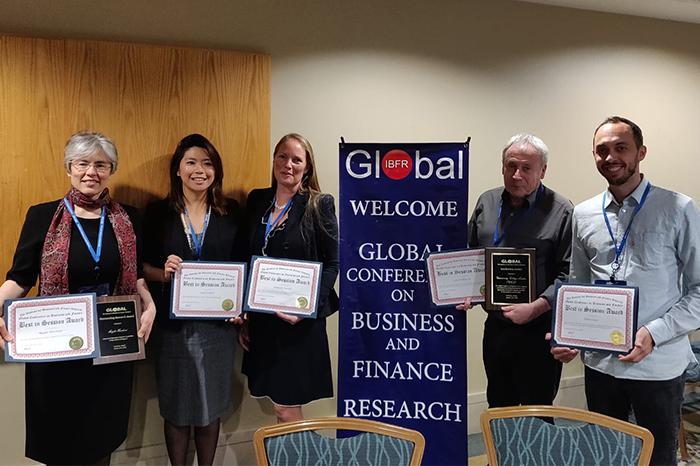 The UCL School of Management Finance and Accounting team cleaned up at the annual Global Business and Finance Research Conference, bringing home a total of nine awards across a range of categories.
The conference, hosted by The Institute for Business and Finance Research (IBFR), is renowned for promoting quality research, knowledge sharing and bringing together like-minded experts in their fields from across the globe.
We are extremely proud of our talented faculty for receiving the following awards:
Magda Hercheui, Principal Teaching Fellow and MSc Management Programme Director
Received the 'Outstanding Research Award' and 'Best in Session Award' presenting a paper titled: 'Improving Organization Dynamic Capabilities Using Artificial Intelligence' (written with Rishikesh Ranjith, MSc Management alumnus)
Lynsie Chew, Principal Teaching Fellow and Programme Director (MSc Professional Accountancy)
Awarded the 'Best in Session' for her presentation titled: 'Evaluative Reflection in Module Design: A Pragmatic Approach'
Danusia Wysocki, Teaching Assistant and Adjunct Teaching Fellow
Awarded 'Best in Session' for her paper titled: Emotionally intelligent Bean Counters: the future of Accounting? A Pilot Study into the Perception of Emotional Intelligence Within the Accounting Community.
ALAN PARKINSON, DEPUTY DIRECTOR OF EDUCATION AND PROFESSIONAL TEACHING FELLOW
Accepted the 'Leadership Award' for UCL for encouraging staff development in scholarship and research with his study: 'Educators as Endogenous Researchers Within Their University: A Reflective Critique of a Study Involving Students.'
Elliot Guner, Adjunct Teaching fellow, and Alan Parkinson
Received a joint award for the 'Best in Session' presenting their paper titled: 'Back to the Future: Mapping 21st Century Entrepreneurship Theory and Practice Against a 19th Century Context through a Case Study of Stephen Geary and Highgate Cemetery'.
A big congratulations to Magda, Lynsie, Danusia, Alan and Elliot on their thoroughly deserved awards.