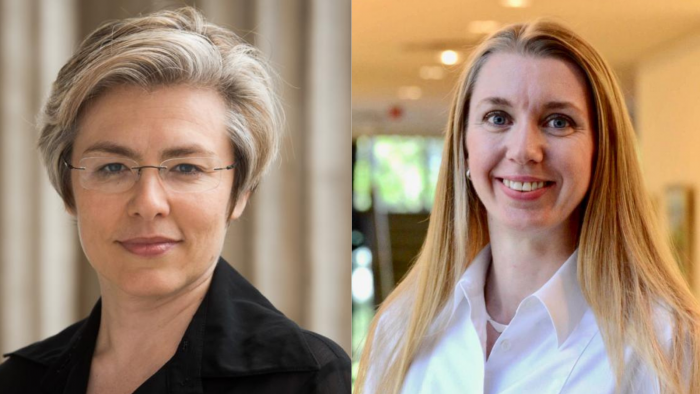 The UCL 2021 Education Awards shortlist has been announced and we are delighted to share that this year two members of the UCL School of Management faculty, Dr Magda Hercheui and Dr Rikke Duus have been shortlisted for the 'outstanding response to teaching and/or support during a pandemic' award.
The nomination recognises their outstanding contributions to the learning experience and success of our students. In the past year, both Magda and Rikke have led various fantastic initiatives and gone above and beyond to deliver a high-quality experience for students.
Upon receiving the news Dr Magda Hercheui said:
"I am very honoured to be shortlisted and I thank all who have recognised the work that has been done, not only by me to support students in such a challenging year. It is important to say that this work would not be possible without the full support of colleagues. The nomination comes in my name, but it is a team effort, involving professional services and academic staff. I would like to thank all colleagues for their hard work, which has allowed us to respond and support students so well in this moment of crisis."
Dr Rikke Duus said:
"It is a great pleasure to be shortlisted. Since 2020, the role of academics has changed and we have needed to think beyond the traditional classroom and engage our students as digital learners. I saw this as an opportunity to re-think and re-design the modules I teach using a concept called the '3Cs of Async'. I am very pleased that this concept was published by Harvard Business Publishing.
I was also pleased to present this concept at the UCL Education Conference and share the approach with my colleagues across UCL. I will continue to use innovative approaches to teaching and use multiple digital platforms and technologies to enhance the learner experience and entice engagement with our students who will be joining us from across the world in the future.
This year the School also saw multiple nominations for the Student Choice Awards for multiple categories. We are extremely proud of the entire team at the School for their dedication and commitment to providing a quality experience and education for all. We are fortunate to have a wonderfully talented and passionate team.
Congratulations to all those who were nominated and shortlisted this year and we wish the best of good luck to Magda and Rikke.