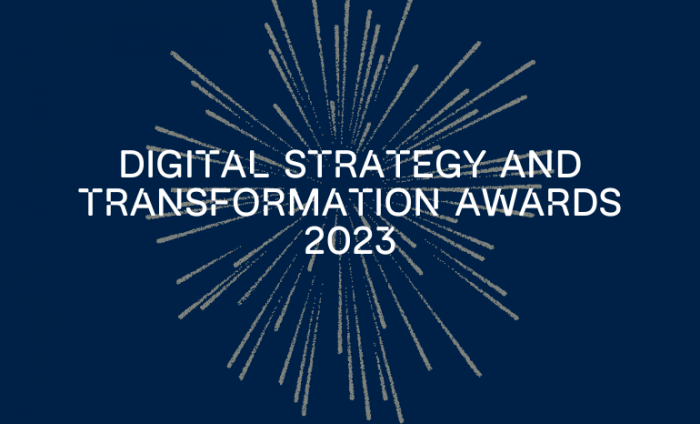 We are excited to announce the Winners and Runners-Up of the second Digital Strategy & Transformation Awards led by Associate Professor Dr Rikke Duus.
During the first 6 weeks of the term, students from across UCL who have chosen to study the MSIN0051 Digital Strategy & Transformation module worked in digital consultancy teams to analyse a chosen organisation's performance. Based on this analysis, the teams have proposed digital transformation initiatives to drive new value for the organisations.
The project is focused on not only developing new digital transformation initiatives, but also acquiring multiple digital skills which they use to design and develop the project outputs. Teams create interactive and impactful multimedia content, app prototypes, video insights and data visualisations. The teams' projects are presented on interactive websites that students create themselves. This helps to bring the teams' work to life and makes it shareable with current and future employers and other relevant individuals.
Week-by-week, teams applied business-related analytical frameworks to assess and evaluate the innovation drive of their chosen organisation, as well as the dynamics of the competitive landscape, shifts in consumer trends and 'white space' opportunities to digitally accelerate the organisation's ability to compete and create value for customers and other key stakeholders. The teams have developed digital transformation solutions for a wide range of organisations, including British Airways, Holland & Barrett, the Body Shop, the Department for Education, Waitrose, Decathlon, Arsenal, and many more.
The Digital Strategy & Transformation Awards are given out in two categories:
Most Viable Digital Transformation Solution
Most Impactful Digital Multimedia Presentation
All 16 teams produced exceptional work, and it was tremendously challenging for the teaching team to decide the winners and runner-ups. However, after careful consideration and deliberation, a few submissions were selected as Winners and Runners-up in the above categories.
These projects demonstrated a strong ability to analyse and assess their organisations' performance using extensive primary and secondary data, an in-depth understanding of the organisations' external environment, as well as key trends and changes in consumer behaviours. Drawing on this insight, the teams were able to propose digital transformation initiatives which are likely, if implemented, to drive significant value for the organisations and improve their ability to compete in their relevant markets. These teams also showcased their ability to present their projects innovatively and creatively using digital tools and platforms.
Many congratulations to all the Winning and Runner-Up Teams!
most viable digital transformation solution
Winning Team: Most Viable Digital Transformation Solution
Gabriela-Irina Olaru, Juntong Song, Boran Zhang, Ning Yen, Saloni Agarwal
Organisation: Waterstones
Runner-Up: Most Viable Digital Transformation Solution
Mariam Desouza, Talia Munise Hudaverdi, Mohammad Riazul Ikram, Joliton Valencio Victoria
Organisation: Holland & Barrett
Runner-Up: Most Viable Digital Transformation Solution
Lea Clementine Tinelli, Tsz Wei Lee, Robbie Alexander Long, Kin Long Shum, Amran Nardos Sourafel
Organisation: Lego
most impactful digital multimedia presentation
Winning Team: Most Impactful Digital Multimedia Presentation
Mukund Hari Nathany, Deepak Tahiliani, Saphia Asem Fikree, Luxsia Mankaleswaran, Chun Liu
Organisation: British Airways
Runner-Up: Most Impactful Digital Multimedia Presentation
Emma Tournan, Serene Sue Lim, Teymour Thomas Youssevitch, Chak Long Chan, Chun Hei Liu
Organisation: Barnes & Noble
Runner-Up: Most Impactful Digital Multimedia Presentation
Lea Clementine Tinelli, Tsz Wei Lee, Robbie Alexander Long, Kin Long Shum, Amran Nardos Sourafel
Organisation: Lego