Programme

The MSc Technology Entrepreneurship is designed for students who intend to start and run high impact, innovative businesses.
Right from the start of the programme, you will learn the skills and gain the tools to start an innovative, high impact new business. From the first week, you will be interviewing prospective customers, learning how to do "rapid prototyping", using the tools of "lean" entrepreneurship, and pitching new ideas. Using UCL's networks and reputation as a starting point to access London's thriving technology entrepreneurship scene, you will find or develop a founding team and learn how to raise investor finance or "bootstrap" your business.
This course is unique in Europe, for its single-minded focus on giving you the knowledge, skills and network to start up successfully. We pride ourselves on our rate of successful startup creation and every year work to launch more successful startups. And, the skills you will learn are both the foundation of a career as a life-long entrepreneur and in high demand from a wide variety of employers: large and established firms who need innovative employees, and fast-growing firms in the exciting technology entrepreneurship sector.
The challenges the world is facing require trained innovators to address them. On this course, you will find yourself among like-minded students who will be your allies during this training– and in some cases the co-founders with whom you will establish your future business.
The course may be pursued full time over one year, or part time over two years.
Join an Open Evening (in London) here
Join a Virtual Open Day (from anywhere) here
Register your interest:
Teaching Approach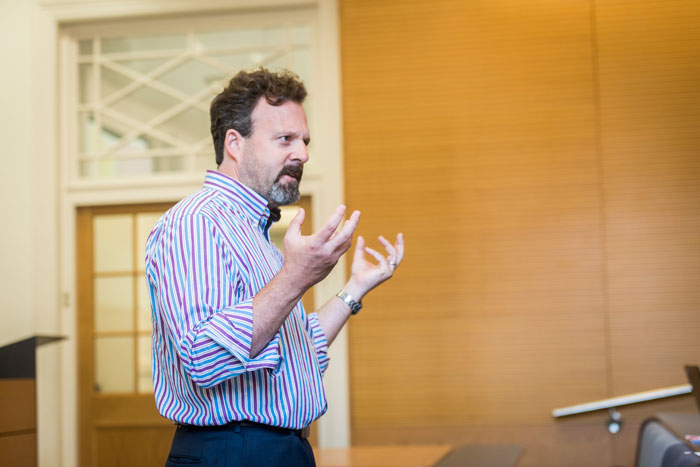 The course is taught with a "learn by doing" approach. While, like any UCL Masters degree, a rigorous base of research underlies the programme, the emphasis is on supporting students to develop the skills needed to succeed as CEO and/or co-founder of a high impact, innovative business.
Modules are academically testing, require essays and reading key texts, and three of the eight modules include an end-of-year examination. However, all coursework is intended to give students an opportunity to develop a startup, and most of the teaching is collaborative, experiential and driven by "build measure learn" cycles where students take action, analyse and reflect on the effects caused by that action, and decide on the next action to take. Throughout the programme, we build in opportunities to connect with experienced, highly engaged mentors who, like our teaching team, are seeking to share their experience and wisdom with the "next generation" of entrepreneurs who come to UCL from around the world. We are often called an "incubator for people".
The MSc Technology Entrepreneurship teaching team is made up entirely of faculty with experience both of academia and of the world of industry and entrepreneurship, including three active venture capitalists and investors. As a team, we take enormous pride in our programme and the high standard of teaching we offer to aspiring entrepreneurs. There is no other post-graduate degree course like it in the world: based in a top global University, but also focused entirely on the creation of new high impact ventures, rather than on "innovation" more generally.
We are particularly proud of our support for female founders: historically, about one-third of the class each year has been female, and in the 2015 graduating class over half those now working as company founders are female.
Students who are looking for a teaching team committed to delivering a transformative educational experience for would-be entrepreneurs should apply.
Pathways
New for 2016-17, all students select among and follow four specialist pathways, aimed at giving them domain-specific knowledge, networks and skills.
Fintech Entrepreneurship– for students with a background in the financial services industry who intend to develop a fintech startup, in the world's financial and fintech capital.
Health Care Entrepreneurship– for students who intend to develop a health care based startup in a University which boasts one of the world's leading medical schools and Faculties of Life Sciences, Brain Sciences and Population Health Sciences, in the heart of London, where NHS innovation units and startup accelerators are multiplying.
Retail and Consumer Entrepreneurship– for students who intend to develop consumer services and products in Europe's leading capital of the fashion, design, video gaming, food, retail, advertising, media, education, publishing, music, and creative industries.
Technology Entrepreneurship– for students who intend to develop high impact services and products which take advantage of emerging technologies or emerging business models enabled by technology (such as platforms).
Students select a Pathway on applying, but may change Pathways any time up to the end of Term 1, subject to the approval of the course director.
Programme Structure
The programme structure comprises:
Term 1– late September-December 2016

Term 2– January-March 2017

Required:

MSING010: Building High Impact Ventures

MSING038: Prototyping

MSING007: Entrepreneurial Finance

MSING037: Customer Development and Lean Startup

Required:

MSING016: Strategic Management of Entrepreneurial Ventures

MSING058: Entrepreneurial Marketing and Analytics

Pathway Electives (choose one):

MSING043: Fintech Entrepreneurship

MSING044: Health Care Entrepreneurship

MSING045: Retail and Consumer Entrepreneurship

MSING057: Technology Entrepreneurship

And, choose one of:

MSING009: Managing the Growing Firm

MSING047: New Venture Development
In Term 3 and up to early September 2017, students develop a dissertation project, working with a "real world" mentor from the London startup community and a supervisor from the UCL Entrepreneurship teaching team. The project allows those who are "starting up" immediately to work full time on developing their startup, and those who are not starting up immediately to conduct field research-based investigations of the desirability, feasibility and viability of a business opportunity. The dissertation project is documented in a 10,000 word report.
Students have the ability to organise Treks to visit other startup ecosystems, which typically travel at the beginning of Term 3, and these are supported financially by the School of Management. Past treks have visited Tel Aviv, and future treks are planned to Silicon Valley, Berlin and Bangalore.
Entrepreneurship at UCL
UCL has a long and successful track record of supporting spin-outs and start-ups developed by its academic and student communities and was recently hailed by the Guardian as a 'shining example of support for student entrepreneurs in an article about whether universities are doing enough to start businesses. Many of the student and staff entrepreneurs have won external awards and obtained substantial investment allowing their enterprises to grow and reach their full potential.
UCL Innovation and Enterprise offers a wide range of support to students ranging from training programmes, entrepreneurship guest lectures, drop-in advice on whether an idea has commercial potential, one-to-one sessions with business advisers, funding, competitions and incubator space to help them start or grow their business.
Find out more and keep updated:
Follow us on Twitter: @UCLEnterprise
Like us on Facebook: UCLEnterprise
Join us on LinkedIn: UCL Innovation and Enterprise
Location

From September 2016, students will attend nearly all of their classes in our new location, Floor 38, One Canada Square, Canary Wharf, London's global business district. The above photo is the view from the new location. All facilities at the Bloomsbury campus will be available to students; many networking and collaboration events, and potentially some teaching, will also take place in Bloomsbury or at UCL Advances facilities, BASE KX and IDEALondon.
London was recently identified as the third best city in the world in which to study by QS Top Universities on criteria such as student mix, quality of living, opportunities and affordability.
Entrepreneurship in London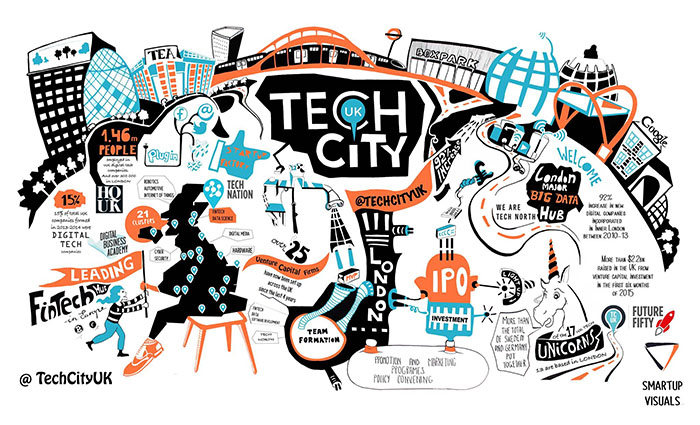 London is one of the world's leading centres of entrepreneurship. As of November 2015, there are hundreds of investors, dozens of "startup accelerators", nearly 100 co-working spaces aimed at supporting startups, and thousands of would-be high impact startups. The "ecosystem effect", in which startups thrive because of their access to the talent pool and capital attracted by the presence of other startups is well known and makes London one of the best places in the world to pursue a startup. The MSc in Technology Entrepreneurship is focused on introducing its students to the heart of the relevant part of the ecosystem they most need in order to develop their startup.
Those considering pursuing the Fintech pathway should consider that from June 2016, the UCL School of Management will move to Level 38, One Canada Square, Canary Wharf– one floor below the world's leading Fintech accelerator.
Those considering pursuing the Health Care pathway should consider that UCL's Faculties in Health Care are world leading, providing unique collaboration opportunities, and that many of Europe's leading health care accelerators are based in London.
Those considering pursuing the Retail and Consumer pathway should consider that London is the home of world-leading players in fashion, design, video gaming, food, retail, advertising, media, education, publishing, music, and creative industries.
Those considering pursuing the Technology Entrepreneurship pathway should consider that as of summer 2015, London is the home of 13 of Europe's 35 "unicorns" (tech startup firms valued at over $1bn).
In terms of access to talent, capital and the innovation-oriented consumers and enterprises who make a startup's first customers, London is the best option for pursuing entrepreneurship in Europe.
Applications
Student profile
Who is this Programme Designed For?
Applicants with a minimum of a high-end second-class degree (or its overseas equivalent: see international Students qualification equivalents).

Applicants who have a demonstrated interest in pursuing an entrepreneurial venture or career. Applicants must have undertaken entrepreneurial activities, not simply aspire to entrepreneurship.

Emphasis is placed on applicants' ability to begin developing their startup immediately. Therefore work experience, though not absolutely required, is highly valued, and applicants with work experience are strongly encouraged to apply. Applicants with no work experience should emphasise the skills they will bring to a startup team in their personal statement.

If a prospective student has no work experience, his or her undergraduate studies will normally lie in an area directly related to the Pathway they wish to pursue (see above for details of Pathways). Candidates with other qualifications may be considered but only provided that they are able to clearly demonstrate entrepreneurial capabilities in the selected Pathway.


Applicants who wish to pursue the Fintech pathway will have work experience in the Financial Services sector.

Applicants who wish to pursue the Health Care pathway will normally have experience and/or qualifications in medicine, health care or life sciences.

Applicants who wish to pursue the Retail and Consumer pathway will normally have experience and/or qualifications in fashion, design, video gaming, food, retail, advertising, media, education, publishing, music, or the creative industries.

Applicants who wish to pursue the Technology Entrepreneurship pathway will normally have experience and/or qualifications in computer science, design, mathematics, science, engineering, or technology.

Those with business or management undergraduate qualifications will need to demonstrate entrepreneurial capabilities. In most startups, a founding team member with no domain-specific experience or knowledge will be expected to "hustle", to sell to customers and to negotiate. In the application process, applicants with no domain-specific experience will be assessed on their demonstrated desire to contribute in this way to an entrepreneurial venture.


For more information, email mgmt-te@ucl.ac.uk
How to apply
For entry in September 2016/17, please apply via the UCLSelect online application portal.
The deadline for submitting applications for the academic year 2016/17 is 29th July 2016.
If English is not your first language, you will usually be required to take an IELTS test and reach the 'good' level: Details of the English language requirement for studying at UCL
UCL Admissions assess whether overseas degree qualifications fulfill the course requirements and they require a full application to be submitted with all relevant supporting documentation - such as degree transcripts and references - before they can make this assessment.
All enquiries about submitted applications should be directed to the UCL Admissions Department not UCL School of Management. UCL Admissions' preferred method of communicating with applicants is by telephone using +44 (0)20 7679 7742 or 7381 rather than by email. However they can be emailed too: admissions@ucl.ac.uk
Interviews
If you are successfully shortlisted for a place on the course you will be interviewed by course director using the online video system WePow - via the internet
Fees
Information on the UK Government postgraduate student loan scheme new for 2016-17, and open to all EU students under the age of 60
Information on how and when to pay fees
Course Dates
One Year Full-Time:
26 September 2016 - 27 September 2017
There is only one intake per year, in September at the beginning of the UCL academic year. In the first week new students take part in a dynamic range of induction events. Unlike some UCL Masters degrees, we do not operate a January intake.
Two Years Part-Time:
Part-time students attend formal sessions at UCL just two half-days per week. Part-time students are able to learn and engage with the vibrant UCL entrepreneurship community whilst building a new venture or working.
Scholarships and Bursaries
*The Fulbright Commission Award for a US graduate student to study MSc Technology Entrepreneurship. For further information, please see Fulbright US to UK.
For UCL additional funding opportunities, please see scholarships and funding.
Why choose us
Former MSc Technology Entrepreneurship Students Say:

Deniz Ozalp: The MSc in Technology Entrepreneurship was one of the best decisions I have made in my life. It has truly been more than I have ever expected or imagined. The mentors are very supportive, creative and helpful. The professors and lecturers know what they are doing really well. They are always keen to make introductions and help us extend our network. They also support us in identifying our skills and help us team up with colleagues who can complement our skills. There is something happening all the time!

Markus Gnirck: Being part of UCL gives an incredible network and brand that is very well recognised in the London (startup) community. UCL Advances is super plugged in various entrepreneurial activities and has access to a lot of people in different positions (co-working spaces, Angels, VCs, accelerators).
Running the accelerator Startupbootcamp FinTech has now made me understand that I learned a lot of methodologies and techniques during my Masters that I see essential for every startup to have in place (e.g. lean canvas, MVPs).

Fadzli Anuar credits the course with giving him the confidence to win Malaysian entrepreneurs' challenge TV show 'Make the Pitch': "It's not an inborn trait, the course is very hands-on and you learn through practical experience how to be an entrepreneur. You discover how to anticipate difficult, probing questions from would-be investors. I find myself thinking: "What would the course director have asked if I was pitching to him?"

Gustavo Gorenstein: "I intend to use all the learned frameworks and create value out of innovation that will ultimately benefit society. I have received funding from UCL to present a project in an international competition in Brazil, which was an amazing transition from an academic perspective to real-world contact, and also a scholarship for the Entrepreneurship Summer School at London Business School.
UCL also provided a hatchery [UCL Advances Centre for Entrepreneurship and Business Interaction] for students with projects. The space is amazingly good with everything needed to get a project off the ground. Not to mention the ongoing support and contacts from the staff."

Rodrigo Martinez: Rodrigo feels MSc Technology Entrepreneurship is especially good for motivating students. "Everything is there if you want it, from help with your business plan to networking with the wider business community. You get as much out of the course as you're prepared to put in."
Since completing the course, Rodrigo set up a company based in Mexico's rapidly developing Silicon Valley and launched successful online video interview platform OVIA In October 2011, (since rebranded as WePow) which has received over $5 million funding from venture capital firms to further develop their software and business.
Careers
Our Approach to Careers
The MSc Technology Entrepreneurship is a lifelong community. Our alumni continue to participate in the UCL ecosystem, and increasingly are hiring our graduates. Those who are working on a startup post-graduation continue to receive pitching and mentoring opportunities within the ecosystem.
We know that an increasing number– 40% of the graduating class of 2015– will continue to develop their startup rather than seek employment. However, others will want to secure additional work experience before starting their ventures.

Entrepreneurship Careers
Many of our alumni have gone on to build fantastic companies. Currently, 57 of our alumni are working as founders or co-founders.
*Zain Jaffer, a former part-time MSc Technology Entrepreneurship student, has secured $25m in funding from Google and AOL Ventures for his company Vungle, an app video promotion start-up.
*Jan Senderek sold his startup, Loom, to Dropbox; his personal share of the proceeds was over €1m.
*Marcin Piatkowski raised £160,000 from crowdfunding site Crowdcube to launch his innovative chainless aluminium electric folding Jivr Bike - as reported in media such as The Daily Telegraph, Tech City News and Bike Biz, and his subsequent Kickstarter was oversubscribed by 80%.
*Alex Siljanovski, Manuel Zapata and Laura Davies launched BaseStone, an integrated platform and mobile app that enables engineers and architects to securely issue, review and manage their drawings. BaseStone is rapidly receiving a huge amount of interest and a number of awards within the construction industry, is working with the world's leading construction businesses and has secured $700k in investment so far.
*Rodrigo Martinez founded WePow and has grown the business hugely, raising over $5m in investment.
*Joyce and Raissa Haas founded Double Dutch Drinks, which is growing rapidly, and recently won Richard Branson's foodpreneur awards.
*Karoline Gross founded the adtech company Smartzer and raised a $400k seed round to grow the business just after graduation.
*Paul Varga and Tolulope Ogunsina founded Playbrush and conducted a successful Kickstarter campaign for Christmas 2015.
*Michael Langguth and Oyvind Henriksen founded Poq Studio and recently raised $500k in crowdfunded equity to fuel its growth.
These are just a few examples: overall, among our 400 alumni, there are about 57 people currently working as founders and co-founders of high impact businesses.
In the most recent graduating class of 2015: 17, or 40%, of our 2015 graduates are currently developing 11 startups (several having created founding teams from within UCL). Half of these founders are women.
Other Careers
We are also very proud of those graduates who have gone on to exciting careers, using the innovation skills they have gained to make a difference for the organisations where they work. We know that many of them will start ventures in future years and will come back to UCL for mentoring and networking opportunities when they are ready to do so.
In particular, we have begun to see alumni take on vital positions within the London tech entrepreneurship ecosystem, supporting other startups: Magdalena Kron at the Barclays Techstars accelerator, Nick Slater at Capital List, Markus Gnirck and Cilia Li at Startupbootcamp Fintech. Other alumni work at tech firms such as Rocket Internet, Skimlinks, Justpark, Give Truly, Movinga, Apppli, Tradedoubler, Pager, Snip and Share, Dropbox, Webgains, and Amazon.
Other MSc TE graduates are employed at: Accenture Consulting and Technology, AIG, Astbury Marsden Consultants, Barclays Capital, BHP Billiton, Bloomberg Business & Financial News, BNY Mellon Banking, Boston Consulting Group, CHP Consulting, CITIC Group, Creative Consulting, Deloitte Consulting & Corporate Finance, E-Synergy, EDF Trading, Elexon, Ernst & Young, Evian, Fonterra, France Telecom (Orange), GreySpark Partners, IBM, KPMG, Lighthouse Analyst Relations, Novartis Pharmaceuticals, NTT Communications, Omnicom, Pegatron, Pepsico, Poten & Partners, PwC, Saatchi & Saatchi, Schneider Trading, SKIM Healthcare, TNS Global Market Research, UBS, Volkswagen Group, Wonder Auto Technology, ZenithOptimedia Investment Marketing.
As a Technology Entrepreneurship student, you will have access to a bespoke Careers and Employer Engagement programme and a dedicated careers team who will help you present yourself to graduate employers with confidence.
Our portfolio of careers support includes:
Individual career coaching sessions with a Careers Consultant dedicated to the School of Management
Exclusive industry insight sessions and employer-led events accessible only by School of Management students to inform your career choices
Access to UCL School of Management alumni keen to support you with your career
For further information on the Careers provision for UCL School of Management, please see our Careers page.In addition to the bespoke activities within the School of Management, you also have access to the central UCL Careers provision.
Frequently Asked Questions about MSc Technology Entrepreneurship:
What are the term dates for 2016-2017?
I am an international student, how can I find out what the degree equivalency is for my home institution?
I am currently studying and do not have my final results yet, should I wait to receive my transcript before applying?
If your predicted final results meet our minimum entry requirements, you can apply before receiving your final degree results. You should include details of your predicted results on your application form, and an official transcript of your results so far. If we are able to make you an offer of study, it will be conditional and you will need to prove that you meet the condition before the beginning of the course.
How can I apply?
You can apply online via
UCLSelect
. The deadline for submitting an application is 31st July 2016.
How can I get help with the online application form?
UCL Admissions process applications before they are sent to the School for a decision. If you need help with your online application you can call the admissions team on +44 (0)207 679 7381 / 7742, or email them: admissions@ucl.ac.uk
How long should my Personal Statement be?
There is no set length but you should outline your suitability for the course, entrepreneurial experience and ambitions in a clear and succinct manner. Most applicants tend to write 1.5 to 2 pages of A4.
Do I need technical skills, such as coding, to undertake this course?
For full details of the admissions requirements, see Student Profile, above. Students with a business background are considered on the basis of their demonstrated entrepreneurial capabilities.
I come from a family with a successful business and I want to take over running the business in future. Is this course suitable for me?
The course, its modules and the dissertation project, are specially focused on developing a new startup venture, using lean tools such as a minimum viable product, prototyping and startup marketing. Therefore, although the skills we teach are valuable in any 21st century career, normally we do not advise students whose ambitions are to take up a management role in an existing family business to apply.
How many referees do I have to provide and can they be employers as well as academic referees.
Two referees, and yes they can be employers.
My referees are unable to provide references electronically; can I provide hard copy reference letters?
Yes, you can post hard copies to the UCL Admissions Office. These will then be attached to your application form. Please make sure the course and your application number are clearly stated.
How long is the course and what are the term dates?
The course lasts for a full calendar year from September to September. Teaching finishes at the end of Term Two, allowing students to prepare for exams and the dissertation project.
Can you send me an application form for the programme?
There is no paper application available. Applications for September 2016 can be made online via
UCL Select
What are the fees for the programme?
Can I enrol in the programme part-time?
Yes, you can study over two years part-time rather than one year full-time. Part-time study is an increasingly popular option.
Where can I find out about UCL accommodation?
Can I obtain a scholarship, assistantship or some other form of funding?
What are the language requirements for the programme?
We strictly adhere to UCL's English Language Proficiency Requirements for postgraduate programmes, which are evaluated by UCL Registry and Academic Services (see above).
My application has been unsuccessful. Can I find out why and request to be reconsidered?
Unfortunately we are unable to give details as to why individual applications have been unsuccessful. We cannot reconsider decisions due to the high volume of applications.
Further Information
If you have any other questions regarding the programme that are not addressed on our web pages, please email mgmt-te@ucl.ac.uk