Overview
Start date: September 2018
Duration: 12 months full-time or 24 months part-time
Fees: UK/EU/Overseas - £28,370 or £14,520 (p/t)
Application deadline: 06 April 2018
Entry: Minimum of 2:1 or equivalent in a relevant discipline (International students - please note that UCL's English language requirements must be met (a 'Good Level' IELTS test is currently required for this programme)
Programme
We offer two routes through our MSc Management programme:
Route A is designed for students who have not previously studied business and management.
Route B is for candidates who already have an undergraduate degree in business and management, or for those who have studied Accounting and Finance at undergraduate level.
Route B is flexible in order to enable students to focus on the disciplines they did not study at undergraduate level.
Candidates are automatically directed down route A or B based on the details they give in their application and their prior studies.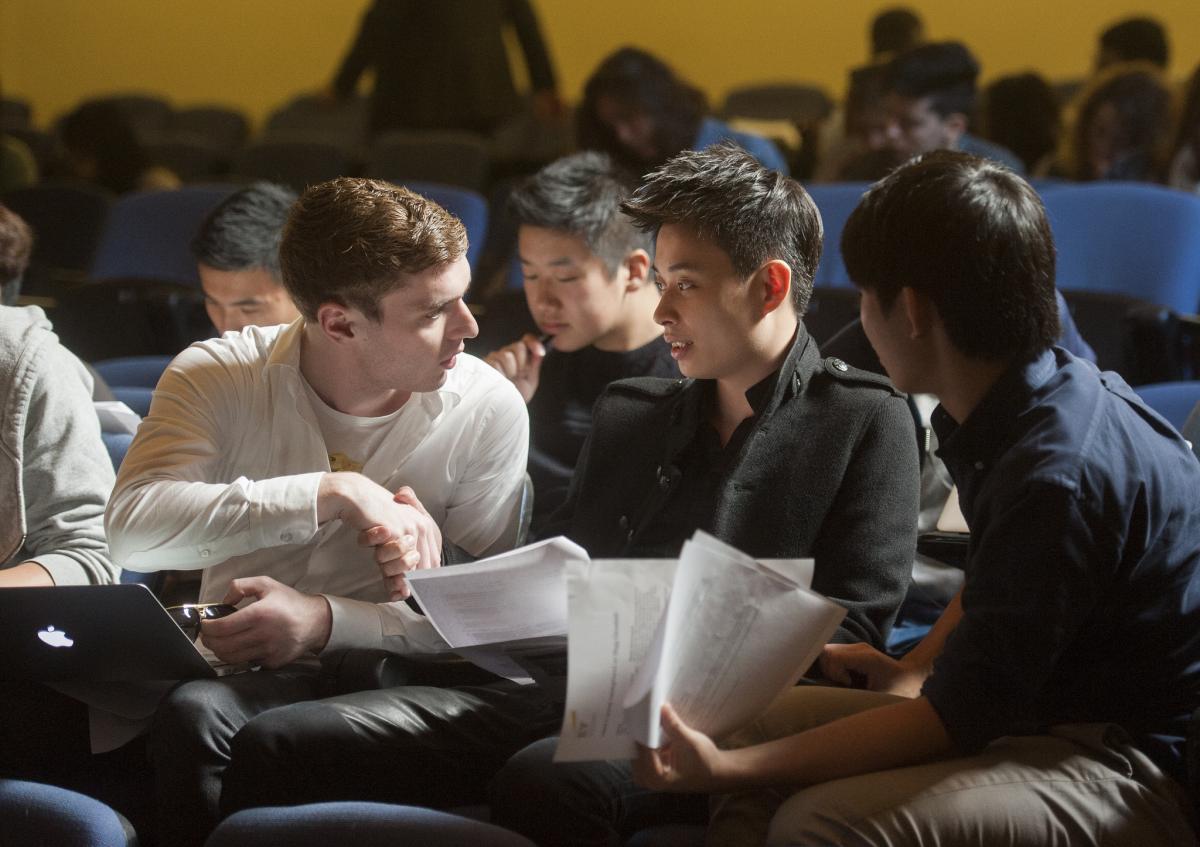 Programme Diet for the Academic Year 2017-18
The modules, consultancy projects and research activities are held throughout the academic year.
A detailed timetable will be made available to students during Induction Week in September 2017.
Route A:
Route B:
* The Corporate Pathway is a merger of the previous Leadership and Technology Management pathways
Consultancy Projects, Dissertations and Business Plans
As part of the module MSINGM99 Business Research Project, students have the opportunity to develop a consultancy project with a company of their choice. This work is done in small groups, with the supervision of the company and of UCL School of Management professionals. This consultancy project aims to train students to solve actual business problems and to help students to better understand business in the United Kingdom. It also provides a good opportunity for broadening professional networks.
For the same MSINGM99 module, students write either a dissertation based on a piece of business research, or a business plan for a new business or an existing busness which wants to expand operations. Students choose their topics in accordance with their career plans. All students receive expert support for choosing topics and designing projects which will help them in their long-term career plans, improving their chances of success in corporations, banks, consultancies and in their own businesses.
Students are offered training on consultancy services, business research and business planning, in accordance with their preference. All projects are undertaken with the supervision of UCL School of Management professionals.
International Summer Schools
Students will have the opportunity to apply to spend two weeks attending workshops and seminars in a university abroad. Partner schools include HEC Paris, KU Leuven in Belgium, Tsinghua University in Beijing, Zhejiang University in Hangzhou, Indian Institute of Technology in Bombay, University of Chile in Santiago, and Externado University in Bogotá. This option depends upon approval from the Programme Director, taking into consideration the experience and career objectives of the student, as well as the number of available places.
Students selected by the Programme Director may undergo an additional, independent application and selection process by the partner school, which reserves the right to make the final decision on whether or not to accept a student's application.
The UCL School of Management will support a summer school student's visa application (if applicable) to enter the relevant country of the partner school. Nevertheless, the decision to grant a visa to a summer school student is solely that of the host country's government.
Language Classes
All our students are allowed and encouraged to take language classes in the evening, either at the UCL Language Centre or at the UCL School of Slavonic & East European Studies. UCL offers many different languages at all levels. These language classes are self-funded by students and not subsidised by the UCL School of Management.
Masterclasses
In addition to academic subjects, students have the opportunity to attend a series of innovative and interactive workshops aimed at improving their management and leadership skills. The classes available vary from year to year. Some of the past classes have included:
Innovation
Appropriating Innovation: Managing Intellectual Property Rights
Customer-Focused Innovation: Designing New Value Propositions
Digital Marketing: Customer Acquisition
Innovation Engine: Designing and Testing Business Models
Leadership
Crisis Leadership
Developing Leadership Skills through Theatre Techniques
Great Leaders:How You Can Become One
Communication Skills
Developing Dynamic Public Speaking Skills
Effective Presentation Skills
Essay Writing Skills for Non-Native Speakers of English
Essentials of Executive Speaking
Social Media for Professionals
Student Activities
During their year at UCL, students have the opportunity to participate in various student activities on the Bloomsbury campus including clubs, societies, cultural events, sports, etc. Moreover, the MSc Management students have organised their own activities including a football team, a China network society, a Women in Management society, final-term parties and celebrations, etc.
Course Dates
Full-time (one year):
24th September 2018 to 24th September 2019
Part-time (two years):
Part-time students are expected to attend lectures two or three times a week. Lectures take place on weekdays between 8.30am-7.30pm. There are no evening or weekend lectures.
Location
The vast majority of lectures take place at our location, Floor 38, One Canada Square, Canary Wharf, in London's global business district. All facilities at the Bloomsbury campus, located in the heart of central London, will also be open to students.
Applications
Student profile
Who this course is designed for?
Are you ambitious? Do you have a 'can-do' attitude? Employers tell us that they look for people who aim high and are encouraged by challenges, not daunted by them.
Are you keen to know more about business and management?
The MSc Management programme is designed to produce graduates with the knowledge and contacts to pursue a career in management.
Do you want support in developing your career?
Regular career workshops and one-to-one advice ensures that every graduating student is able to advance their career plans.
Why choose an MSc in Management?
Organisations need people who can motivate others and develop strategies in a dynamic and competitive environment.
The MSc Management programme is designed to equip ambitious students with the knowledge and skills to work for leading organisations around the world.
Because of its managerial focus, the course is not suitable for those wishing to continue their studies at doctoral level.
Our students come from different academic backgrounds including business, international studies, engineering, sciences, economics, social sciences and the arts.

Applying for Masters in Management
Applications for September 2018 entry will be considered from mid-October 2017 onwards. The deadline for applications is early April 2018 (possibly earlier if places are filled). Students are therefore advised to apply early due to competition for places. Applications are made using an online application form.
Entry Requirements
We look for students with drive, talent, intelligence and vigour.
Academic profile. A minimum of an upper second-class Bachelor's degree from a UK university or an overseas qualification of an equivalent standard, in any subject. Applicants who have not received their final undergraduate degree must be able to prove their current grade average is a 2:1 or equivalent. We cannot consider applicants with a degree result lower than an upper second-class degree.
Career Aspirations. A personal statement outlining (1) their motivation for studying management and (2) future career aspirations. Applicants should also show that they have actively taken steps to meet their career goals though activities such as work experience, internships, and/or volunteering. Details should be included on the application form and a CV should also be attached.
International profile. Applicants should highlight any international experience they have had, including international exchanges, trips, internships, fluency in other languages and/or interest in other cultures.
English Language skills. Applicants whose first language is not English must be able to provide evidence that their spoken and written command of the English language is adequate. UCL's preferred English language qualification is the International English Language Testing System (IELTS). A 'Good Level' is required for MSc in Management: i.e. an overall grade of 7.0, with a minimum of 6.5 in each of the subtests. More information about the English language criteria can be found here.
Application process. Qualifications are assessed only once an application has been submitted. The equivalency of overseas qualifications cannot be assessed unless a full application with all supporting documentation such as degree transcripts, references, etc. has already been submitted to UCL. We do not require GMAT/GRE scores, but students are encouraged to include them if they feel their score will strengthen their application.
Fees
The 2017-18 fees are available online.
For funding information, please take a look at the UCL fees and funding pages.
Equivalency Requirements for Chinese Applicants
International students are required to have the equivalent of an upper second-class Bachelor's degree to apply for the MSc in Management. For applicants from China, this is usually a minimum of a Bachelors degree with a final overall grade of B+, 85%, or a CGPA or 3.45/4.0.
Further Information
If you have any other questions regarding the programme that are not addressed on our web pages please check the Frequently Asked Questions or email us.
Email: mgmt-mm@ucl.ac.uk
Telephone: 020 3108 6055
UCL Scholarships
For central additional funding opportunities, please see scholarships and funding.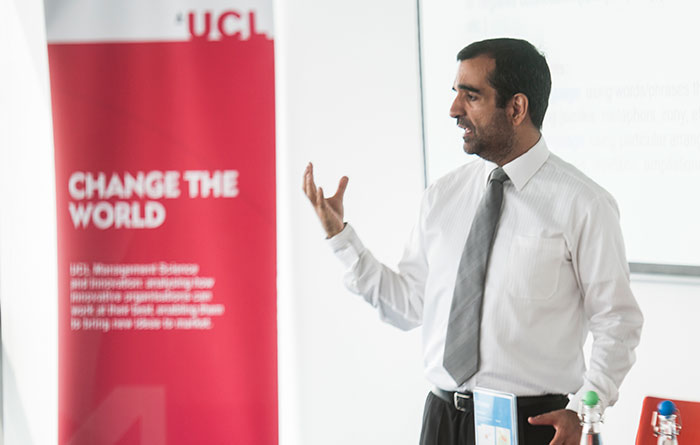 Why choose us
Our Strengths:
World class reputation: UCL consistently ranks among the top universities in the world.
International focus: Our MSc Management has been carefully designed to develop your international management and leadership skills.
High quality teaching: We invest in the selection and developing of our faculty to provide you with the best possible education during your studies at UCL.
Tailored careers support: A series of workshops and employer-led activities are offered throughout the year to develop your global career management skills.
Global professional network: Our international cohorts and close relations with alumni allow you to develop your global professional network.
What Our Students Say….
…on studying and living in London
"London is so multicultural, and that's even reflected in what you can have for lunch – we're spoilt for choice!"
"There's not only the activities laid on by UCL, but by a whole city of 11 million people – so you can always find something to do and someone to do it with."
"Transport in the UK and London is so good. You can be in Scotland in four hours and Paris in three. Its like a gateway for European travel."
"I thought the shopping was good at home – but London is brilliant!"
"London has so much history – you won't be able to see it all."
…on UCL
"It's the worlds 4th best university and its based in the world's best city – a winning combination."
"There are so many clubs and societies, the list is endless. If you are really into a certain type of activity, no matter how specialist – I guarantee there is a society for you!"
"Great facilities."
…on the teaching staff
"The teaching staff are really approachable, knowledgeable and the lectures are always well planned and thought out."
"Down to earth and friendly – and very good at their job!"
"21st Century teaching."
…on the cost of living
"Don't let preconceived ideas fool you, yes London can be expensive but there are plenty of ways to see all that the city has to offer at student prices. I went to the V&A with the UCL Arts Society for £2 last month."
"Now the credit crunch is upon us, all Londoners are looking for cheap treats – not just students – so a lot of cinemas, clubs, pubs and theatres all have amazing discounts. You just need to know where to look."
"Don't be put off by rumours, you don't need to be rich to live like a king or queen in London."
Careers
Career Opportunities
As London's Global University, we at UCL are better qualified than most to realise that any organisation is only as strong as the individuals who work for it. This, allied to the innovation and flexibility needed in today's organisations, means that recruiting the right person has never been more important.
The MSc Management course enables you to make an early and substantial contribution to your future employer. Each of our students are prepared for their future through career workshops, one-to-one advice, exclusive employer events and access to our alumni community. Whatever your nationality, experience or background, you will leave UCL equipped with the tools to become a high achiever in your chosen field.
As a MSc Management student, you will benefit from a bespoke Careers and Employer Engagement programme and a dedicated careers team who will help you present yourself to leading graduate employers with confidence.
Our portfolio of careers support for MSc Management students includes:
Individual career coaching sessions with Careers Consultants dedicated to the School of Management
Weekly careers and professional development workshops on topics including marketing yourself as a candidate, interviews, assessment centres and planning your next steps
Exclusive industry insight sessions and employer-led events accessible only by School of Management students to inform your career choices
Access to UCL School of Management alumni keen to support you with your career
For further information on the Careers provision for UCL School of Management, please see our Careers page.
In addition to the bespoke activities within the School of Management, you also have access to the central UCL Careers provision. Every year over 1000 employers/organisations attend events arranged by UCL Careers, including careers fairs, employer presentations and sector 'themed weeks', which may include employer forums, networking events, talks on how to get into the sector and one-to-one advice sessions.
Our students go onto careers in a range of sectors; the most common destinations for our students are consulting, banking and finance, management trainee programmes, marketing and technology. Graduates from the MSc Management programme have secured jobs in a variety of high-profile companies including:
Amazon
Barclays
Bayer
BCG
Bloomberg
Capco
CharityWorks
Citi
Deloitte
Deutsche Bank
Goldman Sachs
Google
GSK
IBM
JP Morgan
Kantar World Panel
KPMG
Lego
L'Oreal
LVMH
Nomura
Oliver Wyman
PA Consulting
PwC
Rothschild
Sotheby's
TK Maxx
Unilever
United Nations
… as well as a range of small-medium sized companies and start-ups
FAQs
Frequently Asked Questions about the MSc in Management
How can I apply?
What is the GMAT or GRE recommended score for the MSc Management?
GMAT: A score of around 600
GRE: A score of around 310
We do not require GMAT/GRE scores, but students are encouraged to include them if they feel their score will strengthen their application.
What is the GMAT designated institution code for MSc in Management, UCL?
The GMAT designated institution code is 7497
What is the GRE designated institution code for MSc Management, UCL?
The GRE designated institution code is 7499
How can I submit my GMAT/GRE score?
You can upload your score report as an additional document to your application, or you send your GMAT or GRE score through the GMAT or GRE website.
Can I find out if I am a suitable candidate for the course before applying?
Unfortunately we are not able to comment on a candidate's suitability for the course before we receive a completed application form. Our minimum entry requirements can be found above.
Will it improve my chances of being accepted if I apply for more than one MSc course?
No, in fact if you apply for more than one MSc it will indicate that you are unfocused regarding your career ambitions and it is more likely to lead to you being rejected for both courses. We currently offer several other Masters including an MSc in
Entrepreneurship
and an MSc in
Business Analytics
and the career outcomes for these programmes are very different from MSc Management.
I am an international student, how can I find out what the degree equivalency is for my home institution?
International Students may ascertain qualification equivalents from the
UCL international students website.
UCL Admissions check qualification equivalencies before forwarding application forms to our School. We are unable to comment on international qualifications.
I am currently studying and do not yet have my final results, should I wait to receive my transcript before applying?
If your predicted final results meet our minimum entry requirements, you can apply before receiving your final degree results. You should include details of your predicted results on your application form, and an official transcript of your results so far. If we are able to make you an offer of study, it will be conditional and you will need to prove that you meet the condition before the beginning of the course.
My degree results are just under a 2.1, can I be considered anyway?
No, unfortunately we are not able to consider any candidates below the minimum entry requirements. This includes applicants with a current average grade below a 2:1 or equivalent.
What documents are required for the application?
You will need to include a degree transcript, two references, personal statement and optional GMAT or GRE score. Overseas applicants should also supply evidence of their English language ability, usually via an IELTS test.
I have studied in English; do I need to take a language test?
Candidates may be exempt if they can show evidence of substantial education (minimum of twelve months) or work experience (minimum eighteen months) conducted in English and undertaken no more than two years prior to the proposed date of enrolment. More information on our English language requirements can be found on the
prospective students pages
I am going to take an English test later in the year, can I still apply now?
You may apply now for a place on a programme without a current English test as long as you send your qualification as soon as your receive it. If you are offered a place, it will be conditional on your providing evidence of English before the start of the course.
My referees are not able to provide references electronically; can I provide hard copy reference letters?
Yes, you can post hard copies to the Admissions Office to be uploaded to your application form.
What are the fees for the programme?
I want to start the course in January, is this possible?
No, we only have one intake a year in September.
How long is the course and what are the term dates?
The course lasts for a full calendar year from September to September. Teaching finishes partway through Term 3, allowing students to prepare for exams and work on their final project. Term dates are available each year on the
UCL website
.
Can I obtain a scholarship or funding?
Information about financial assistance is available
here
.
What careers support is available to students studying on this course?
Please visit the
careers website
for information regarding our dedicated careers support.
May I schedule an appointment with the Programme Administrator or Course Director to discuss my qualifications and interest in the programme?
Due to the extremely high volume of applications received, it is not possible for staff to meet personally with applicants before they have been given an offer of study.
My application has been unsuccessful. Can I find out why and request to be reconsidered?
Unfortunately we are not able to give details on why a particular application has been unsuccessful, and cannot reconsider the decision.
Further Information
If you have any other questions regarding the programme that are not addressed on our web pages please email us.
Email: mgmt-mm@ucl.ac.uk
Telephone: (+44) 020 3108 6055