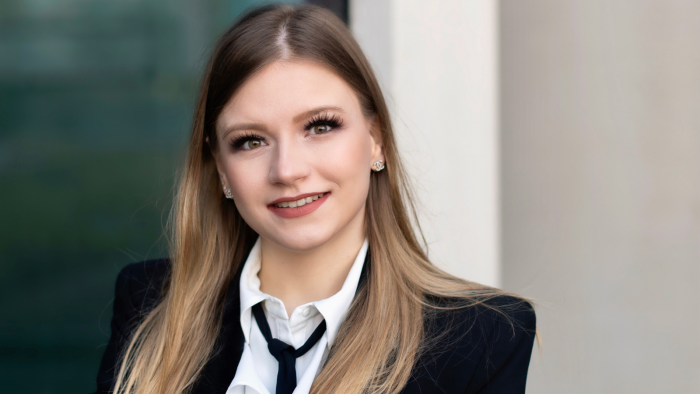 The UCL School of Management is proud to have an extremely talented global community. This International Women's Day we are sharing the story of UCL School of Management BSc Information Management for Business Alumna Slaviana Pavlovich, and her most recent achievement in receiving the UK Tier 1 Global Talent Visa in Digital Technology. The global talent visa recognises Slaviana experience and expertise and her ability to become a tech leader, giving her the freedom to work in the UK on a flexible basis without employer sponsorship.
Slaviana has also been selected to represent the UK as a Delegate at the 65th United Nations Commission on the Status of Women (CSW). The 2-week annual global conference is dedicated to the promotion of gender equality and the empowerment of women and brings together representatives from NGOs and UN delegates, grassroots organisations and activists to discuss and make progress on specific issues, from child marriage to equal pay.
What you have been doing since you graduated from the School of Management?
After graduating from UCL's BSc in Information Management for Business with First Class Honours in 2019, I decided to try something completely different and completed a Master's in Bioinformatics and Theoretical Systems Biology. I had a longstanding interest in Computational Biology and had previously opted to study electives in Quantitative Biology and Cognitive Systems and Intelligent Technologies during my undergrad. However after graduating in the middle of the global pandemic, I decided to return to more familiar subject matter, and I accepted a job at a fast-growing internationally recognised London based FinTech start-up, Proxymity.
I have been working as a Technical Product Manager at Proxymity for six months now and I have been fortunate enough to have been given opportunities to engage with some of our globally renowned clients, comprising of companies such as Citibank, Deutsche Bank and BNY Mellon, to name a few. In addition to my managerial responsibilities within the Product Team, I am also working on developing my own innovative technical solutions in the field of Finance Automation.
So far, I have found working in a technology start-up to be a lot of fun. The office environment is fast-paced and you're surrounded by some of the world's most highly skilled and capable people.
Even though I am no longer in formal education, it is my intention to continue offering my knowledge, experience and enthusiasm to the UK's burgeoning tech community. One of my favourite ways to do this is through panel discussions, I have previously been selected to speak on the panel for Women in Technology 2020 and Engineer Your Career 2021 and most recently I have been selected to represent the UK as a Delegate at the 65th UN Commission on the Status of Women.
Did your experience on the programme help you in your successes?
Throughout my undergraduate degree at UCL, I was presented with a myriad of fascinating opportunities and numerous chances to shape my future in any almost any direction I wanted. For example, in my third year, I was able to pursue electives in Quantitative Biology and Methods in Ecology and Evolution with the Natural Sciences Department. This gave me a deep appreciation for working with data from different perspectives, learning how to deliver technical information to non-technical audiences.
The UCL community offered plenty of opportunities for my professional and personal development outside of academia. I was selected as Microsoft's Student Lead for UCL's 39,000 students, directly managing 25 handpicked computer scientists on campus.
As a part of the role, I had to keep up-to-date and quickly familiarise myself with the latest developments in the fields of software and programming to organise and deliver events on the most relevant topics to students. There was a tight schedule for the delivery of these events which needed to cater to audiences from both inside and outside of UCL.
This was a fantastic opportunity for me to learn about management from a practical standpoint. It also gave rise to opportunities to collaborate with Microsoft employees, ranging from software engineers to Microsoft Azure's CTO. Microsoft were impressed with my work and I was subsequently awarded the Worldwide Microsoft Student Award for my contribution as well as two annual awards which I received from Microsoft for being the best Student Partner Lead within the UK during my tenure.
What does receiving the UK Tier 1 Global Talent Visa mean to you?
As an international (and non-EU) citizen who has been living in the UK for the past six years, the issues surrounding UK visas are never far from my mind. To have been recognised by the UK Home Office as being worthy of a Global Talent Visa in the domain of Digital Technology was a tremendous milestone for me and an incredible honour.
What are your plans for the future?
I love working in London almost as much as I enjoyed studying here! London's inherently innovative and collaborative atmosphere, combined with its safety and stability, makes it a truly world-class destination. My Tier 1 Global Talent visa has given me the flexibility that I need to continue developing my tech career here in London over the coming years.
Are there any trends or developments in your industry we should be keeping an eye on?
Since the Great Financial Crisis of 2007-2008, there has been an ever-increasing drive for greater transparency across the financial industry. The same is true for Proxymity, in the domain of investor communications, with the latest regulations calling for greater transparency during voting and across the custody chain in general. Better transparency is widely welcomed by those who operate in an industry built on an inherently opaque system. However, such increases to openness will invariably be accompanied by pitfalls and caveats – market participants will need to evolve and be ready to develop solutions as and when they are required.
The recent global pandemic has also had a substantial influence on investor communications and will continue to do so in the coming years. It will be interesting to see the outcome from digitally resistant economies being forced to adopt digital processes during a time of crisis.
Learn more about the UCL School of Management BSc Information Management for Business programme