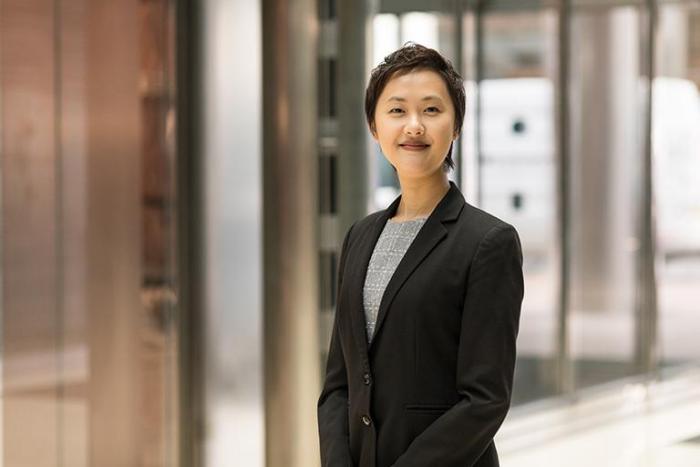 At UCL School of Management, PhD students pursue studies in the following research groups; Operations & Technology, Strategy & Entrepreneurship, Marketing & Analytics, Organisations & Innovation, and Finance, Accounting & Economics. All five groups offer a unique education and research experience to a small number of highly motivated students, with the intent of preparing them for scholarly careers at the highest level.
Velvetina Lim is a second-year PhD student in the Organisation and Innovation research group. Her main research interest is in the influence of creativity on organisational outcomes. Currently, she is examining the influence of creativity on ethical decision-making and she is also interested in the interplay between creativity, human-artificial agent interactions, and morality.
Velvetina tells us why she chose to UCL School of Management and her experience so far studying with us and even gives some tip tips to stay focussed - a key skill for anyone wanting to study a PhD.
Why did you decide to study a PhD at UCL SoM?
There were several reasons. Firstly, I was really looking for a department that was focusing on creativity. The research in the School of Management had a strong focus on creativity research, and also on social network research, which I had recently learnt at that time and was interested in - so the school was a really good fit for me! Secondly, I was looking to do a doctorate in the UK. I had completed my undergraduate studies in London and absolutely fell in love with the city, its people and the lifestyle. So, it was awesome that the School of Management was located in the heart of it all at Canary Wharf. Lastly, it is one of the few schools within the UK that offers full funding for all its doctorate students. As an international student, this was a really important factor to enable me to fully focus on my studies without worrying about my finances. All in all, UCL School of Management ended up being the perfect fit for my needs as a doctorate student! I am super happy to be here.
What is the most challenging thing about the PhD programme?
The most challenging thing is being able to manage my own time effectively! In the first year, it's tricky to juggle coursework and find enough time to develop and execute a strong research project required to pass the MRes. From the second year onwards, which I am now in, you do not need to take courses anymore and now the challenge is to plan my time effectively and fill each day with meaningful tasks to progress in the program.​
Have you had any unexpected changes that have made you revise or develop your research since starting the programme?
My MRes project which focussed on looking at the influence of creative work on ethical behaviours did not yield any findings that were worth pursuing further. It was a bit disappointing because I really liked this topic and was hoping to continue researching it throughout my PhD. This made me revise my research focus to creativity overall and look at other domains such as what influences accurate creative idea evaluation.
How would you describe the community at UCL SoM?
The community here is really vibrant. Everyone is welcoming and friendly and always has time for a quick chat. When we were all still in the office, it was common to bump into someone at the coffee machine and end up having great conversations catching up over everything under the sun! I do miss grabbing lunch with my peers after departmental seminars.
How would you describe the teaching and research team at UCL SoM?
The team here are very dedicated to their work. Having started supporting as a teaching assistant this semester, it has been eye opening to see what goes behind the scenes when it comes to developing and executing teaching materials, particularly with online teaching! The research that goes on here is also really innovative. We regularly get to hear ongoing work being done and it's beneficial for us PhD students to get insights into the thought processes of the research team.
What are your future career goals?
I aim to be a full-time academic and consult on the side for organisations looking to increase their employee's creativity. Hopefully, when I'm reaching retirement, I'll also look into being involved with a Whisky distillery. I love the craft behind whiskies and long to one day produce and sell my own whisky!
What does an average weekend in London look like for a PhD student?
For me, I like to sleep in on Saturdays and Sundays and spend the morning going for a long walk with my dog at Greenwich park. Then I tend to spend the rest of the day doing some sort of relaxing activity. Now in lockdown, it's mostly binging on new tv shows or spending time in the kitchen and learning to cook one really good dish. I then spend Sunday evening catching up on emails, planning my calendar, and just getting ready for the week ahead! If lockdown wasn't happening, you would find me in the archery range on Saturday afternoon and having a pint afterwards at my local pub chatting away with the regulars!
what have been the benefits and challenges of moving to London?
The main benefit of moving to London is the dogs! It's really dog friendly here. It's also a highly metropolitan city with lots of places to explore and things to do after a good day's work. Further, being from Singapore, it's a nice change to be somewhere that's less humid and more wintery! For me, the challenges of moving to London were mainly the administrative side of things. Being an international student can make settling in difficult, tasks such as opening a bank account or even renting an apartment need to be considered. To make this process as easy as possible I always recommend trying to think about sorting some of the administrative things out before you come into London, so you won't be waiting ages for your bank card when you need to buy things to settle in!
What advice would you give to a student considering studying a PhD at UCL SoM
I would suggest to do your research beforehand (no pun intended), on whether the research interests of the faculty are a good fit to what you want to do. Email them if you'd like to discuss your shared interests. For me it was very important to find supervisors I knew I could work well with as this allows me pursue my research interests in depth.
What is your guilty pleasure when taking some time out of work?
Where do I begin?! I do like to walk around Greenwich park and get some fresh air, meet some gorgeous doggos. I also do like to try and be a masterchef and tackle some complex looking dishes. My proudest achievements to date are the Beef Wellington and Celeriac Croquettes.
What is your top tip for people trying to stay focussed during the lockdown and remote working period?
Something I picked up when listening to The Productivity Show podcast by Asian Efficiency was the concept of chunking up your days to do some surface work and deep work. Surface work refers to admin, emails, or small tasks. Deep work refers to heavy-attention tasks, like a literature review, or writing a paper. Particularly for us research students, it's easy to get distracted by things at home and also by surface work. My tip is to set up 1-3 chunks of time that can last from 1-3 hours to focus on deep work and to use an hour or two to clear all your emails/admin. You'll be surprised at how quickly it takes to complete the menial tasks, how much you can cover in deep work when you set your mind to focus on one thing at a time!