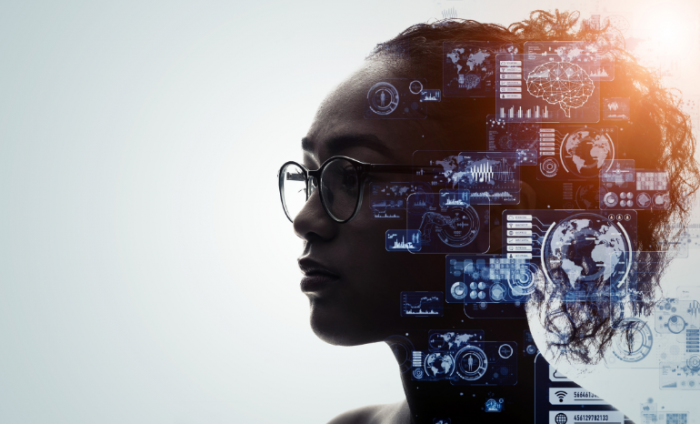 Last week, UCL School of Management's BSc Information Management for Business (IMB) students were given the opportunity to learn more about implementing change and transformational practices within businesses through a discussion with Kaylee Peneycad, the Principal Success Manager, EMEA, at Salesforce. The talk was delivered as part of the second year Digital Strategy & Transformation module, led by Associate Professor Dr Rikke Duus.
Kaylee Peneycad shared her vast experiences from 15 years of designing, driving, and supporting business clients with their digital transformation efforts. Kaylee is currently leading customer success for Salesforce Insurance & Health customers across the Europe, Middle East and Africa (EMEA) region. Her visit was well-timed, as students on this module are now accelerating their progress with their own digital transformation projects for chosen businesses. Over the coming three weeks, the students will work in their teams to finalise their digital transformation proposals based on the analyses they have undertaken on their chosen businesses' current performance.
During the talk, Kaylee shared some of the many key factors that make complex transformation projects successful. At the core, business transformation leads need to have a clear understanding of the value and specific outcomes the transformation project is expected to deliver. Without this kind of clarity, many transformation projects will fail. Kaylee also highlighted the importance of ensuring ongoing communication within the organisation about the transformation and how it will directly affect the working practices of employees across different roles. This, in Kaylee's experience, can assist with gaining buy-in from employees to deliver the transformation. Finally, organisations need to ensure they have the appropriate skills and competences across their teams and functions to drive value from the new digital solutions that are being put in place. Often this can be a challenge, leaving organisations struggling to operationalise new digital working practices and systems.
Discussing the talk, Rikke told us, "It was fantastic to have Kaylee visiting the School of Management and sharing her wealth of experience with our students. The talk gave detailed insight into how Salesforce helps organisations across the world through their digital transformation and the metrics that are critical to deliver successful transformation programmes. Students walked away with a structured approach to enabling change that can inspire their own digital transformation projects."