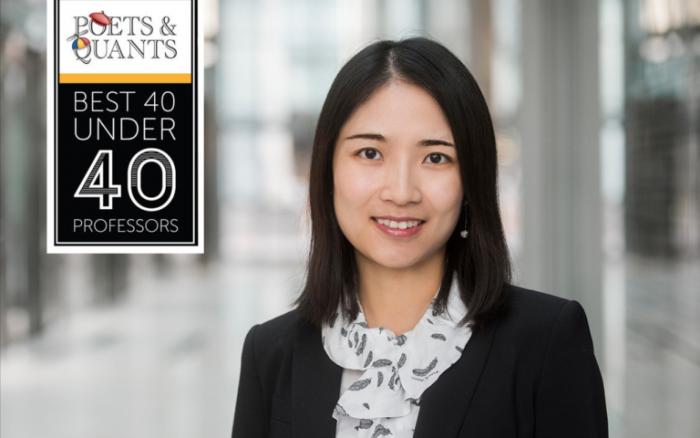 We are delighted to announce that Assistant Professor Yiting Deng has been named one of the World's Best 40-Under-40 Best Business School Professors by Poets&Quants​.
Yiting's main research interests are in digital platforms, advertising, media consumption, and two-sided markets. Her research has been published in academic journals such as Management Science, Marketing Science, Journal of Marketing Research, Journal of Economic Behavior and Organisation, International Journal of Research in Marketing, and Statistical Science. Her work on TV advertising is award-winning, and was a Finalist for the Robert D. Buzzell MSI Best Paper Award and Runner-up for the Don Lehmann Award.
Yiting's excellent academic accomplishments combined with her extensive teaching experience and interdisciplinary expertise contributed to her selection for the prestigious Poets&Quants list as one of the Best Business School Professors.
Upon hearing the news Yiting said: "I am extremely honoured to be selected! I am deeply grateful for the support from my amazing colleagues and students over the years, as without them this would not have been possible."
From a family of academics, it felt natural for Yiting to pursue an academic career, however, it was some 15 years later, when Yiting was working as a Teaching Assistant at Peking University on their BiMBA programme, that she decided to become a Business School Professor
Yiting recalls, "I was in awe of the business professors who were so persuasive and graceful and in the classroom, and I was profoundly attracted to research conducted by marketing professors that are rigorous and deeply connected to business practice."
And almost ten years later, she is now teaching on the same BiMBA programme, which is jointly run by UCL School of Management.
This year UCL School of Management has had two faculty members awarded; Yiting Deng and Blaine Landis. See the full Poets&Quants list and read more about Yiting's experience and research on Yiting's Poets&Quants 40-Under-40 Profile