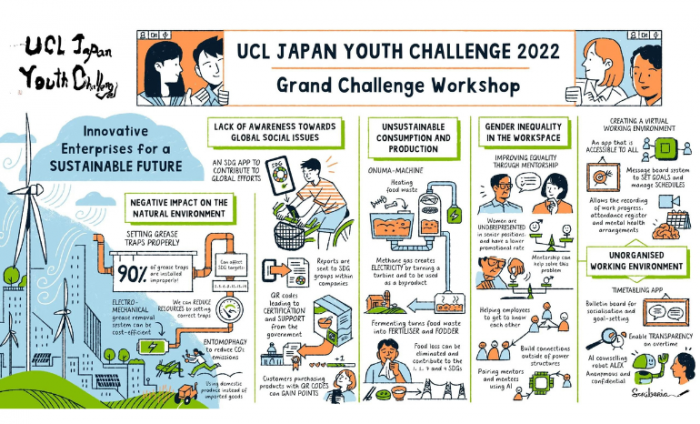 The UCL-Japan Youth Challenge is an annual summer school programme run by the UCL-Japan Youth Challenge Committee and supported by UCL departments. Since its inception in 2015, UCL School of Management has supported two excellent events, first back in 2017 hosting an event on Level 38 and now in 2022 as the main UCL Collaborator.
Every year, pre-university students from the UK and Japan enjoy cultural interaction through various educational activities and events held at UCL and the University of Cambridge.
The idea behind the summer school programme is to help students improve their English, and for the UK participants to learn some Japanese, as well as immersing them in a new culture and develop a global outlook.
This programme was established in 2015 to celebrate the 150th anniversary of the Choshu Five and the Satsuma 19 students' arrival at UCL. The Choshu Five were the first Japanese students who studied at a UK university and two years later were followed by the Satsuma 19. All of whom upon returning to Japan went on to play key roles in modernising the country and building ties with international bodies. UCL has had a strong relationship with Japan since then.
The 2022 challenge
The UCL-Japan Youth Challenge is a summer school programme where participants attend a series of university-style lectures on a wide range of subjects by UCL academics. They are presented with challenges on a range of topics from data analytics, technology, social subjects, and Japanese culture and have to work together to resolve them. Not only are students faced with academic tasks, they also must navigate cultural and language barriers, too.
The programme has grown year on year and this year saw 100 students participating, 84 from Japan and 16 from the UK.
This year's theme was "Innovative Enterprises for Sustainable Future". Students worked together to design solutions to create enterprises and change existing businesses that contribute to global sustainability by leveraging the concepts of SDGs and ESG.
What are the aims of the challenge?
Wataru Tage, who works for the UCL-Japan Youth Challenge Committee Office Japan at UK and supported the UCL-Japan Youth Challenge 2022 said: "We like to give opportunities to learn during summer break, and hope our participants make friends internationally. We endeavour to provide them with a number of lectures on academic subjects as well as culture and education. We also hope to promote UCL's undergraduate programmes and international foundation courses, to students from Japanese high schools, as UCL is not widely known in Japan.
What is UCL School of Management's role in the challenge
The initiative was supported by various members of the UCL School of Management faculty, all of who gave lectures throughout the 10 days and shared their expertise with participants. Backed by Director of the School Davide Ravasi, School of Management staff delivered the following lectures
Dr Jim Berry – Leadership Under Uncertainty
Prof Paolo Taticchi – An introduction to Modern Corporate Sustainability
Dr Karima Dyussekeneva – Data analytics and ESG
Dr Manzur Rashid – Auction Theory: the four standard auctions
Dr Sunny Lee - Surviving on Challenges Together: Teamwork and team resilience
Quotes from participants
Feedback from students who participated in the programme was extremely positive and many felt the programme has helped them understand what a university lecture is, delve into new and interesting topics and improve their English and communication skills.
"It was quite amazing and fantastic for me to experience the atmosphere of the lecture at UCL. All of the lectures I took were valuable to me and I'd love to study abroad including at UCL in the future!"
"It was the first time taking those kinds of lectures and everything was very new for me. I learned a lot of things about many topics – all of them were very helpful and interesting!"
"Every lecture was a first for me and such high quality. Participants attitudes made me think and perform at my best. I grew not only in terms of my English language skills but also knowledge and viewpoints. Thank you for giving me a precious opportunity."
Learn more about the UCL-Japan Youth Challenge.