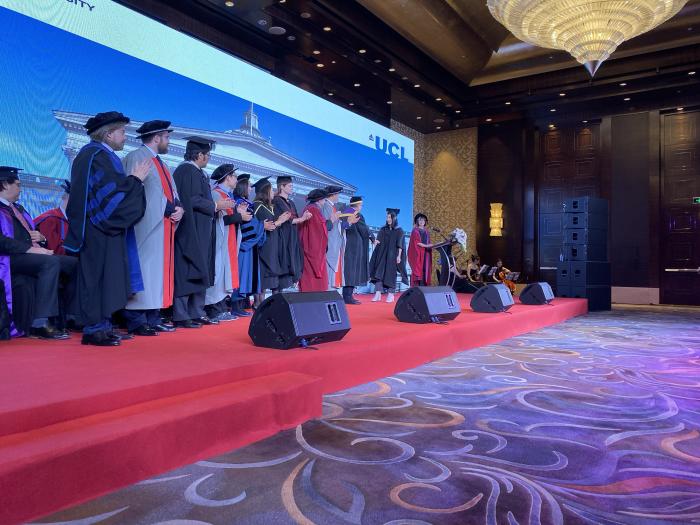 The first students from the UCL-PKU joint MBA programme have been celebrating in Beijing this week after officially graduating from the programme..
Fourteen graduates have celebrated after completing the jointly delivered Beijing International MBA, with a number of them joining the UCL graduations which took place at the Four Seasons Hotel in the centre of Beijing.
The MBA was launched in 2016, as part of the deep strategic partnership between UCL and Peking University (PKU).
Delivered across two global cities, the MBA programme brings together leading economics and public policy experts from PKU's National School of Development with UCL's School of Management's strengths in technology, innovation and entrepreneurship.
The programme is helping to develop the next generation of leaders who will shape the dynamic future of organisations within Chinese and global business environments.
Professor Bert De Reyck, Director of UCL School of Management, said "We're thrilled to be celebrating the graduation of our first cohort of students from our joint MBA programme with Peking University.
Our graduates will now take the benefits of this teaching approach around the world and into the workplace to excel and play their part in changing the world we live in."
Xiaojing Wang, Head of Early Years Education and English Language Training at the China-based UK Department for International Trade, is one of the first graduates from the programme.
She said: "I was very impressed by all the modules related to decision making and strategy. The professors were very enthusiastic, and passed on their enthusiasm and knowledge to us.
"I do think the MBA has benefited my career. I am from an Arts & Humanities background and the knowledge I gained about accounting and decision-making meant I could provide more profound insight to the stakeholders that I work with."
The UCL-PKU partnership is based on strong collaborations in research and teaching across a broad range of disciplines, which are helping to address pressing global challenges.
Professor Yang Yao, Dean of The National School of Development at Peking University, added:
"Right now, China's economy is becoming more and more influential in the world economy, and I think that our program offers a good opportunity for students from Europe and beyond to tap into the market potential of China."
Through a strong grounding in Chinese business, alongside electives in London, our first graduates have had the chance to expand their knowledge and build bridges between China and the west, giving them a wealth of career opportunities."