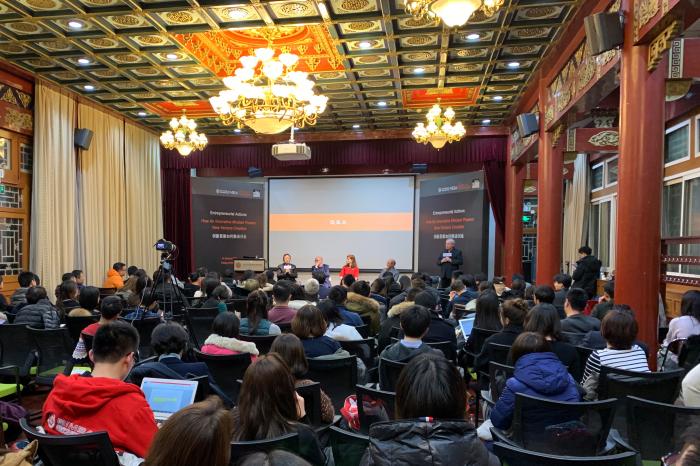 Teaching staff from across UCL School of Management hosted an enterprise showcase in Beijing, China, to demonstrate the benefits of being entrepreneurial.
Held at Peking University (PKU), Professor Alan Parkinson Deputy Director (Education) at UCL School of Management) hosted more than 180 guests for an inspirational discussion, including our current PKU-UCL MBA students, alumni from wider UCL, and a number of prospective students.
Prof. John Yang, Professor in Management and Co-Dean of BiMBA, spoke to the audience about the relationship between leadership and entrepreneurship, citing examples from the likes of Steve Jobs and Masayoshi Son. He also emphasised that a leader must have vision for the future of the business.
Dave Chapman, Senior Lecturer at UCL School of Management followed Prof. Yang's speech by reiterating the point about vision for the future, stating that 19th century management practices are no longer enough to ensure a successful business, and that business leaders need the vision to react quickly to the volatile external factors.
The final speaker of the evening was Fiona Reid, Senior Teaching Fellow at UCL School of Management, who further emphasised the importance of vision, stating that entrepreneurs are able to see opportunity where others see chaos and confusion. She also added that no longer is innovation a 'Western' skill, and pointed to examples of many successes which have been achieved under different political and regulatory systems.