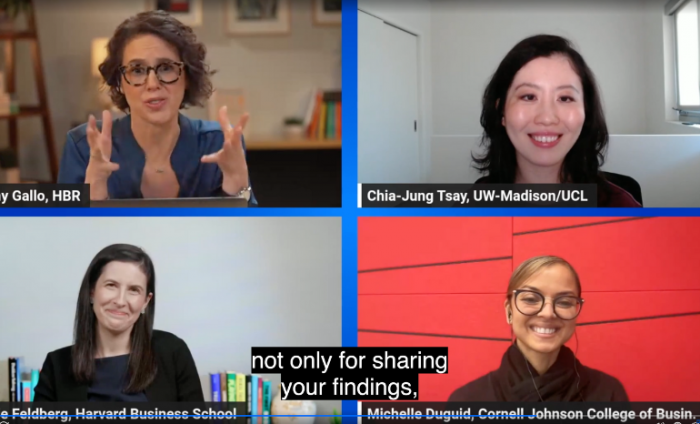 Earlier this month, UCL School of Management Associate Professor Chia-Jung Tsay was invited to speak at Harvard Business Review's virtual Women at Work event. One of three academic panellists, Chia joined Cornell University's Michelle Duguid and Harvard University's Alexandra Feldberg to discuss the pressures facing women in the workplace today, as well as share her latest research on gendered time surveillance.
Hosted by Harvard Business Review's Amy Gallo and Amy Bernstein, Women at Work is a podcast series that hopes to raise awareness and tackle the many discriminatory issues that still face women of all industries in the workforce. Previous episodes have covered topics ranging from passive-aggressive gossip to effective delegation and managing your child's mental health while working.
At their recent event, which was also the podcast's first-ever live virtual event, the Women at Work panellists explored effective communication while demonstrating signs of burnout, as well as the innovative initiatives that an array of business leaders have implemented in order to improve women's pay, job satisfaction, health or representation. In addition, scholars on the panel, including Chia, shared their latest findings related to gender at work and how this research can be applied to individual careers and workplaces.
Chia's latest research focuses on the notion of gendered time surveillance in the workplace, with her and her co-authors investigating the gendered ways in which workers monitor and make attributions about others' use of time at work. Analysing data from 2,910 participants using both surveys and experiments, Chia's research suggests that time management is in fact gendered, with women's time away from the office more likely than men's to be noticed and, if noticed, attributed to personal commitments. By contract, men's time away from work is less likely to be noticed and, if noticed, is more likely to be attributed to work commitments, such as visiting clients.
Listen to the Harvard Business Review podcast or check out more of Chia's research.