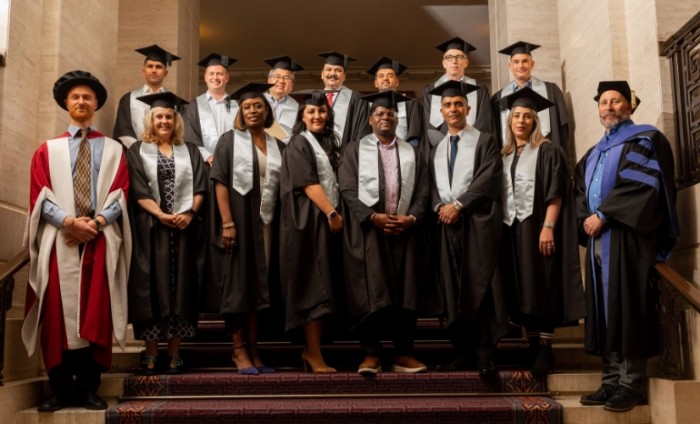 The UCL School of Management recently celebrated the success of 15 graduating MBA students, who joined us in London for our UCL MBA Orientation and Immersion Weekend and our second Completion Ceremony. We celebrated their successes with current and former School of Management students.
We are extremely proud of all our graduates and the tenacity and dedication they have shown whilst on the programme. We wish them the best of luck in their future endeavours.
This year, the theme of the UCL MBA Orientation and Immersion Weekend focused on Communicating Ideas and Individuality, and included sessions with industry experts, Marius Stancu from UCL and Innovate UK, Georgie Nightingall, Founder of Trigger Conversations and School of Management's Eugene Washington Walker. As well as the keynote sessions, there were group workshop sessions where students demonstrated their own public speaking and negotiation skills. Attendees also enjoyed a Thames River boat cruise, a night of bowling and a gong bath session hosted by fellow MBA student and Be-Kin founder Wren Loucks.
UCL MBA Programme Director, Jim Berry said the following: "It was a great event to celebrate our fantastic graduates. We are excited to see what they do next. This is our second group of graduates and the things they are doing is amazing. Our entrepreneurs are growing their businesses, expanding overseas and even exploring going public based on some of the work they have done in their MBA. One student took their capstone project to their boss and was promoted the next week: another used their Capstone project to take over as CEO a growing social venture. Our graduates were not just studying, but applying their MBA programme to have an impact on our world and their careers.
While they have graduated, they have not left us. Our alumni are invited back to take modules, access career coaching and attend networking events with us. They are life members of the UCL MBA Community and we could not be prouder."
Congratulations to our UCL MBA graduates.