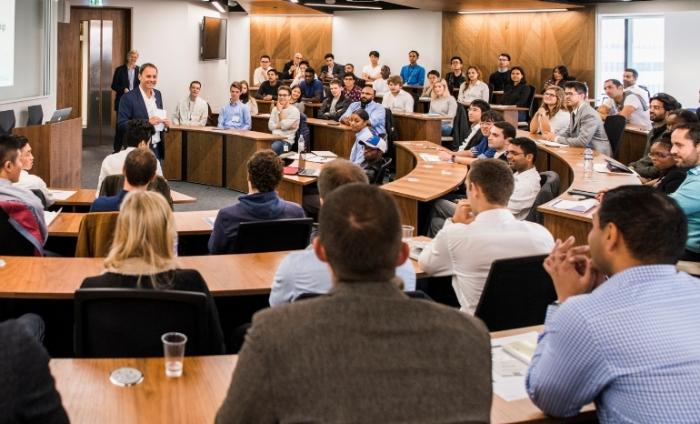 Since it was founded in 1826, UCL has been disrupting the status quo and providing quality education and producing leading research. UCL was the first English university to admit students regardless of race, class or religion, and the first to admit women students on equal terms with men.
At UCL School of Management, our focus is on creating disruptive research and preparing the next generation of creative managers and influential leaders who are able to apply the latest technological developments as a strategic asset for businesses in the complex, interconnected world of the future.
What does education mean to you?
On International Day of Education, we asked UCL School of Management staff, students and alumni what 'education' means to them and why they believe it is so important.
"Education is the only defense we have against demagogues, fake news, and echo-chambers gradually pushing us into a dystopian reality"
Davide Ravasi, Director of the PhD Programme
"Education, while being enjoyable, helps us broaden our horizons by equipping us with the knowledge necessary to better understand our surroundings as well as succeed in today's world."
Nada Abi, 3rd Year BSc Management Science student
"In my opinion, education is the single most important key to prosperity and a better future. By celebrating this important event today, it will hopefully grasp more attention with the ultimate goal to make education accessible to everyone on this planet."
Benedikt Beckenbauer MSc Management alumni
"As a researcher of social innovation, I know that education is key. I am convinced that sustainable social change needs to come from within individuals: mindsets need to be re-wired and hearts opened. To me, education that touches the heart is one of the most effective ways to create new paths of thinking. I've seen this work over and over again – whether in organisations fighting child marriage in rural Indonesia or companies trying to make people care about climate change. The start of social innovation often is education that touches the heart."
Laura Claus Assistant Professor for Strategy and Entrepreneurship
"Education is a process whose end is developing personal autonomy. It does that by developing abilities, knowledge, understanding of the world, that helps you act independently, that allows you to discriminate between good and bad ideas, that gives you a space to argue with or play with ideas, so that you can test how they fit with your world. As Scorsese put it in Meanstreets, the rest is bull, and you know it."
Peter Antonioni, Lecturer in Finance, Accounting and Economics
"Education plays a critical role in modern times. At the micro level, some scholars believe that the education of an individual, different from schooling, is the understanding, appreciation and fulfilment of his or her own pursuit, which is of intrinsic value to the individual. At the macro level, education takes an essential part in the formation of community, culture, country, and country unions. One question that has arisen from the pandemic, is how to include each voice during the process of social development. Perhaps as educators, we must first listen to students' voices. Then teachers can progressively reduce their role with the increase of students' ability for independent research, curriculum development and learning and lastly yet most importantly, to believe in students and in ourselves."
Xinlu (Luna) Zheng Administrative Receptionist
"Education is a crucial stepping stone in life, allowing motivated students to explore an area of interest to help better guide them in the right direction in the world of work. It equips them not only with knowledge of a subject, but also with a variety of communication and professional skills that they can carry with themselves throughout the rest of their lives."
Patryk Sobczak Final Year BSc Infromation Management for Business student
"Education is a window of opportunity for a more fulling life."
Magda David Hercheui Programme Director for MSc Management
"A big part of education is about expanding the human mind - both thinking more creatively and being open to the ideas of others. The concept of 'no-platforming' speakers with views that challenge our own worries me greatly. It is alien to the very heart of both education and democracy. The day we stop thinking differently is the day we stop evolving."
Simon Hulme Director of MSc Entrepreneurship
"To me, great educators ultimately encourage three things in the way they deliver knowledge to others. Firstly, freedom. By imbuing the ability to think critically, education frees us from the limiting and narrowing beliefs (whether they come from ourselves, societal actors, or systems) so that we can find and maximize our own meaning. Secondly, the collective notion of human flourishing. Education, beyond the beauty of individualism, reminds us that the human race is interconnected and encourages us to consider sustainable and collective growth. Finally, action. Books or algorithms are not education. Education gets life only when it inspires people to take action, initiate a change, or transform something with what they have learned."
Sunny Lee Associate Professor of Organisation and Innovation
"Education is life - you begin at birth and it never actually stops until you die. And it is how you use everything that you learn that shapes you and your pathways and determines whatever you want from life along the way."
Richard Pettinger Professor of Operations and Technology
Education is the only investment with guaranteed results. Without any risks involved, it's buying your entrance ticket to the future.
Mario Vanhoucke Visiting Senior Teaching Fellow and Honorary Senior Research Associate
The official definition of education from the Oxford Dictionary is described as "a process of teaching, training and learning, especially in schools, colleges or universities, to improve knowledge and develop skills", however, it is evident that for many of us it is much more than this and it plays an essential part of our lives, professionally, socially, personally and emotionally.