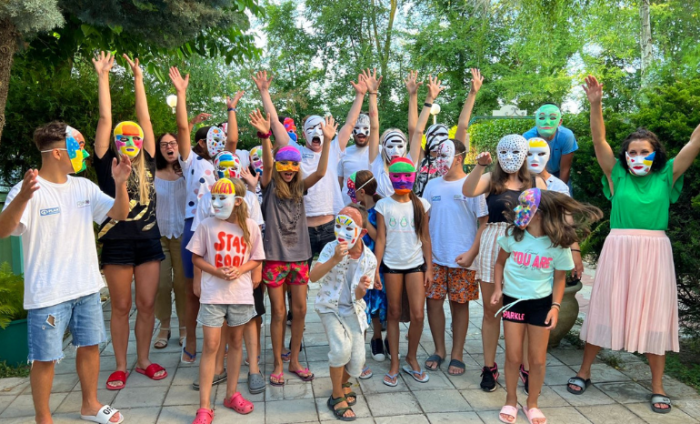 Two UCL School of Management Teaching Assistants have devoted their summers to supporting Ukrainian children and their families by designing and implementing an education-driven summer programme in Romania. Shortly before the end of term, Ana Bleahu secured a role with Plan International, project managing a summer programme for Ukrainian children and their families.
She was joined by fellow UCL School of Management TA Benedikt Laumann shortly after, who volunteered for the programme and played an instrumental role in supporting Ana's initiatives and teaching. We caught up with Ana and Benedikt to hear all about their incredible work in Romania with Plan International.
Can you tell us about your project in Ukraine? Why did you want to become involved in this project?
In our view, the impact of the war in Ukraine should concern us all. Showing solidarity and empathy with Ukrainian refugees was important to both of us. We could witness the impact within the media but also first-hand from relatives living in Berlin or Romania. Ana led the initiative as she felt very strongly about doing something - whether providing accommodation or being more directly involved.

We both were TAing in one of the last scenario weeks of the year and after we finished, we both looked for work opportunities to explore something different over the summer break. Ana managed to secure a role with Plan International project managing a summer programme for Ukrainian children and their parents.
How did the collaboration with Plan International and FDP come about?
The summer camp was aimed at children from disadvantaged backgrounds from Romania as well as Ukrainian children and their parents. It was also important to ascertain their aspirations and the psychological impact that the war may have had on their long-term plans. Romania, as one of Ukraine's immediate neighbours, was playing a key role in the European effort to support Ukrainian refugees. One of the aims of the summer camp to integrate children from both backgrounds.

A priority for Ana as project manager and Benedikt as a volunteer of the programme was to develop a range of practical activities to promote integration, belonging and psychological wellbeing. The role of "play" and "experiential learning" for both children as well as their parents through a range of activities was an important precursor to the psychological element of the summer camp.

Sessions were accompanied with focus group research about participants' mood and wellbeing as well as the psychological implications of their situation.
What subjects do you teach and why did you choose to focus on these in particular?
As Teaching Assistants, we are both involved in a wide variety of subject areas at the UCL School of Management, ranging from Leadership and Communications to Innovation Management, Business Intelligence or Behavioural Sciences. At the summer camp, we delivered practical content with drama & theatre-based exercises to promote group cohesion, integration and creativity, which was always followed by a qualitative analysis in the form of the aforementioned focus groups.

Much like our work at UCL SoM, it was important to bridge the gap between promoting active learning and skills-based exercises, whilst also paying attention to achieving the learning outcomes of the general programme. Theatre-based techniques have once again proven to be an excellent facilitator for achieving this.
How do you deliver your teaching?
The benefit of the summer camp was to have students within a room (or together in an outside space in our case), as opposed to virtually via Zoom. Drama and theatre-led techniques have been one of the most powerful tools in our portfolio as science-practitioners to establish an environment in which these children, as well as SoM students, can try out ideas, engage in an iterative, creative process, experience failure in a safe environment and play. Play is an important factor which can be a strong 'lead-in' for any applied exercise in management. It was yet again demonstrated to us, through the work with children, how unapologetically and creatively they engage with highly complex tasks. Children can be naturally divergent thinkers. Establishing the same unapologetic ecosystem of play and failure can be a key to promoting this important management skill and other skills which are adjacent to it.

With regards to this programme, we had unique cross-cultural challenges to solve, the most prevalent being the language differences (English/Ukrainian/Romanian/Russian). It was immediately clear that we would have to find a coherent way of cross-cultural communication and identification for this programme. In the end, we chose self-decorated masks and nonverbal communication as one of the main tools to address this "barrier". The masks were a much-loved tool which actually turned out to provide a couple of interesting benefits for everyone involved:
Children could adopt a different identity which heightened their sense of "play". It wasn't them who would be judged for their actions but their self-developed character!
Identification with their character but also with the world they were encouraged to devise was promoted through the decoration of their own mask and therefore identity.
The use of an imaginary language, often known in the world of drama as "Gromolo" was another common identifier of this project which promoted coherence. If the language used is made-up and therefore entirely novel to everyone involved, language begins to transcend its usual barriers of understanding.
Letting the project be led by the input and the devising of the children themselves, for which Forum Theatre was one of the most useful exercises.
An iteration of Forum Theatre, initially developed by Latin-American practitioner Augusto Boal, was one of the most impactful tools at the UCL School of Management as well as in the delivery of this summer camp. Briefly condensed, it only works with student experiences, which they feel comfortable sharing and then devising their own eco-system in which they are able to share an experience and find different outcomes for it.
In our case, we encouraged children to devise their own parallel ecosystem with three simple rules:
who are you?
who are we (as adults?)
what is your objective?
The activity culminated on the last day of the programme and consisted of a series of drama-based exercises strung together by a storyline which was devised by the children themselves in which they embarked on a fantastical journey for their end goal. Their main objective couldn't have been more poetic and true: 'saving the adults'.
How do you help the parents of Ukrainian Children and why do you think it is important to include them?
The active involvement of parents (mostly mothers) was a particularly edifying experience within the wider programme. All exercises (and focus groups) were simultaneously translated from English or Romanian into Ukrainian and Russian.

Their focus group feedback revealed some important insight about the programme and their situation in general. It is also worth noting that all of this research was designed qualitatively and featured direct conversations. We chose not to rely on questionnaires or scale-based designs which was of particular importance in unlocking some deeper insight in regards to participants' situations.

It was noted that they all enjoyed seeing their children in an ecosystem in which they as well as their children could explore personality traits and characters which were not usually promoted by a post-soviet education system in which "sitting still, being quiet" and "disciplined" were hallmarks of education. Theatre and drama provides some excellent means to establish a space in which these patterns could be challenged and in which children could safely explore.

It is also important to note that sometimes the involvement of parents was not conducive to every activity in which children wanted to express themselves. An example were children who wanted to decorate a mask or lead an initiative in their particular way and in which their parents expressed disagreement. It is pivotal to encourage both parties to foster an environment in which everyone's contributions are accepted and not "shut down" by either side.

With regards to the wider focus group research, we revealed insight which is of particular importance to the role of Ukrainian refugees in general. They value their approximation and integration to Europe and see themselves as part of an increasingly growing European community. The uncertainty of the situation is a particular challenge for many of them, as they all expressed the wish to return home at some point.