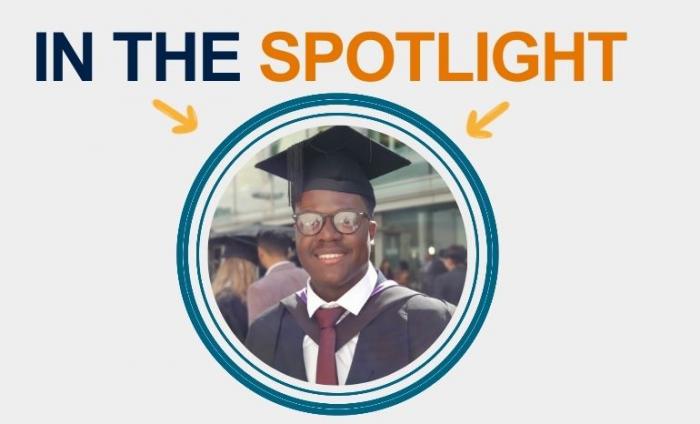 Introducing Joshua Wayoe former IMB and Entrepreneurship student​.
Tell us about your time at UCL
Honestly, I never imagined being at UCL for so long but I've been at the School of Management for 4 years now and its really flown by! I did my undergraduate degree in IMB which I completed last year. Following that, I wanted to continue on to pursue my entrepreneurial journey, and I was fortunate enough to earn my place on MSc Entrepreneurship. Throughout, I've met some incredible people and learnt a lot in the past 4 years and I'll truly miss it when it's over.
What is it like being part of the MSc Entrepreneurship programme. How does it differ from IMB?
To be honest when I completed my undergraduate degree I had no idea what I wanted to do. Whilst I learnt a lot from IMB, I feel like I couldn't capitalise or focus too much on a particular subject area. Whereas a masters degree is a lot more focused and so you can spend the time honing your skills in that one area.
It's been a year since I started my master's and it's without a doubt the best decision I've made. The cohort is very focused on learning and helping each other develop. Every module is geared towards unpicking what we believe being an entrepreneur is and providing the building blocks to focus on the problem as a means to working towards a business solution.
What about your non-academic pursuits - I believe you are part of an active Youtube channel?
Outside of academia, I've been an active member of the African Caribbean Society (ACS) where I was a Sponsorship & Careers Executive. In regards to YouTube, I co-founded a student-led podcast called CultrTalk which invites guests to speak on life at UCL, the UK university experience and much more. We've had study YouTubers on the podcast also such as Courtney Daniella, Ibz Mo, Jack Edwards and Mei-Ying Chow.
We started the podcast in January 2019 and have reached almost 1400 subscribers and had over 140,000 total views. It is also available on Apple Podcasts and Spotify!
What has been keeping your busy during lockdown?
I've been gaming a lot during the lockdown. I've realised that when I was going back and forth from home to uni I didn't have much time for it. I'd leave home early to go to my lecturers and come home really late but the lockdown has given me the time to get back into it. I've also been video editing a lot for CultrTalk. The YouTube channel has other videos aside from podcasts to ensure we have varied content and I've been focusing on that recently.
What advice would you give to people during this time?
Be lenient with yourself. Understand that the world we currently live in might be the most unprecedented time we'll end up facing. We're all trying to find our own way to navigate it so if you feel overwhelmed with uni work or any other endeavours give yourself breathing space. Our mental wellbeing is so important and we need to ensure we look after that first and foremost.
What Advice would give to your younger self?
This is a good question… This isn't advice I'd give to my younger self but it's something I would say to my younger self. I'd tell myself that "I'm on the right path, and if I don't stray from it, I'd be happy with the outcome". And also as a side note "Don't give up on football!"
Who would be your dream dinner guests?
Wow… I think it would be The Obamas. Michelle and Barack. I'd like to know how despite being black in America they've managed to navigate all of the barriers thrown at them to achieve what they have. They are so inspirational and are true role models who represent what can be achieved with hard work and determination. I know there would be so much knowledge they could impart so definitely them.
What is your favourite album, film, and novel?
Favourite Album: Kanye West – Graduation or Logic – Under Pressure
Favourite Film: Parasite (based on recency)
Favourite Novel: Why I Don't Talk to White People About Race (based on recency)
What would it surprise people to know about you?
When I have the time during uni, which is very rare, I am a supporting artist in films. I've done extra work on two films so far. One of which was Yardie directed by Idris Elba and I got to meet him! And the other which is yet to come out is Marvel's Eternals.
What is your favourite place?
North London. Which is home for me and where I was born and raised. It'll always be somewhere I am the most comfortable.