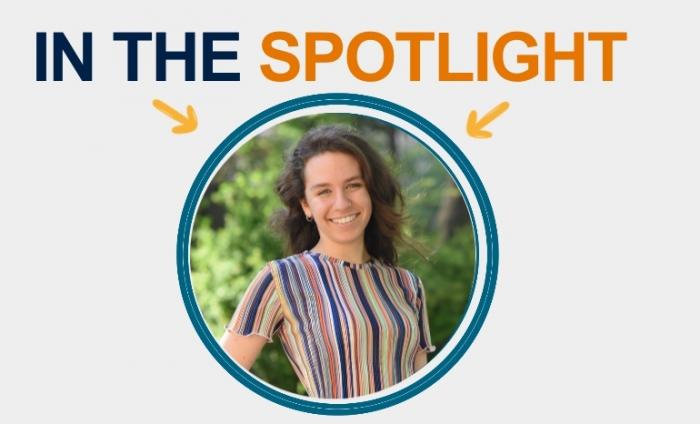 Introducing Information Management for Business, IMB, student and Unibuddy Ambassador, Tsvetina Chelebieva
Tell us about your time at UCL and some of your previous experience?
So far my time at UCL has been exceptionally rewarding. The university has provided me with high-quality education and an environment to express myself and excel in my interests. One of the things I appreciate the most about UCL is the feeling of support, understanding and the strong sense of community.
Apart from UCL, an exciting experience I have had through my studies was my trip to Hong Kong for a summer programme at the Hong Kong University of Science and Technology (HKUST) in 2019. Hong Kong is one of the most beautiful places I have seen and the people are kind and hospitable! I had the chance to study Python and Web Analytics and deepen my programming and digital marketing skills. At HKUST I made friends, who I still keep in touch with and we regularly update each other on our lives across the globe.
Currently, I am a Unibuddy Online Student Ambassador as I wish to share my experience with prospective students and look enjoy answering their questions!
Why did you choose to study IMB?
During my final year of high school, I was torn between what path to follow in my higher education. My interests lied in both Business and IT and I could not make a clear decision on which field to pursue. After spending countless hours researching different programmes I came across IMB, which instantly clicked with me.
Surprisingly, there are not many programmes which offer insight into the business applications of IT and prepare you to be a critical and creative thinker equipped with leadership skills. I chose IMB because it covers both fields of Business and IT, and its unique focus on providing practical experience through projects, thus giving students the chance to discover what they are passionate about. The programme and professors are wonderful. We also have lots of fun events like the Christmas Ball as well as the memorable Welcome Week from Year 1, where we went on a Boat trip and visited the Bond museum.
You are currently studying abroad - where are you and what it's like?
This academic year I am studying abroad at the Technical University of Munich (TUM) in Germany. In spite of the lockdown and restrictions, the university has been very active in bringing together students so that we can make the most out of our academic year. Thankfully, at the beginning of my stay I was allowed to travel and attend numerous events, and I had the chance to get to know people from all over the world. As the lockdown restrictions have been increasing we are all working together into finding ways to connect and have a wonderful time at TUM, albeit mostly from our homes cooking together and playing games. It is exciting to live in such a culture-rich town, which also offers easy access to outdoor activities like hiking and skiing. I love going to Primrose Hill, however, it is a welcome change to explore the mountains and see the spectacular views from the snow-capped Alps.
The way of teaching at TUM is quite different from UCL and IMB in particular. There is not such a strong focus on practical work, especially now since the teaching is fully online. Still, the professors are supportive and friendly and I have the chance to study courses different from those at UCL and thus extend my knowledge in the fields I am interested in.
Tell us about your academic and non-academic pursuits?
I aim to graduate with an MSc degree from UCL in 2022. Until then my goals are to get an internship in order to gain practical experience in the field of Digital Marketing and Business Intelligence because I am greatly interested in how data can impact decision making within businesses.
Apart from academia, I hope my stay in Germany improves my German language skills and I also strive to advance my Japanese as I am still at a beginner level. Munich is said to be extraordinarily beautiful during the spring and summer and I would love to explore the city more and travel to other parts of the country as well.
were you an active member of a UCL Society?
Last year, I was Head of Marketing at the UCL Data Science Society and at the Art Business Society. Both societies gave me a platform to learn and practice skills such as graphic design and event organisation, discover more about AI and art, and take a break from the daily academic work. Coordinating various events and communicating within the society was refreshing and rewarding. Aside from that as an active member of the UCL Japan Society I could join language classes and go to events such as the sushi workshops. I highly recommend joining a society!
What have been doing during these past months in the so-called 'new norm'?
During the summer, in a bid to be productive, I completed some Coursera and LinkedIn courses. I love baking and cooking and used the time to experiment with new recipes (mainly cheesecakes!), which was very well-received by my family, although their waistlines did suffer. It always feels great to create something with your own hands and see the joy in other people, when they taste it. Also who knew that cheesecake can come in so many different flavours?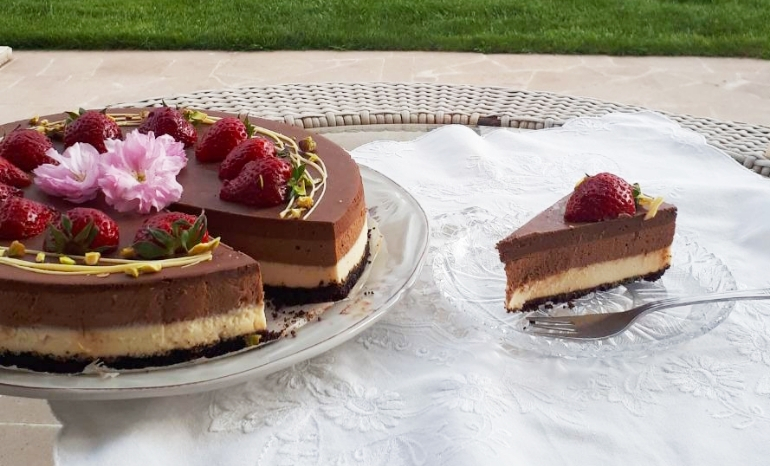 One of my many cheesecake creations!
What advice would you give to people during this time?
The times we are in now are quite novel and difficult to deal with. If you feel lost, under the weather or overwhelmed take time to recognise your thoughts and emotions and do something you enjoy, call a friend or just lie on your bed. The lockdown should not put a pause on our life, but rather we can make use of it to focus on the things that we enjoy, get to know ourselves and become more resilient and confident.
What advice would you give to your younger self?
Be active, dare to change, don't get in your head too much, you are loved more than you think
Who would be your dream dinner guests?
Hayao Miyazaki, Cate Blanchett, Franz Kafka
What is your favourite album, film, book, and TV series?
Favourite album: Any album by Lana Del Rey especially NFR and Fallen by Evanescence
Favourite film: Top three I am afraid…The Handmaiden, Schindler's List and The Troops of St. Tropez
Favourite book: The Unabridged Journals of Sylvia Plath by Sylvia Plath and Catch-22 by Joseph Heller
Favourite TV series: Married with Children. I used to watch it with my brother when we were little and it brings back happy memories.
What would it surprise people to know about you?
My affinity for kawaii (cute) things juxtaposed with the serious and disciplined impression I give
Although I am from a Balkan country (Bulgaria), one glass of alcohol is enough to make me tipsy since I rarely drink (pros: less money spent on alcohol).
Where is your favourite place?
Anywhere I am with the people I love.