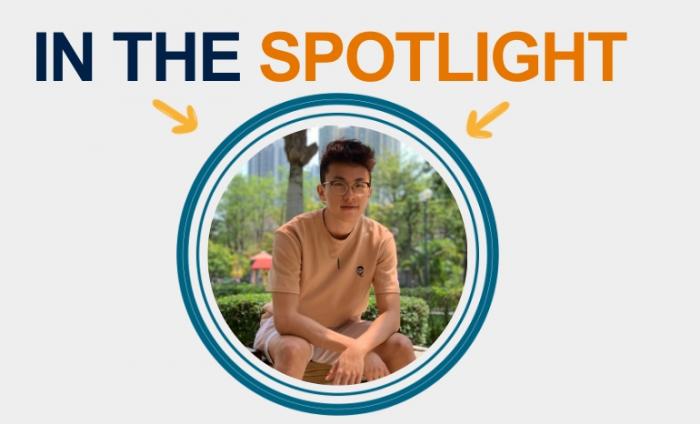 Introducing Justice Fong - Second year IMB student, and new president of the UCL School of Management Society.
Tell me a bit about your time at UCL SoM and your current internship in Hong Kong
As an upcoming Second-Year student, I've been able to build lasting relationships with a diverse range of people and learn many new skills. Enjoyment wise, I'm extremely satisfied dancing with my professors.

I'm currently doing an off-cycle internship at Lalamove Hong Kong. It's the first Unicorn (Net worth of $1bil USD) company to come from Hong Kong. It's a logistics company inspired by Uber's SaaS business model. I'm currently the youngest employee (flex) and although I'm working at an extremely steep learning curve, it's given me the opportunity to master Python, Excel, and Tableau.
You are the incoming President of the SoM Society tell me a bit about this?
First of all, I would just want to thank everyone who has voted for me and hope to do this position justice…

As President, I will be coordinating the committee to strategically provide our ambitious student body with opportunities to develop skills, create lasting relationships, and discover career opportunities. I hope to provide you guys with the opportunities that I capitalised on which gave me such great experiences to learn and enhance my skills.
What would you like to say to the students about the year ahead from the society perspective?
The School of Management acts as a catalyst that aims to supplement and foster your growth in whichever direction you choose. In this regard, you must be the one to capitalise on the opportunities we provide. The committee and I are here to give you a great time and a competitive advantage.
Tell us about your non-academic pursuits?
One big part of my life is recognising and helping those who have not been as fortunate as I have been. Back in Hong Kong, I had the opportunity to volunteer at food banks, animal shelters, and elderly homes through local connections. I hope that I can transfer my passion for helping others to my life in London.

Another goal I have is to enjoy life a little bit more. I usually stress myself out to get the job done and guilt myself into working harder. I hope to find a better balance between my social life and ambitions!
Advice you would give to your younger self?
"Just send it bro" – American slang used before someone does something stupid
Who would be your dream dinner guests?
Jesus, Plato, and Elvis Presley
What is your favourite album, film, and novel?
Album - Quinn XCII: The Story of Us
Film – La La Land
Novel – The Colour Purple
What would it surprise people to know about you?
I'm a Canadian raised in Hong Kong and China. I attended an American High School, and I'm currently in the UK trying to get a British Accent.

Missing a few cultures but it would be a pleasure to meet each one of you!
What is your favourite place?
Hong Kong, The Peak