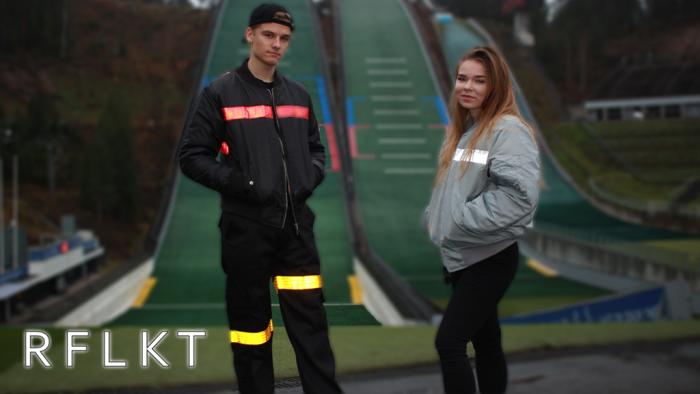 Last year, jokingly, after Alex had been hit by a car while cycling to University, I gave him the advice of wearing some reflective clothing so he could be seen.
"Hang on" we said. Why don't we create our own fashionable alternative to high visibility – something that we could wear and stand out, but still appropriate and stylish to wear in our everyday lives.
There are more than 5,000 fatal traffic incidents involving pedestrians, and more than 18,000 cyclists severely injured annually. RFLKT aims to help reduce those numbers by being a fashionable alternative providing visibility for individuals. With a 3D Hexagonal Honeycomb reflective design, RFLKT users can become visible from a light source over 300 meters away. According to recent research in Denmark published in Safety Science, high-visibility gear of this type could reduce the risk of a vehicle on cyclist collision by 55% (Lahrnmann et al., 2017).
After months creating designs of our bombers and pants, we built a strong relationship with suppliers, sourcing all our product from the UK. We made a few prototypes, and tested their effectiveness and durability in different environments. Being happy with the results, and very positive feedback on the pieces from trial users, we decided to spread the word and launch a Kickstarter campaign to make these clothes accessible for everyone.


RFLKT products are also customisable, so you can select from a variety of colours of tape for each model of your choosing. Check our Kickstarter page and pledge if you dig our products or want to support the cause.
Thanks,
Alex and Thomas
UCL Management Science Students
RFLKT
Check our Promotional Video: https://youtu.be/yN3M5IP8wN8
Follow us on Facebook and Instagram for further updates.
Feel free to check our modelled prototypes: https://rflkt.webnode.com/gallery/

H. Lahrmann, T.K.O. Madsen, A.V. Olesen, J.C.O. Madsen, T. Hels. "The effect of a yellow bicycle jacket on cyclist accidents"
Saf. Sci. (2017), 10.1016/j.ssci.2017.08.001