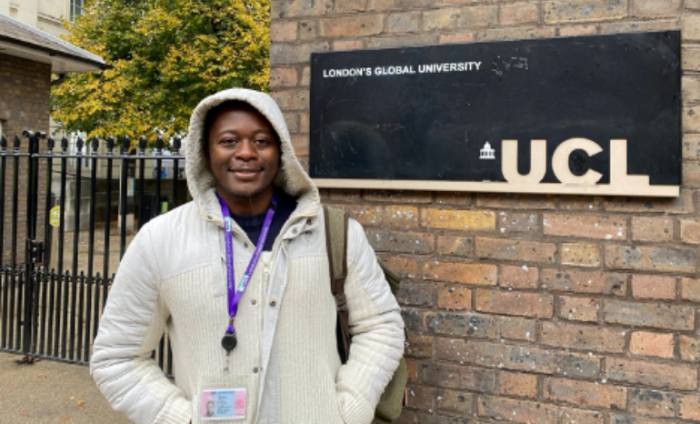 Congratulations to Lesley Bongajum on receiving the extremely prestigious Chevening Scholarship Award! This extremely competitive award is given to high achievers from across the globe, who have already displayed outstanding leadership talents, to study in the UK and help them continue to create positive change around the world. We are delighted to welcome Lesley to UCL School of Management on our MSc Entrepreneurship programme.
In our latest blog, Lesley tells us more about his entrepreneurial journey and what it means to be accepted into the UCL School of Management and in receiving the Chevening Scholarship Award.
Please can you tell us a little bit about your experience to date?
My experiences have been quite diverse, be it in my education, career and social life. I am one of eight children and came from a poor family in one of the remotest villages in Cameroon. With the help of my parents, aunts and uncles, I have had access to a full education from primary school to university. After graduating with a BSc in Biochemistry, I decided to follow my entrepreneurial dreams. I have since ventured into the entrepreneurial world in various industries; F and B, cosmetics and renewable energy industries. My life experiences thus far have given me the privilege to fully understand the realities of people living in remote villages and those living in metropolitan cities. I have lived abroad and travelled and I speak English, French, Pidjin, Limbum and I understand a bit of Lamnso and the Oku languages. I can say I am a mix of everything.
Could you tell us about what inspired you to set up your business ventures?
BONGA Juice and Smoothie Bar
I started BONGA juice and smoothie bars in an effort to provide a fair and steady market for local fruit and vegetable farmers who were losing tons of fresh fruit and vegetables due to low market demands and no storage facilities. It was a strategy for me to reduce unemployment in my community by creating jobs for students, to provide a healthy alternative to fast food and to create an alternative to the numerous beer parlours that had both the young and the old scrambling for booze.
Levre Rose
I started a cosmetic brand, Levre Rose, in 2017 after my first business crashed. It was a way for me to survive financially and to venture into a business that appeals to a wider market and is not limited by a physical location. I saw an opportunity in the cosmetics industry to create and capture value out of the hustle and to use it to empower women who are faced with the burden of keeping a day time job whilst taking care of their homes. In most African families, taking care of the home is a woman's first job, but most of these women long for a business opportunity that can help them earn an income while working from home. So far, Levre Rose has enabled over 20 women across 10 African countries to earn money while working from the comfort of their own homes.
BONGA Power Bike
This is my most recent idea. I got inspired in the gym after losing 10kg in just one month! One that faithful day, I stood in front of a mirror and asked myself where all the fat that used to be on my body had gone. I then remembered the first law of thermodynamics which states that energy can neither be created nor destroyed but can be transformed from one form into another. That's when the idea of developing a stationary bike that can transform the mechanical energy from pedalling (spinning was my favourite gym class) into electricity came to me. We are in 2020 and yet more than 600 million Africans (half of the continent's population) still do not have access to electricity. I want to make a difference and help solve the energy poverty that is plaguing my continent.
What made you want to be an Entrepreneur?
It all started when I was a kid. I got annoyed and upset when I saw problems that could be solved but that nobody was doing anything about. I had lots of ideas about how we could use and improve upon existing resources in my community to better our living conditions. I was too young to be able to do anything about it then but it sparked a passion in me. I researched career opportunities and did some introspection, and I realised that as an Entrepreneur I could put my innovative ideas into action and to create sustainable businesses that would solve the problems not only in my community, to improve my own life and my families', but throughout the world.
What made you want to study at UCL School of Management?
I have always wanted to receive a quality education in the field that I am passionate about from a top-ranking university and as one of the world's very best universities, UCL is just that! The MSc Entrepreneurship program has helped many entrepreneurs launch successful start-ups and it attracts postgraduates looking for professional help to build innovative and technology-driven businesses. Another pull factor was the history of the programme, as it was set up with the help of Tom Byers who led the Stanford Technology Ventures program which helped lay the foundations of Silicon Valley. The programme also offers great networking opportunities and hosts events to meet technology bosses and venture capitalists. I hope to create a network of partners and gain access to venture capital that will assist in scaling my business ideas in the cosmetic, F and D, agriculture, renewable energy, consultancy, tech and the wellness industries.
And of course UCL School of Management's strategic location in Canary Wharf, London's global business district and one of the main financial centres in the United Kingdom and the World. I believe I will acquire the appropriate knowledge and make the necessary connections that I need to build be a very successful entrepreneur.
What are the Biggest Challenges you've faced and how did you overcome them?
My biggest challenge was when my first venture crashed after a series of unprecedented events. I did everything within and beyond my power to prevent it. But when the political crisis in the anglophone region of Cameroon struck in October 2016, the building hosting BONGA juice and smoothie bar was bulldozed by the Mayor. The business suffered enormous financial damage and I had to let go of more than 30 staff members. I found it quite a traumatic experience as it felt like I had swallowed a sword and thrown myself into a volcano. I sat alone, I got on my knees, I prayed and begged God to come to my rescue. But I knew that still, coiled deep inside me was the need to survive the crises. I picked myself up, and completely reinvented my business model to start "Levre Rose". Although I couldn't speak French, I had to move and develop the business in the Francophone regions of Cameroon and later on in Francophone Africa. Being a very fast learner, innovative and daring person, I succeeded in scaling up the business model to 7 Francophone African countries within 3 years.
What does the Chevening Scholarship mean to you?
The Chevening scholarship is a validation of my entrepreneurial dreams and vision. I must say that I am humbled, honoured, and at the same time excited about winning the Chevening scholarship. Chevening Scholarships are awarded to individuals with demonstrable leadership potential and strong academic backgrounds. I feel privileged to be one of the 1,500 selected for this year's cohort out of a pool of nearly 50,000 applicants. There's a saying which says, "To whom much is given, much is expected" and the Chevening Scholarship is giving me the best and I am getting ready to give it my best in return. The Chevening Scholarships means the Foreign, Commonwealth & Development Office believes in me and my dreams and I am so thankful to them for this incredible award.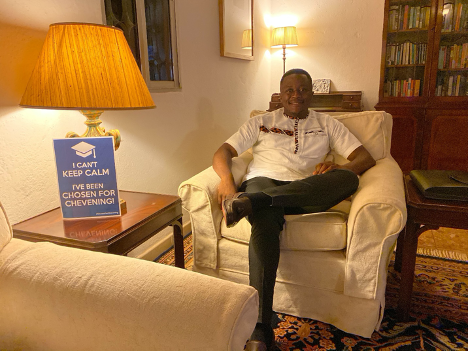 What would be your advice to someone looking to apply to Chevening?
Check out the Chevening website and make sure you are eligible, and if you aren't, I would advise you to work hard and gain the necessary professional and academic experience. For those who are eligible, focus your essays on your story and share your unique and authentic life experiences, especially your leadership and networking journey. Make sure you have a clear idea of what want to study in and why you want to study that course at that particular university. Make sure you are up to date with what the UK government is doing in your country and their priority areas to invest and develop.
Have a clear and well-defined career path and set up SMART goals on how you will achieve each of those objectives. After writing your essay, proofread it thoroughly and remember to check any advice you get on your application aligns with the information on the Chevening website before you adopt it. Subscribe to Chevening's Alphagram and follow their social media pages. The Chevening application process will help you do some serious introspection which will take a couple of days, weeks or even months. And don't wait until the deadline to submit your application, get in there early and avoid any last-minute submission issues.
If you could give your younger self one piece of advice, what would it be?
I would tell myself to believe and work hard to achieve my dreams as it is possible to achieve whatever you've imagined if you really believe in it. Discover who you truly are and don't follow someone else's success timeline, you are in your own lane. Careers aren't built from chasing a salary, they're built from chasing a passion.
Who inspires you?
When I look at the life of my parents who started life as poor agricultural workers, I feel inspired. They've lived a sacrificial life in order to send all 6 children to school and college. Professionally, I am inspired by Steve Jobs. I can write pages about how he inspires me but his resilience, focus and vision inspire me the most. I think his story of founding and leaving Apple is similar to mine.
Learn more about the UCL School of Management MSc Entrepreneurship programme and the Chevening Scholarship Award.