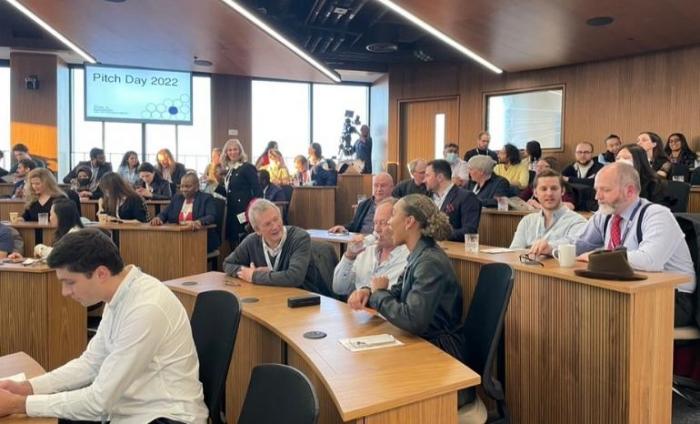 This March we hosted the annual MSc Entrepreneurship Pitch Day at our home on Level 50, One Canada Square in Canary Wharf. We heard from a number of very talented School of Management students about the exciting businesses they are working on.
Students were competing for a range of cash prizes, money they will use to invest in their businesses and accelerate growth. The event sponsors, the Engineers in Business Fellowship (EIBF) supported by giving £1,000 to the Best Pitch winner. The Engineers in Business Fellowship is a registered charity that promotes the importance and value of business education for engineers in order to improve people's lives and the performance of the UK and global economies.
We welcomed guests from within UCL and the wider business community, including some experienced angel investors and VC representatives, to give our students a platform to present their ideas to an audience of experts in a variety of industries and develop essential entrepreneurial skills such as raising funds, pitching and networking techniques.
Guest speaker and UCL alumni, Gregory Forostovsky the VP of New Product Exploration at Arrival and Ex-Chief of Product and R&D Director shared his professional journey and experiences in the early days of Arrival when he was just one of four employees and some insightful advice on how to succeed in such a competitive environment.
It was no easy feat for the judges to decide on the Best Pitch or Best Idea awards, as with just eight minutes, it was challenging and put our entrepreneurs to the test. There were some excellent businesses models from blockchain investments via real estate and organic cosmetics to education consultancy - there was a lot to choose from.
Our winners
There were three prizes, two awarded by the judging panel for Best Pitch and Best Idea and the Best Showcase was the people's choice award where attendees voted by investing UCL dollars which were then replaced with a real cheque for £1,000.
Best Pitch
The panel of judges awarded the Best Pitch to Task Free. Founder, Amanda Alexakos delivered an excellent presentation proving she has what it takes to secure investment from funders.
Task Free is a marketplace where busy individuals can find instant help with their everyday to-do list, in order to unlock more free time. Services include household chores, shopping, delivery, out-of-home errands, pet care and more. Amanda's goal is to help people connect with Task Experts to allow users to free up more time to do the things they enjoy.
Best Idea
With so many brilliant ideas, which would affect multiple industries, it was hard to select just one winner, but in the end, the second-hand apparel startup, What's Yours Is Mine took home the prize. Founder and fashion-obsessed and a sustainability enthusiast, Saoirse Kelly set up the platform to meet her love for fashion and sustainability. What's Yours Is Mine is a platform where users upload pre-loved clothes in exchange for tokens. Users get to give their items a new life and can snap clothes with people who share a similar sense of fashion. Saoirse says: "The best part of WYIM (not including saving the planet whilst looking chic) is that you get to meet people from your uni or other unis in your area. When you check an item out you meet up in person to swap. If you share the same fashion sense think of what else you could have in common."
Best Showcase
The people's choice award for Best Showcase went to Fassa Sar's Callo, a platform for creatives and business collaborators in film and television to discover, meet, and manage relationships. Fassa understands that a solid relationship fit is the foundation of any creative project, so Callo's mission is simple; reveal creative partners unique to clients and accelerate the project.
A big congratulations to all our winners and those who pitched on the night, we are excited to see how your businesses grow.
MSc Entrepreneurship at UCL School of Management
Are you interested in our MSc Entrepreneurship programme? Whether you're a prospective student, an investor, or someone looking to sponsor the event, there's lots of useful information on our programme page and you can reach out to the Entrepreneurship team directly at mgmt-e@ucl.ac.uk.