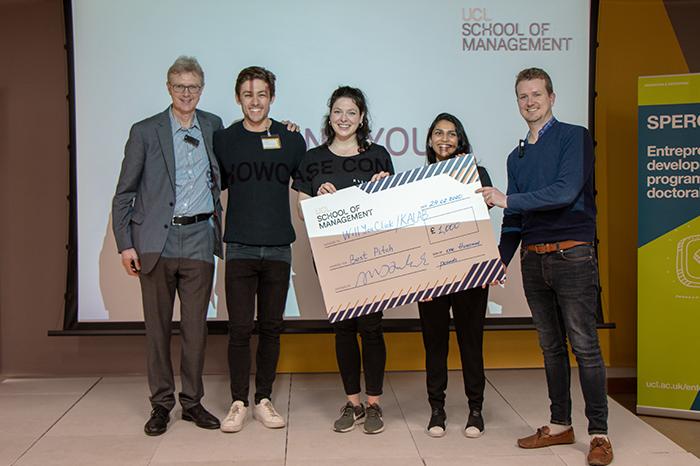 This February we hosted the first of two Pitch Days for our MSc Entrepreneurship programme at UCL's Innovation and Enterprise's BaseKX. We heard from a number of very talented School of Management students about the exciting businesses they are working on.
Students were competing for a range of cash prizes, money they will use to invest into their business and accelerate their growth. It's thanks to our ongoing partnership with the Engineers in Business Fellowship (EIBF) that we were able to provide a range of attractive cash prizes to our winning participants. The Engineers in Business Fellowship is a registered charity that promotes the importance and value of business education for engineers in order to improve people's lives and the performance of the UK and global economies.
We welcomed guests from, both within UCL and also the wider business community, including some experienced angel investors and VC representatives, to give our students a platform to present their ideas to an audience of experts in a variety of industries and develop essential entrepreneurial skills such as fund raising, pitching and networking techniques. Hosting the event at UCL BaseKX was also a great opportunity for students from UCL and other institutes to get an insight into what our MSc Entrepreneurship programme entails.
We were fortunate to be joined by guest speaker, Neill Forrest, Head of Customer Experience at Uber, who shared his personal story behind his decision to join Uber almost 6 years ago, becoming one of the first 20 employees of their UK office. Neill also shared Uber's journey of creating its bespoke customer experience focusing on safety and meeting customer needs.
The pitches were challenging and really put our entrepreneurs to the test, having just 7 minutes to present their innovative business ideas. There were some excellent businesses models from a startup delivering premium quality wines by-the-glass, to a sustainable fashion e-commerce brand, and many more all at varying stages of development.
Our winners
Our panel of judges awarded a joint prize to Kalab and Will You Click for the Best Pitch, with each receiving a cheque for £1,000. Both delivered excellent presentations and although extremely different, proved they have what it takes to secure investment from funders.
Founded by School of Management's Talitha Abraham and Florence Ettlin, Kalab is an online platform the bridges the gap between emerging musicians and companies. Their goal is to empower emerging musicians with visibility and booking opportunities whilst designing a pleasurable artist booking journey for everyone.
Co-founder and MSc Entrepreneurship student, Adam Robertson's Will You Click is a new dating app that inspires dating in real life. They combine interests and events to bring likeminded people together and help them create an organic dating environment, no messaging and awkward online small-talk, instead users can meet up in person at awesome events tailored to their interests.
Sexual health app, Halt took the prize for Best Idea and bagged a £1,000 investment to further develop the app. Halt's CEO Harit Gillar and MSc Entrepreneurship student and CTO James Haworth Wheatman UCL Computer Science student, and met at an event hosted by UCL Innovation and Enterprise and the pair hit it off and realised the great things they could build if they shared their skills and knowledge. They have since founded sexual health app which allows users to anonymously report STI diagnosis to their pervious sexual partners.
The People's Choice Award went to Federico Mori's, Rare Diagnostics, a meditech startup using optimisation technology to accelerate the diagnosis of rare diseases by providing doctors with an online diagnostic platform.
A big congratulations to all our winners we are excited to see how your businesses grow.
Learn more
Are you interested in our MSc Entrepreneurship? Whether you're a prospective student, an investor, or someone looking to sponsor us, there's lots of useful information on our programme page and you can reach out to us directly at mgmt-e@ucl.ac.uk.