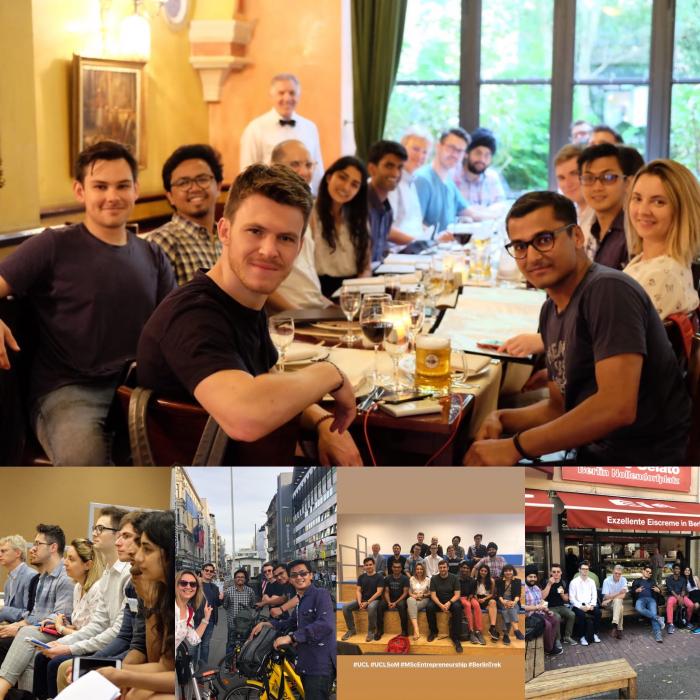 There are many reasons why the MSc Entrepreneurship programme stands out; from being taught by high-profile academics, entrepreneurs and investors to offering one of the most practical ways to starting a business, second only to an incubator.
Among the best moments of the programme is a trek to a start-up ecosystem around the world. Each year the cohort can vote for different cities and go on a week-long trip which includes visits to start-ups, venture firms and, of course, some time-off just for sight-seeing and relaxation. The students are in charge of the organisation and one or two lecturers accompany each group.
This year we got to visit San Francisco (still a favourite) and Berlin. I was in the latter group and for a week in June, we visited nine companies in the German capital: Onsei, M2MGo, The Family, Store2Be, E-ventures, MoBerries, Vivy, FullNode and LiQid.
Why is this cool?
Because it's an absolutely unique opportunity to see how other entrepreneurs work and to learn directly from the founders about their start-up stories, the hardest parts, and the biggest lessons they've learnt. We are very grateful to each of the companies above for hosting us, answering patiently our barrage of questions, showing us around their offices and designing interactive activities for us to take part in (Store2Be, you're awesome!)
Our master video maker, Pierre Antoine Duprat (@pad_ventures) has made an amazing montage of our Trek which shows better than words can describe how much fun that was. Check it out here.
What were the best moments of the Trek?
Below are some of my colleagues' thoughts about our time in Berlin.
"Berlin is such a cool city to walk around! So many restaurants and bars in the most random places - and so much history! Really good vibes from all the startups we visited as well! I will definitely come back again - who knows, maybe even live there! Shout-out to Yesh for introducing us to Bananagrams! This game made our evenings!" - Pierre
"It was the perfect way to get to know us better, we should do it every year!" - Jose
"It was a fun trip which brought everyone together. On the other hand, we met a bunch of amazing entrepreneurs and venture capitalists which add new perspectives on how the tech ecosystem works" - Faiz
"There's no better way to end the year than by being immersed in the ecosystem you love, and with some of the most courageous people in the world." - Avneet
"It is a great opportunity to see how different the startup ecosystem looks in different countries and understand what challenges entrepreneurs face. While not all meetings were equally engaging, store2be showed that even students visit can be a chance to learn something new and look for new insights." - Adrian