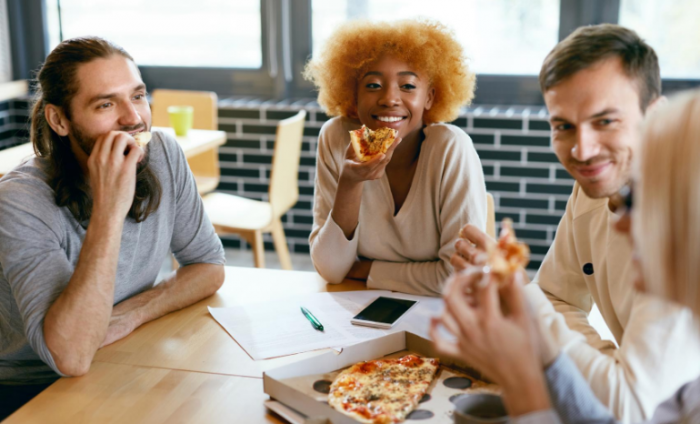 University life requires you to adapt to your surroundings, especially at UCL School of Management, is based in the hustle and bustle of the financial hub that is Canary Wharf. While trying to get a grip on the programme and starting at the school is nerve-wracking, trying to find some Halal food options around campus is a challenge in itself. Halal Food is food that's processed according to Islamic Religion customs, such as reciting a prayer before slaughtering an animal for consumption, pork is not allowed, etc. As one of a few Muslims in my cohort, finding Halal food close by was a must and this provided an extra hurdle for me during the initial period of studying in Canary Wharf as it there aren't lots of options, but rest assured they do exist!
It took me some time to research and then put the various options to the test but I did manage to find some good Halal food around campus that suited my tastes and my budget.
Here's the list of my personal comfort foods, which I hope might help fellow Muslims who will be studying in Canary Wharf or Bloomsbury in the future, and of course for any other students who just want to enjoy some great food in the 'Big Smoke' that is London, whilst on a student budget.
Canary Wharf Campus
Shake Shack
Shake shack is my staple choice for a quick bite after class. The Chicken Burger and Mushroom Burger in the Canary Wharf branch are Halal, but not all Shake Shacks branches are Halal, so you might want to do some research beforehand. The moist and juicy chicken burger will make you start drooling the second you smell it. The mushroom burger is well-known for its mozzarella cheese inside the patty. Plus, their fries are the best compared to other fast-food chains (I dare you to challenge me on that!). And it is reasonably priced with my favourite options costing the following* Chick'n Shack – £6.29, Mushroom Burger – £5.50 and Fries – £3.00.
Wasabi
Wasabi is an easy win for me, as Japanese food is a snap-of-a-finger choice for Muslims because most of their menu is seafood-based. The noodle soups are a perfect match for the chilly London weather. The preparation is lightning-speed, so you don't need to queue or wait for a long time. This is perfect for a takeaway to eat upstairs in the Student hub with friends. You should try the Wasabi Prawn Tomyum – priced at around £6.00 - it's delicious!
Farmer J
Every lunchtime, you will see a long line of people queuing for Farmer J. I think this is an excellent option for a portion of healthy/balanced food. You should at least try it once while you study in Canary Wharf. Or at least if you are like me to appease your curiosity because you will always see the queue every time you pass by. The food itself is slightly more expensive so you might need to dig your wallet a little deeper for a take-away meal. The Salmon Main Dish at £10.25 is worth a try.
Bloomsbury Campus
WingWing Krispy Chicken
WingWing is located around 200 meters from the main UCL campus in Bloomsbury. They sell Korean chicken wings, which is perfect for a group lunch or a small party. I often eat there when I have classes in the UCL main campus together with my friends. The chicken wings are par excellence, I personally think it is one of the best in London. Even my Korean friend has given it the seal of approval! Get a small group of you and grab a Four Person Party pack for £34.90
Dough+Co Pizza
This pizza place is a hidden (maybe not so hidden) gem inside UCL Main Campus. All of their menus are halal, student-friendly price points, and finger-licking good! I often have this for lunch when I do group work/meeting on the main campus for a fresher ambience. I love how the gang decides to split one pizza just to order another a few minutes later. Believe me, this pizza is smashing, and you can definitely finish it alone. Try the Meat Lovers Pizza for the bargain price of £4.65.
As a Muslim, I understand that it might be scary to socialise when we have different preferences over what to eat or what to do. But five prayers a day and limited food choice shouldn't stop you from making as many friends as possible while in London. In fact, what I love about London is that people don't judge you because you are a Muslim and have different 'rules' about food and there are some great options close to campus.
Here, people don't force you to do what you don't want, and they accept you for who you are. At least that's what I felt from my friends, whom I met in London. Sure, you might have to do some explaining, but hey, that can also be an exciting topic to talk about!