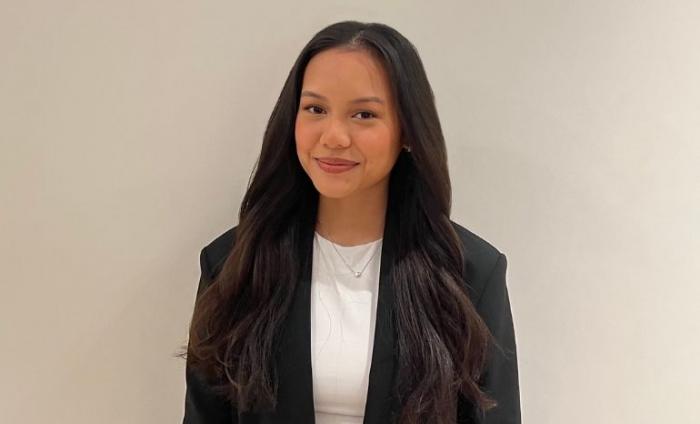 As a part of the MSc Business Analytics programme at UCL School of Management, students undertake a practical consulting project with a company or an independent research project. Using the skills and knowledge they have developed on the programme, students analyse data and come up with actionable insights which may be around improving a particular area of the business, changing a process, or getting a more thorough understanding of its customers and target market.
Disa Ramadhina from the Class of 2021, shares her experience from a project with the Consumer Data Research Centre (CDRC) and Entain, an FTSE 100 company specialising in sports betting and gaming interactive entertainment.
Disa shares what she learnt from the project, her reaction to winning the best dissertation award, and how the skills she developed studying MSc Business Analytics at UCL School of Management have prepared her for her role as a Data Analyst at Entain.
What attracted you to working on a project in partnership with the consumer data research centre (cdrc)?
Prior to starting my Master's at UCL School of Management, I studied Psychology at King's College London, so I've always been interested in the topic of consumer behaviour. Applying to a project in partnership with the CDRC was therefore a natural next step.
I came across the CDRC (a centre which leads engagement between industry and academia) through the MSc Business Analytics Program Director, David Alderton. I was particularly drawn to the project topic by Entain. I was unfamiliar with the company at first, until I realised they owned the betting brands Ladbrokes and Coral. Having been in London for four years, I've quite often come across their betting shops while walking around the city.
Ultimately, it was Entain's reputation as a leading company within the gaming and sports betting industry, as well as the opportunity to analyse consumer behaviour, that motivated me to apply to their project in partnership with the CDRC.
WHat problem or need was investigated through the student consulting project?
The pandemic-driven changes in consumer behaviour led to the hypothesis that during lockdown, a lot of Entain's new online customers have a retail background, i.e. they are retail customers who may have migrated online due to retail shop closures in the UK.
With methods of classification, we can predict whether an online customer has a retail background; and we found demographical and behavioural differences between groups of online customers with and without a retail background. In turn, the findings of the project can be used to further investigate the differences in manifestations of problem-gambling between the two customer groups to create a more sustainable customer base. More on the project can be found here.
how do you think the skills that you learned on the msc business analytics programme helped you support entain?
The project was dependent on the use of programming tools, which I had no prior knowledge of before the programme. The modules Statistical Foundations of Business Analytics, Marketing Analytics, Programming, and Predictive Analytics particularly helped me support Entain throughout the project, as they taught me to utilise R and Python to analyse data, and to train machine learning models. Not only that, but the way the module leaders at the school dealt with the pandemic and structured our online learning taught me soft skills, which helped me adjust to the ways of online working. This was particularly useful while conducting the project during the pandemic, as the Entain team were based in Gibraltar while I was based in London.
Can you tell us a little about winning the best dissertation award?
After completing the project, I was notified by the CDRC that I was shortlisted for the 2021 cohort's top three dissertations. I was invited to present my project alongside other shortlisted candidates, which was followed by a virtual prizegiving ceremony. Winning the best dissertation award was very rewarding, and I would like to share two lessons that I have learned:
1. Projects come in different shapes and sizes
Having the opportunity to watch other candidates' presentations of their projects gave me insights into what other students worked on for months, which in hindsight was completely different to my project. This showed me that dissertation projects encompass a broad range of topics, which made me appreciate the scale at which analytics could be applied into.
2. The importance of communication skills
I learned that having effective communication skills is critical to dissertation projects. I thought, how do I present my results so they are meaningful to the audience? Whether it be academics, or business stakeholders, no matter how good the analysis or how complex the methodology, the project must be communicated well for others to appreciate it.
When did you graduate and what have you been doing since you graduateD?
I graduated from MSc Business Analytics in December 2021. Since then, I have been working as a Data Analyst at Entain in their Compliance/Safer Gambling Analytics Department. Within the role, I am responsible for managing end-to-end analytics projects relating to the management of customer journeys to promote safer gambling. The projects start with data extraction and analysis through SQL, R, and Python, and end in translating the findings into actionable insights presented through PowerPoint or visualized through Tableau dashboards.
I would like to give special thanks to the Entain Gaming team, Piotr Smolinski, Joana Georgieva, and William Collins, for guidance and mentorship throughout the project; to the CDRC for the opportunity to work on the Masters' Dissertation Scheme; and to David Alderton for the support from UCL as a Program Director and Personal Tutor.