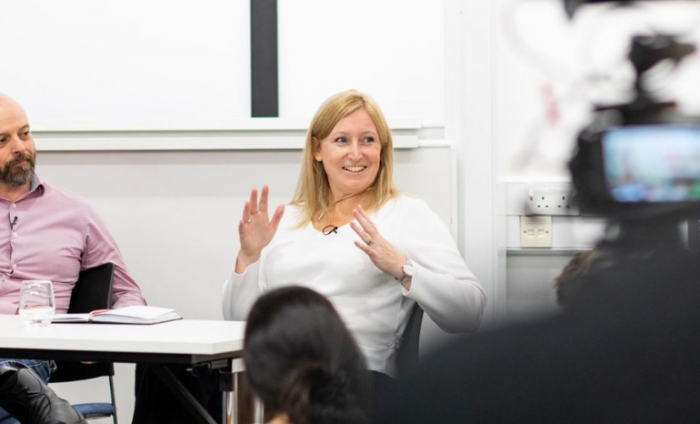 Designed to provide experienced professionals with the skills, knowledge and insights required to address complex organisational challenges and progress in their careers, the UCL MBA has recently graduated its first cohort of students. To celebrate the success of our first MBA graduates - The Founder's Cohort - we'll be sharing their stories and the paths that led them to join us at the UCL School of Management and hearing how the programme has enriched their lives and careers.
Joanne's story
Engineering is in Joanne Carmichael's blood. The daughter and niece of engineers, Joanne grew up knowing exactly what she wanted to be when she was older. That vision became a reality when Joanne graduated with a Bachelor of Engineering in Civil Engineering and Construction Management from the University of Leeds. Since 2010, Joanne has paved an incredibly impressive career path with leading global engineering firm, Arup. She has worked on a diverse range of planning and transportation-related projects across the globe and has lead multidisciplinary teams in the Middle East, Australia and she is currently based in Malaysia. 
Joanne joined the UCL MBA programme in 2019 at a pivotal stage in her career. She wanted to "demonstrate how a new type of leadership can be a catalyst for significant business improvement in a changing industry". Her decision to join the UCL MBA was based upon a desire to push boundaries in the field of engineering:
"Undertaking the UCL MBA will give me the broader business knowledge to allow me to influence decisions and business strategy from a position of deep knowledge and capability. This is important to me, since I have had few credible female role models in my career and it is time for this to change for the next generation".
Since graduating with her MBA, Joanne has continued to maintain strong bonds with her cohort and has had the opportunity to collaborate with module leader Dr Rikke Duus on research projects,  such as the recent UCL MBA DigitalHack. She has also guest lectured in multiple areas. Speaking of her success, Joanne told us, "I expected new opportunities as a result of my MBA, I didn't know what they would be, but I knew they would be exciting."
Now as Arup's Director and Planning Lead for Australasia and a UCL MBA graduate, Joanne's achievements are an inspiration, not only to her three daughters, but also to aspiring female leaders. As she says herself, "young women in business need to know that it is possible to have it all".