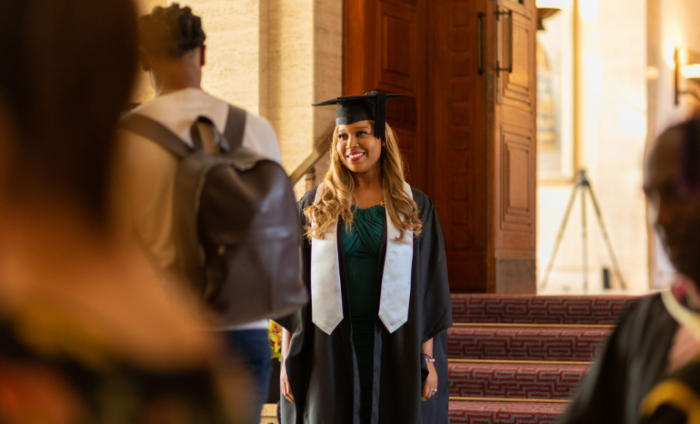 Designed to provide experienced professionals with the skills, knowledge and insights required to address complex organisational challenges and progress in their careers, the UCL MBA has recently graduated its first cohort of students. To celebrate the success of our first MBA graduates - The Founder's Cohort - we'll be sharing their stories and the paths that led them to join us at the UCL School of Management and hearing how the programme has enriched their lives and careers.
Fayola's story
For over a decade, Fay has worked on complex commercial transactions, leading on the commercial transformations of multi-billion pound portfolios and establishing the first Dispute Resolution Practice for the UK Government. Following her already impressive career in both the public and private sector, Fay joined the UCL MBA programme in 2019, the same year that she was listed on Cranfield School of Management's '50 Women to Watch' list.
When exploring her options to pursue an MBA, Fay was looking for a programme that would "enhance my capability in widely-applicable qualities like leadership and critical analytical thinking in the context of today's fast-paced multi-faceted global organisations". She was attracted to the UCL MBA for its thoroughness, "covering a broad set of modules that are incredibly relevant" and the flexibility that the programme offers: "When work was busy I could reduce modules, and when I had a bit more bandwidth I could increase modules. It's a brilliant programme for working professionals like myself."
Fay's career goal is to continue to have an international impact and support organisations on their journey to business excellence. The UCL MBA supported her career by allowing her to broaden her career prospects and enable her "to branch out into other global leadership roles", while providing support through extra-curricular development opportunities. Discussing the programme, Fay told us, "The UCL MBA went above and beyond my expectations. I found the networking opportunities the most valuable, providing diverse and global connections to bounce professional thoughts and ideas around; and in that process I formed solid friendships. The career support services are also just excellent. You get focused 1:1 support that is second to none."
Fay leaves the UCL MBA as the Managing Director and Head of Non-Permanent Workforce at Lloyds Banking Group. On top of this full-time role, Fay has begun her doctorate; she sits on the World Commerce & Contracting Board as a Non-Executive Director, and she acts as a pro-bono Crisis and Dispute Resolution Advisor for the United Nations. It is fair to say that Fay is paving a path for all UCL MBA graduates to come.