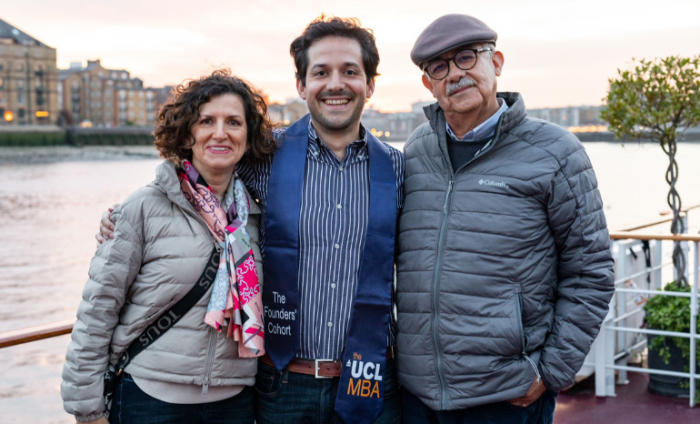 Designed to provide experienced professionals with the skills, knowledge and insights required to address complex organisational challenges and progress in their careers, the UCL MBA has recently graduated its first cohort of students. To celebrate the success of our first MBA graduates - The Founder's Cohort - we'll be sharing their stories and the paths that led them to join us at the UCL School of Management and hearing how the programme has enriched their lives and careers.
Diego's story: From chemical engineer to technology leader of a multinational company
After graduating from Imperial College London with a Master's in Chemical Engineering, Diego began his postgraduate career at Kellogg's in 2015. Beginning as a Technology Engineer for the European branch of the company, he displayed a passion for developing others. With his collaborative and approachable style, and with a 'thirst for knowledge', he became the Senior Technology Leader within two years.
With that desire for knowledge and experience, in 2019 Diego assessed his options in business education: "I believe that in order to make the best decisions for any business or industry, it is fundamental to understand" the "priorities, expectations and goals of all the functions involved in the decision-making process." Living and working in Brussels, Diego appreciated the flexibility of the UCL MBA, as it gave him the opportunity to "continue my education through an online part-time degree from a world-class university", whilst working for a multinational company.
In the space of 3 years, Diego has applied his learning from modules such as Data Analytics and Leading Organisations to progress from Senior Technology Leader to Senior Program Manager:
"The senior management team at Kellogg's has told me how impressed they are by the increased quality of my outputs since starting the UCL MBA, including contributing solutions and strategic plans."
As a member of the Founders' Cohort, Diego has continued to engage with student-led activities, such as the UCL MBA DigitalHack competition, and he remains a great asset to the programme.