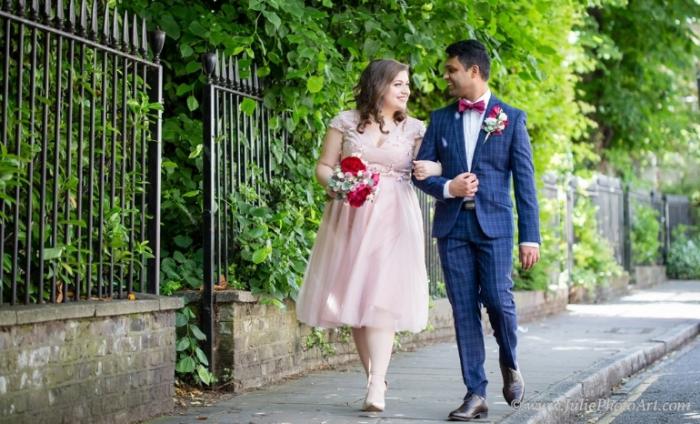 Studying at university gives you more than just an education, it's about life experience, making lifelong friends and in some cases even meeting that special someone. Studies show that 20% of British students meet the loves of their life on campus*, let's take the Duke and Duchess of Cambridge as a famous example who met whilst at St Andrew's…although official princes are subject to availability so maybe don't dash off to uni just yet!
This Valentine's Day, MSc Entrepreneurship Alumna (2017) Andra Gupta tells the wonderful story of how she and husband Raunak Gupta met at UCL School of Management, and why she believes their time at the school played such a pivotal role in their relationship.
How we met
Raunak and I were both accepted on the Master's in Entrepreneurship (then Technology and Entrepreneurship) around the same time - mid-June 2016 - and were invited to join a private Facebook group for future School of Management students.
It was a chatty group, we introduced ourselves, talked about the ventures we want to start and naturally engaged in more general conversations. With Raunak and I, the discussion started…and never ended, it went from text to phone calls to video calls.
Ahead of the programme even starting a business meeting brought me from Vienna to London, and whilst here I met Raunak - in what naturally became (although he still doesn't admit to this day) our first date.
Getting lost in Little Venice
Back then I didn't know London very well, so Raunak suggested taking the Heathrow Express and meeting me in Paddington. It was a warm, sunny day, and he casually brought me to one of the most beautiful places in this city - Little Venice!
After a nice stroll around and a lunch by the water and filled with laughter, we took a boat on the Canal to Camden Market (another personal highlight in my book of must see's). At the end of the day he accompanied me safely back to Greenwich, where I was based - which made it clear that this was not going to be our last date :)
The moment I saw his smile when first meeting in Paddington, I knew "it". No idea what that "it" was, but I had never felt that before. And five years later, when we laugh, that "it" ignites instantly, as if for the first time.
Secret love's not so secret anymore
After those first encounters in London, Raunak visited me in Vienna a few times, and we even took our first trip together – we are both pretty obsessed about travel.
At first, we wanted to keep it on the down-low and not tell our classmates in case it was only a summer fling, so that meant no photos of our adventure together on social media.
Then September came around and the programme started. Although we tried to pretend we weren't an item, after just one week at UCL the cat was out of the bag and we admitted everything to our classmates during our Induction Party Boat Ride on the Thames. It got harder to manage not speaking about it than just being honest :)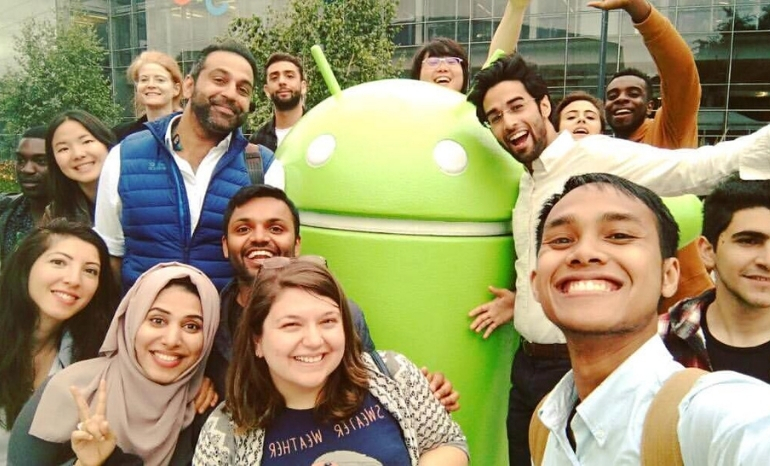 Photo from our San Fransico Trek, that I organised while studying at UCL
Bert's Mystic Meg speech
In his induction speech the School Director, Bert De Ryeck commented that we would, of course, learn a lot and that the experience would change our lives in other ways too, leaving us with friends and possibly that special someone…
I recall it word by word (and whispered this back to Bert on our graduation day) because at that moment, I looked over at Raunak and I had shivers – I was secretly hoping this would be our story.
That speech played a key part in realising this is not a summer fling :D
Coming together at the School of Management
Without getting into the School of Management, we would have never crossed paths, or at least not in such a natural way. Since we're both very stubborn alpha-type individuals, the experience of learning how to work with each other, being professional at university paired with the sheer amount of time we spent together while Raunak was trying to help me settled in London (he had been here for nine years before I moved for UCL), resulted in our relationship progressing much quicker than I think either of us imagined.
My first flatshare was a mess, it got to the point where it impacted my grades and overall productivity, so we made the decision to move in together after just nine months of dating and never looked back.
We wrote our dissertations sitting back-to-back in the living room, helped each other out along the journey and quickly realised - this just feels right.
Vrei sa fii sotia mea?
In true Raunak and Andra fashion, we took a round-the-world trip in May of 2018 and on our very last night in LA before flying home, Raunak decided to "hijack" my precisely timed plans of taking him to the Griffith Observatory for sunset by putting me in an Uber which ended up going in the opposite direction!
He pretended that it was just because the driver was doing a pick-up en route - I legit thought we were getting kidnapped after 20 minutes going down rather than up! Then we arrived at a helipad. Still not knowing what was going on, I assumed that the trip was the final surprise to mark our 1 year 11 monthiversary.
And then, while in the helicopter flying over the Hollywood Sign, Raunak asked me in Romanian "vrei sa fii sotia mea?" will you marry me! It's one of the most beautiful memories of my life.
We tied the knot on the 17.06.2019 in London, since this has been our home from the beginning, the place we met, we fell in love, we moved in together. Some of our dear friends from UCL School of Management joined us for the ride and we had the chance to celebrate with them not once, not twice, but three separate times in the UK, Romania and India!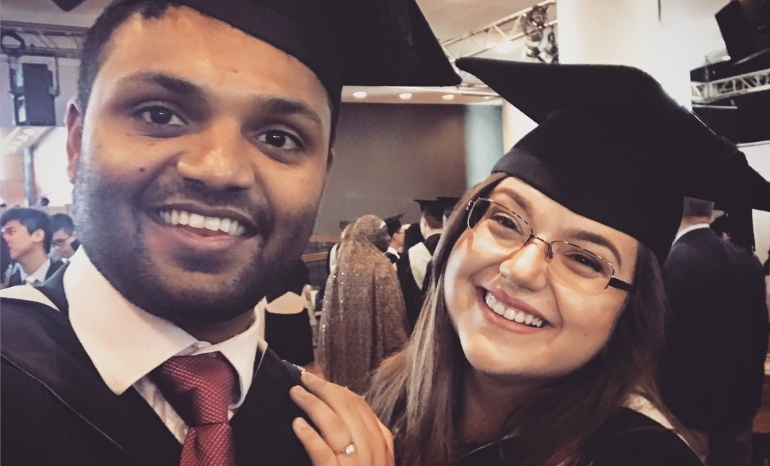 Newly engaged love birds at the graduation ceremony
Lockdown Valentine's Day
Our pre-pandemic schedule would have included a trip somewhere or dinner at some fancy restaurant with a view over the city, but this year we're taking it back to basics and celebrating (pending on the weather) with a nice long walk around East London, followed by what I hope will be a delicious home-made dinner.
Raunak is usually the main chef of the house, but I've been practising my skills recently, so fingers crossed it turns out tasty!
Raunak, if you're reading this, please say it did ;)