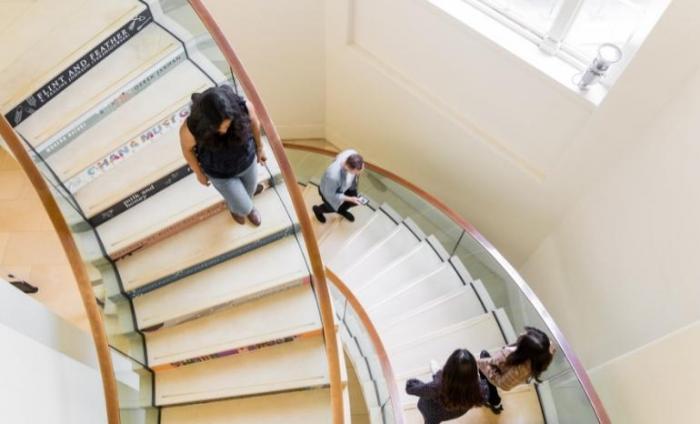 The dissertation is one of the most important projects that an undergraduate student can face during their years of study. A dissertation is a large body of academic work or a research project, and typically concludes both undergraduate and postgraduate study.
However, in the case of UCL School of Management's BSc Information Management for Business (IMB) programme, the typical rules of a dissertation do not necessarily apply. An IMB student can write a standard dissertation, but they can also elect to do a consultancy or enterprise project. Wondering what the difference is between these projects? Let's take a look at the IMB class of 2022 and how they chose to complete their final-year projects.
msin0067 Extended project - the dissertation module
When discussing the IMB dissertation project, what we are actually referring to is the MSIN0067 Extended Project module. As previously noted, there are three types of projects that you can select in the final year of your IMB, and the choice is entirely yours.
The Extended Project module is a double module, meaning that it carries 30 credits, and runs during both Term 1 and Term 2 of the IMB final year. Unlike other modules on the programme, classes do not run weekly, but approximately once a month. That way, there is enough time between each session to work on a particular part of the project. It also allows time for 1:1 meetings with supervisors in order to receive frequent feedback to build upon your work.
As a result, the progress of the project is very much down to the individual student - at least it was for my year - as there are no intermediate deadlines. But what is it actually like to write these projects and what experience can they give you?
IMB Dissertation - wei's experience
When undertaking an IMB Dissertation, the focus is on writing an academic piece of research. That involves the assessment of academic literature to identify a research topic that can further advance what is already known.
Having talked to one of his family friends about e-commerce platforms in China where cashback reviews are fairly common, my friend, Wei Cao, decided to focus his dissertation on how these reviews affect customers' choices.
Discussing his project, titled, 'Cashback reviews: How does it affect consumers' purchase decisions?', Wei Cao told us, "I would say that writing this dissertation was quite a challenge for me. I had to manage my time and my effort well, especially during the last few weeks before the deadline, and reading extensively for the dissertation is also a huge amount of work. Also, working with my supervisor was a really good experience. He was really helpful, and answered my questions very quickly."
IMB Consultancy Project - my experience
The IMB Consultancy Project is about conducting a piece of research for a business client to help them resolve issues and grow their businesses. While students are encouraged to source their clients and discuss a mutually beneficial project together, the IMB team can help with arranging these collaborations. Each year, through links with alumni and industry experts, the IMB team is adding more external clients to the consultancy project portfolio, covering everything from Business and Management to IT – so there is something for everyone.
During my time at Secondary School, I participated in an educational programme provided by a non-profit organisation called JA Slovakia. When deciding what to do for my extended project, I realised that I may be able to help them by researching their alumni. That is how my Consultancy Project titled "JA Alumni Slovakia: Establishing a Flourishing Alumni Network" came about.
To sum up my experience, I very much enjoyed the practical focus of the Consultancy Project. While the majority of projects in the IMB programme are quite practical, I enjoyed this project as I also had the chance to interact with a business client over a longer period of time. As a result, I have developed excellent time management skills, as well as an ability to communicate professionally and assertively and a well-researched project.
IMB Enterprise Project - paulius's experience
The IMB Enterprise Project focuses on researching and testing a student's business idea. Much like the Consultancy Project, the Enterprise Project is very practical and gives students an opportunity to try out business ideas before truly committing to them.
Running a business alongside his studies at the UCL School of Management, my friend, Paulius Serva, decided to conduct an Enterprise Project and focus on foreign expansion research for his business.
Discussing the experience that his project, 'Alfa Klase Ltd Foreign Expansion' gave him, Paulius told us, "The Extended Project allowed me to have a very methodical and comprehensive analysis of the business idea I had. Ongoing supervision was extremely valuable as receiving feedback made me question multiple assumptions and guided me through the whole process. The outcome gave me the basis to proceed with the idea further and I'll inevitably use the knowledge for future ventures."
Which type of Extend Project should you choose?
If you are studying or plan to study an IMB at the UCL School of Management, the type of project that you undertake in your final year is entirely up to you. But fear not, besides the inspiration from the quotes above, you will have a resourceful and extremely helpful teaching team in the MSIN0067 Extended Project to turn to for help and guidance.
I have only one remaining piece of advice: you should write your final-year project about something you are actually interested in. This project will make up a large portion of your final IMB year, so make sure you make it as enjoyable as you can by writing about something you actually care about.
Authored by: BSc Information Management for Business student, Andrea Uličná.