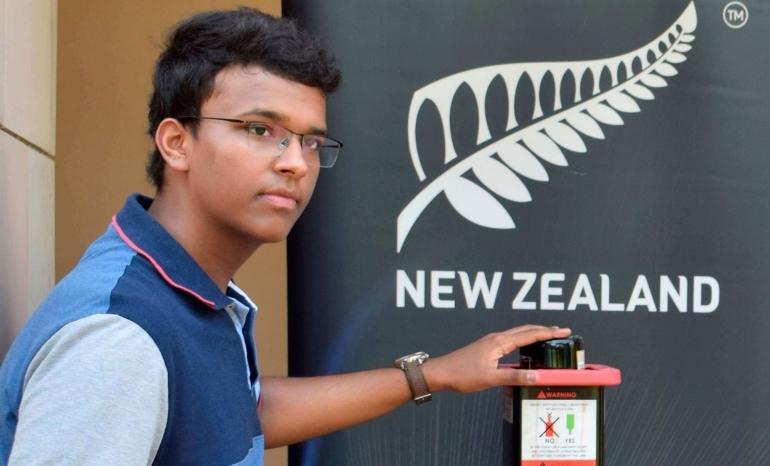 BSc Management Science student and Glass2Sand founder, Udit Singhal shares his experience so far, studying at UCL School of Management and his entrepreneurial journey in launching Glass to Sand. Udit combined his passions for sustainability and technology to make an environment-friendly zero-waste ecosystem, Glass2Sand which does exactly what it says in its name, turns waste glass into sand for sustainable construction. He also discusses his latest passion, art and how he's started his own NFT collection as a colourblind artist.
why did you choose to study Management Science at UCL SoM?
I was born and raised in New Delhi, India to a family of trailblazing entrepreneurs. The world of business has fascinated me. It has the ability to impact and mould people's lives on a rather unfathomable, monumental scale. Technology is an enabler and I have closely followed the evolution of this "black box". UCL SoM and particularly a BSc in Management Science appealed to me because of the holistic, forward-looking, data-driven approach to the management curriculum which I hope to channel and effectively drive sustainability.
as a second-year student, how have you found your experience at UCL SoM?
In my short time at UCL, and considering the restrictions throughout the pandemic, my experience with UCL SoM has been quite enriching. I have enjoyed the breadth of programme and modules so far. The re-introduction of Scenario Weeks, something I was eagerly looking forward to ever since I joined UCL, has made for a year full of growth and learning thus far.
What is Glass2Sand and what does it aim to achieve?
Having uncovered the silent glass waste crisis in India, at age 16, I decided to channel my solution-driven mindset and founded Glass2Sand, an environment-friendly zero-waste ecosystem. It's a no-glass-to-landfills movement that stops glass bottles from being dumped in landfills by crushing them into commercially valuable sand and repurposing it for sustainable construction. It is plugging the major gap identified in the recycling of such materials.
Why did you set up Glass2Sand?
To afford real, innovative and feasible solutions to systemic issues, such as a looming glass-waste crisis, that often go unnoticed.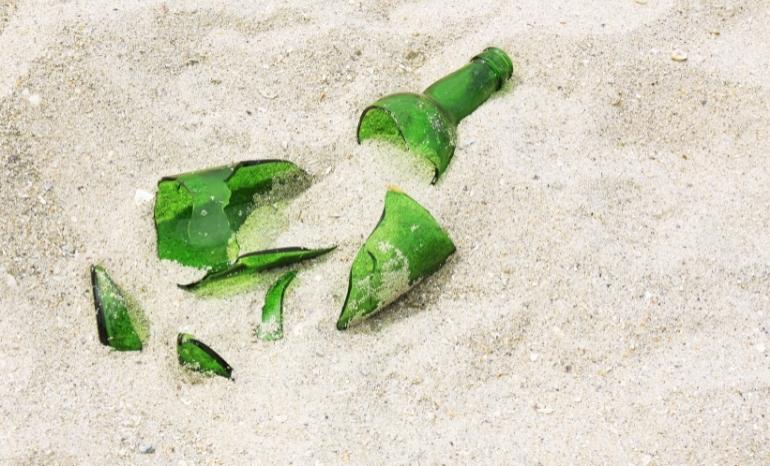 How does it work And do you think the programme helped with your technological understanding?
The award-winning zero waste Glass2Sand works by crushing empty glass bottles into commercially valuable silica sand using innovative technology – the bottles are cut iteratively to reduce them to fine sand, which is then used in sustainable construction.
Bottle-collection is managed through Institutional Support Partnerships and a volunteer network that responded to Glass2Sand's call for a better planet. Technology has been effectively leveraged, not only to build a cutting-edge bottle collection management system but to convert the large number of "viewers", thanks to wide international mainstream media coverage, into "volunteers" through Glass2Sand's web-based pledge mechanism.
Through the different computing, operations and strategy modules, the Management Science programme has offered me valuable insights that have helped me upgrade Glass2Sand's use of technology and better understand problem solving frameworks which have resulted in streamlining the processes.
You sourced the patent from New Zealand, can you tell us a bit about this process and why you believe it can be used on a large scale?
I reached out to the Kiwi patent-holders for their machine and with the help of a very special grant from the New Zealand High Commissioner in India, I could import the first machine from New Zealand that crushed glass bottles by hammering.
Glass2Sand is a forward looking first mover in India that aims to stop glass bottle waste from ending up in landfills. The project is modular & easily scalable and can be adopted by any like-minded organisation. The commercially viable by-product allows the affordable one-time setup cost and low running costs to be offset with a steady revenue stream.
A new crushing machine based on cutting technology made in India is the core of the Glass2Sand module. I expect to be able to realise scalability, keep the costs low, stay low on maintenance and reduce the project's carbon emission without compromising on the end result of fine sand. Glass2Sand is building new partnerships and we are in discussion of setting up modules in new locations.
What were the biggest challenges and achievements when setting up Glass 2 Sand?
Despite all my efforts, as a high schooler trying to drive change, I wasn't always taken seriously. Roadblocks appeared at every step of the journey, not just because of the red-tape.
A multinational even tried to take advantage of my initiative and expected me to handle the conversion of a very dangerous glass composition that is actually banned in some parts of the world, because it is harmful for human contact.
Convincing institutions was another challenge that had to be faced. I learnt that some organisations were only blowing the environment trumpet for their image but when the moment of reckoning came, they were unwilling to forego the tiny revenues that they would generate by selling waste glass generated!
Against all odds, Glass2Sand has already managed to stop over 25,000 glass bottles from entering the landfill. So far, we've had over 1 million website hits and social media likes and views across Glass2Sand's digital media channels. All of this has been possible through the untiring efforts of the 350+ collection volunteers active on the Glass2Sand network and partnerships with 18 diplomatic missions and institutions in Delhi.
You've been named as a Young Leader for the SDG's, what does that mean to you?
In September 2020, I was selected by the United Nations as one of 17 "Young Leaders for the Sustainable Development Goals" from around the world for a two-year honorary appointment that recognises my contribution to SDG 11 "Sustainable cities and communities" through Glass2Sand. The appointment means a lot and gives me the ability to use my experiences to help galvanise and encourage the youth towards solving the world's most pressing challenges such as sustainability and climate change. I have been a keynote speaker at 25+ Global Conferences – a G20 side-event, a UN FAO masterclass & TEDx among others – encouraging solution-driven youth-led climate action.
You've also entered into the world of NFT's for art, can you tell us more about this?
I inherit an artistic gene from my mother and have been creating art since I was just a small boy. Despite being colour blind, I express myself through my artworks – paintings, sculptures, and sketches.
Most recently, my passion for art got intertwined with my interest in the ever-evolving world of technology, manifesting itself in my first ever NFT Collection, "Fabled Minds". A vividly curated collection of mystique paintings, photographs and sketches from over the years – powered by the Blockchain.
What are your plans for the future?
I continue to seek more avenues to further my solution-driven impact within sustainability and for the betterment of the climate. To this regard, I am actively working to amalgamate my interest in finance with my passion for sustainability. I will build on my learnings within Sustainable Finance from last summer at the Luxembourg Stock Exchange, where I worked as a summer intern and my time since joining JP Morgan Asset Management within Sustainable Investing & ESG as a Summer Analyst this summer.
What would be your advice for anyone starting the Management Science programme, things you wish you'd know then that you know now?
Try to make the most of your "on-campus" experience", be open to learning more things, and take full advantage of the broad topics covered in the Management Science programme to explore a wide variety of avenues rather than restricting yourself to one area exclusively, too early – this will allow you to understand your interests better and hopefully find your calling by the end of your course.