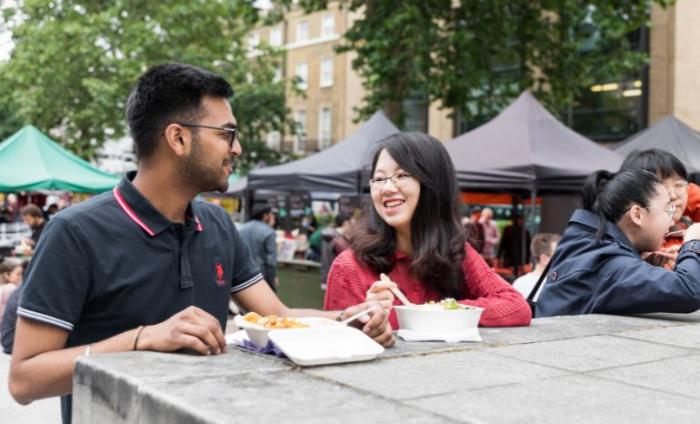 Do you like sports? Do you want to find people with similar interests to you? Do you need more experience to boost your CV? Whether you are about to start an undergraduate or Master's programme, joining a society, especially at UCL, is one of the most beneficial parts of university life for a wide variety of reasons. As one of the most diverse universities in the world with a whopping 42,000 students from 150 different countries, UCL has over 350 different societies so don't miss out on the opportunity to join them!
Finding People with Similar Interests, Faith and Culture
Perhaps one of the societies that people immediately want to join is the society related to their culture and/or faith. With people coming from a variety of different places, UCL has established societies that many can identify with. These include common societies such as UCL's Abacus (Association of British and Chinese University Students) society, American Society, and the Japanese Society. On the other hand, there are also societies such as the Endangered Language Society which may not be found elsewhere. In addition, you do not have to be from a specific place to join these societies. You can join them if you are interested in the culture, and sometimes there are even perks! For example, the Japanese Society offers free Japanese classes for all levels and organises experiences to immerse members in Japanese culture.
UCL also has a wide variety of sports societies including mainstream ones like Basketball, Football and Badminton to niche ones like the Brazilian Jiu-Jitsu Club or Aikido Club. Moreover, whether you are an expert or a complete beginner, you will always feel included! The sports societies cater to all experience levels and you will be matched up with people of a similar level during the trial sessions at the start of the year. Personally, I went to the trial sessions for both the Archery Club and Table Tennis Club and did not feel left out in either session despite being a complete beginner. These trial sessions are also entirely free to attend and you are under no obligation to join the club after the trials, so feel free to go to as many as you like!
Similar to the abundance of sports societies, UCL has clubs that cater to many different interests. These could range from a variety of activities including exploring London's bubble teas (Bubble Tea Society), weekly Pokemon quizzes (Pokemon Society), video game tournaments (Gaming Society), etc. Joining these societies is a great way to meet like-minded people and form friendships and let's not forget it also allows you to wind down and take a break from intensive studying.
Boosting your CV
Finally, societies have the added benefit of boosting your CV. By joining a society's committee, you will demonstrate that you have held a position of responsibility and developed leadership skills. There are also career-focused societies such as the Consulting Society, Law for All Society and Business Society which dedicate themselves to helping students on their desired career paths. This can range from CV workshops, networking events, talks from Alumni or guests from the specified career, and even practical experiences from projects sourced by the society committee. Especially when the job market is so competitive, joining these types of societies or becoming a committee member can be a good way to distinguish yourself from other candidates!
Closing Remarks
I hope that I have convinced you that joining a society has many benefits and that you should definitely join one! The ones I have stated are only a small fraction of countless societies that can be found on the Students Union Website. There is also the Society Fair that happens early in the year where students can look for and ask existing society committees about the society of their choosing.
Furthermore, if there is a society you want to join that does not exist, you can simply create your own! In the past few years that I have been part of UCL, there has been a variety of new societies such as the Pokemon Society, Asset Management Society, Bentham Brooks Society and many others. Just because there are already so many societies, doesn't mean there can't be more!