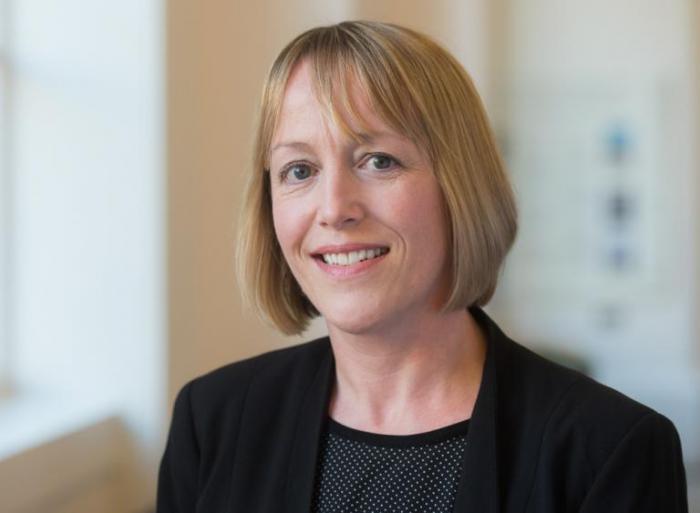 Celebrated annually on 08 March, International Women's Day commemorates the economic, social, political and cultural achievements of women around the globe. This year, the theme of International Women's Day is #EmbraceEquity and, over the coming weeks, we'll be sharing the stories and journeys of some of the incredible staff, students and alumni that make up the UCL School of Management community.
We recently caught up with Jackie Loveland, Head of Professional Services at UCL School of Management to find out more about her career in higher education. Jackie also discusses the ways in which women's roles in the workplace have evolved over the years and her first-hand experiences with Imposter Syndrome as a result of reaching senior management positions.
can you tell us a little bit about your professional background?
I started my career in retail management/HR and moved to education administration (initially at an adult education college), after taking a career break from retail. I am so glad I made this move, as I ultimately discovered a much more meaningful and fulfilling career within higher education. I was the first in my family to go to university and returned to part time higher education when I was nearly 40 to complete an MA at the Institute of Education.
I came to UCL after a former colleague informed me about the UCL School of Management Department Manager post and suggested I apply - it's very important to build and nurture your professional networks!
what have been your career highlights?
Achieving my first role in a prestigious university (within the Registry at King's College London) and then becoming a Department Manager at KCL's Department of Management in 2005. More recently, I'm proud to have played a part in developing a great professional services team at UCL SoM.
have you experienced any bias or gender-specific challenges throughout your career?
I'm glad to say that working life has changed very much for the better since I started my career in the late 80s! I remember that training on sexual harassment was just starting in the 90s, but was sadly regarded as either a joke or unworkable by some colleagues. The Equality Act of 2010 has made such a positive difference to the lives of everyone at work.
what career advice would you give to women that are just starting their careerS?
Try lots of different roles to gain experience, and then you will be able to highlight your diverse skills when you are interviewed. I started in a university quality assurance role and went on to become a PhD administrator in an interesting academic department (the Institute of Psychiatry) and then a teaching Team Leader in a life sciences faculty, before becoming a Department Manager.
how do you promote equality within the ucl school of management?
I would very much recommend taking advantage of all the training and development opportunities offered by UCL - they are excellent! I would encourage staff to access the UCL Organisational Development courses and online tools, Communities of Practice, coaching/ mentoring and secondments.
There is also the myriad of courses offered on LinkedIn Learning and you could speak to your line manager about taking up any training which you have sourced yourself.
research suggests that women in senior roles can experience imposter syndrome. have you ever experienced this?
Yes - when I became a team leader for the first time, it was a secondment to cover for a long-serving and very well-respected manager who was on sick leave, and I had my doubts that the team would take me seriously and accept me due to my lack of experience.
I overcame this by taking things slowly with them, getting to know them as individuals and gaining knowledge of each of their roles in the team, which finally helped me achieve more confidence in my new role.
how do you believe the ucl school of mangement advocates for equality?
I believe the School is moving in a positive direction with our strong EDI team. We have a Leading Diversity Scholar (Sunny Lee) acting as Deputy Director for EDI and also a dedicated professional services post-holder (Sinead Togher) to promote our initiatives, and they are developing an effective network with other EDI-focused roles across Engineering and the wider UCL.
Thank you, Sunny and Sinead, for all your efforts with this.