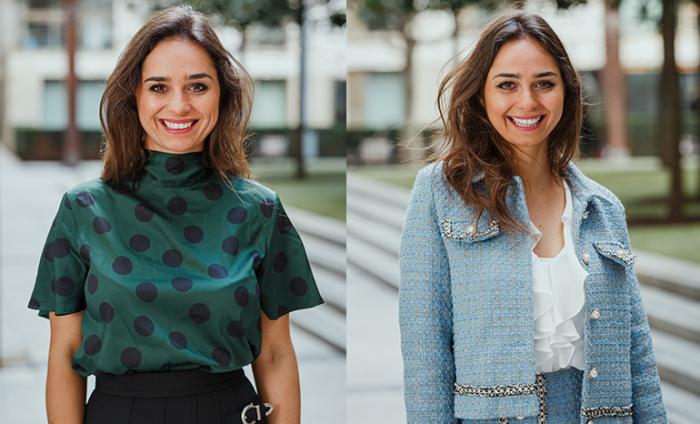 As Women's History month drew to a close, we caught up with our highly successful alumnae, Joyce and Raissa de Haas, to reflect on their time as MSc Technology Entrepreneurship (now MSc Entrepreneurship) students, the reality of working as twin sisters and how UCL Bright Ideas assisted in taking their internationally prosperous business, Double Dutch Drinks, from concept to reality.
Joyce and Raissa's venture, Double Dutch Drinks, is an award-winning company selling a range of tonics and mixers through retailers in 24 countries worldwide. The twins have been busy securing over £5 million in funding, and they have also sold significantly more than 10 million bottles in the five years since their launch.
Nonetheless, they were able to give us some insight into the value of their time with us, serving their products in Buckingham Palace, and their thoughts on the sudden uncertainty COVID-19 and Brexit bring to the drinks industry.
FOR THOSE WHO AREN'T FAMILIAR, CAN YOU SHARE A BRIEF INTRODUCTION TO DOUBLE DUTCH?
Raissa: Originally, we are from The Netherlands, the home of gin and also our inspiration for Double Dutch. The idea started to take shape when were students at the University of Antwerp. We regularly threw parties and always encouraged friends to bring different spirits for which we would create our own mixers with ingredients we could easily source. We started making our own mixers after becoming more and more frustrated by the fact that while the choice and quality in spirits kept growing, the mixers designed to accompany the spirits remained bland and unexciting.
Joyce: We really enjoy working together. Getting to work with my twin is one of the best and easiest parts of my job as it's great to have someone to honestly and openly discuss ideas with. When you work with your twin, you don't worry about stepping on one another's toes - you say what you feel. And if you don't agree, you know in 10 mins that you'll either make up or find a solution. It's nice to celebrate the good times together and lift each other up through the difficult time
Why did you choose to study a master's in Technology Entrepreneurship at UCL School of Management?
Joyce: We both did our Undergraduate and first Master's degrees at the University of Antwerp - I did a BSc and an MSc in Finance and Raissa in Economics. When we graduated, we started working in finance and banking, but it didn't really suit us.
Raissa: We felt that it was too corporate. We were only 21 and wanted to get out and explore the world a little more, study abroad and focus on something that was more practical rather than theoretical. We had spent our first Master's studying the purely academic side of things and it was time to get our hands dirty!
Joyce: We knew that we wanted to start our own business at some point further down the line and so we thought that an MSc in Technology Entrepreneurship would the perfect way to get some more practical experience while still at university.
What did you enjoy most about the programme and what was the most challenging?
Raissa: We loved meeting a variety of people from different backgrounds and nationalities on our course. Everyone was motivated to get the most out of their studies, and it was great to be able to study in an environment like that. Every single course we took prepared us for real-life situations and each assignment was based on our own ideas and business plans. We were glad that none of the modules were about random case studies that were unrelated to what we were trying to build – it was all about exploring our own business ideas.
Joyce: Although the degree was great for us, we did find it challenging at the time. We had to keep developing our idea on a weekly basis. Of course, in the end, this was the best thing for us as it helped us to develop our plans and think through every decision so that it had a chance of succeeding in the real world, but that's not to say it wasn't difficult.
What advice would you give to any current or prospective students?
Raissa: I would say that students should use their MSc to explore whether they have a viable idea for a business. If you take every course seriously and make the most of it, by the end of the year you will have a business plan that is pretty much the basis for your start-up.
Joyce: It is also well worth taking advantage of all the resources available to you while at university. They are free while you are studying and so it's a great time to capitalise on all the research papers and industry market data that you can get your hands on. Your professors are also a great resource, and most will be willing to help and offer advice. We found the School to be very supportive with helping us set up focus groups and also helping us find funding through government grants and start-up competitions.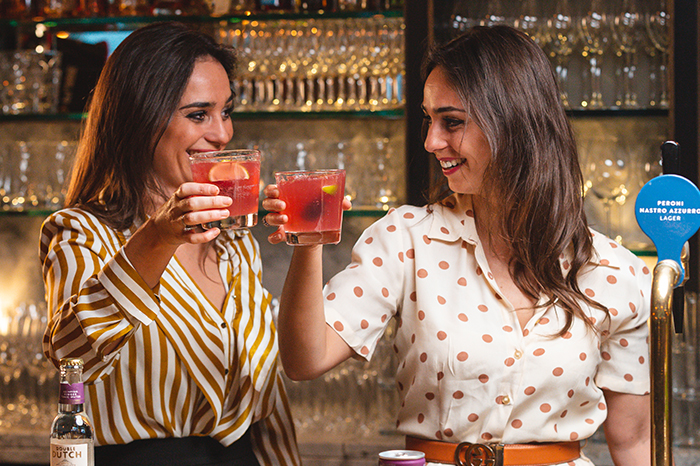 What was the startup journey like for doubledutch?
Raissa: Receiving the UCL Bright Ideas Award for most promising start-up really helped take our business from concept to reality, as we received our first cash investment, free office space for the year and mentorship. We launched our first products in 2015, and in the same year we received the Virgin Foodpreneur Award from Sir Richard Branson for most innovative and disruptive food and beverage product in the UK. This really gave us the confidence and encouragement to keep on going.
Joyce: We started entering more awards and taste tests and received the award for Best Adult Soft Drink at the World Beverage Innovation Awards in 2016. It was great that the industry was responding positively and recognising the quality of our products. All this helped create credibility for us and the business. A real highlight for the business was securing our first national retailer, Waitrose, and being featured last year in 'Forbes 30 Under 30 Europe Retail and E-commerce List.' It's been a rollercoaster!
were there any parts of the programme that you've found particularly useful as you've built the company?
Raissa: There isn't one particular thing that we learnt that defines how useful our studies at the School of Management were – instead it was the process in general.
Joyce: One year at UCL prepared us for pretty much everything – from raising investment (going from valuations, shareholders agreements, etc.) to building marketing plans and a social media presence. Even hiring our first team members was covered! There wasn't one stone left unturned when it came to our studies and preparations at UCL for running a business.
What has been most rewarding and most difficult aspects in founding Double Dutch Drinks?
Raissa: One of the things we found the most rewarding was developing a product that almost a million people every month enjoy! We love seeing it random places that we wouldn't expect – like on holiday or when we got the opportunity to serve our drinks at Buckingham Palace!
Joyce: One of the most difficult things about running our own business is that there are so many ups and downs. The current climate with COVID-19 is a perfect example of this, and what is happening right now has thrown us a curveball. It's probably one of the most challenging times for Double Dutch at the moment. We rely on on-trade for 70% of our business, and this has now gone on lock-down, so we have had to adapt our business model really quickly.
Raissa: Before COVID-19, our challenges were finding a balance between innovation and coming up with new products while staying efficient on the operational side of the business. We had to make sure that we had enough working capital and cash flow while making sure we stayed ahead of the curve with our products – no mean feat!
Tell us one of your highlights and some of the key lessons you have learnt so far?
Joyce: One of the key lessons we learnt was hiring for the future, and not for the immediate need. Finding the right people to fit into our Double Dutch family while we double our sales team- not easy. You have to stay focussed on what your vision is for the company and how you are going to get there. Building the perfect team who all share our dream for long-term growth takes time and that is always in short supply!
Raissa: I don't think there is one highlight that stands out, apart from starting up. We try to celebrate every achievement along the way, big and small. Some of our key moments have included raising funds from an amazing team of investors, selling our first million bottles, then 10 million and soon we hope to celebrate 50 million. Securing our first national retailer, Waitrose was a huge milestone with other big days including being recognised by 'Forbes 30 under 30' and Richard Branson.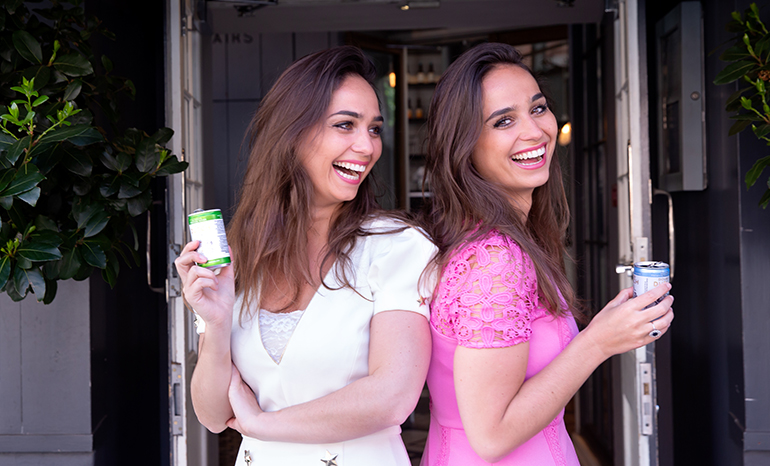 will there be changes to the way Double Dutch Drinks operates in 2020 in light of COVID-19 and brexit?
Joyce: Definitely – we have had to change our business model in a huge way as we have been affected by both the Coronavirus and Brexit.
Raissa: We are now moving very much to digital and online sales and changing the way we work. Previously, we had focussed on selling to the on-trade, but now we are now concentrating on offering support to this sector of the market. One of the positives in all of this is that it's great to see the industry is coming together – it's a glimmer of hope during a really tough time!
Joyce: The postponing of Brexit was a little different as we had more time to prepare for this. We set up a production plant and warehouse facility in Europe and in South Africa so that we can keep our UK operations separate from Europe and the rest of the world.
Do you have any advice for fellow entrepreneurs?
Raissa: The biggest piece of advice I can give is to just go for it – your product doesn't have to be 100% perfect, just get it out there! When we launched our debut mixers 'Pomegranate & Basil' and 'Cucumber & Watermelon' - we saw it as an experiment which meant that we were open to change and ready to take feedback on board to match our customers' needs.
Joyce: It can be discouraging to get criticism or bad feedback, but it's important that you don't take it personally. Customer feedback is the most valuable feedback there is, so if your product doesn't work listen to your customers and make the necessary adjustments – it's a win-win situation.
How important has the continued connection to UCL been since graduation?
Raissa: We have found that it's very important to stay connected to the School of Management ecosystem and UCL as a whole. Both have a huge network and it's great to see how different people from across the university can help each other.
Joyce: UCL still helps us with our networking and putting us in touch with the right people. We are also very lucky that they still send us resources like relevant data for example. I think it's great as we can all help raise each other's brand awareness. UCL has definitely been critical to our success.
Are there any interests or opportunities you are open to getting involved in?
Raissa: We would love to get involved with mentoring sessions and speaking events at UCL. Equally, we are happy to set up an intern scheme with the university and help out that way.
Joyce: In terms of our own initiatives, we are excited to have launched a scholarship for up-and-coming female talent in the drinks and bar industry. We are going to offer support through training, mentoring and financial support for skilling-up. The drinks space is very male-dominated, and we are proud to be part of the movement working to change this.
Raissa: As part of the programme, we are going to partner with several well-known bartenders to provide invaluable hands-on training and share their industry knowledge with the selected female candidates. We are also going to offer some of our own hard-learned lessons as inspiration to the successful applicants!
Double Dutch mixers and tonics are available in seven different flavours, made with the most refined, natural ingredients. They contain no artificial flavouring, colouring or preservatives. Why not try out some of our alumnae's creations at your next virtual Happy Hour, with delivery straight to your door and currently with a £5 donation to the NHS with every order?
To find out more, please visit Double Dutch Drinks
Learn more about the degree programme Joyce and Raissa studied - our MSc Entrepreneurship.