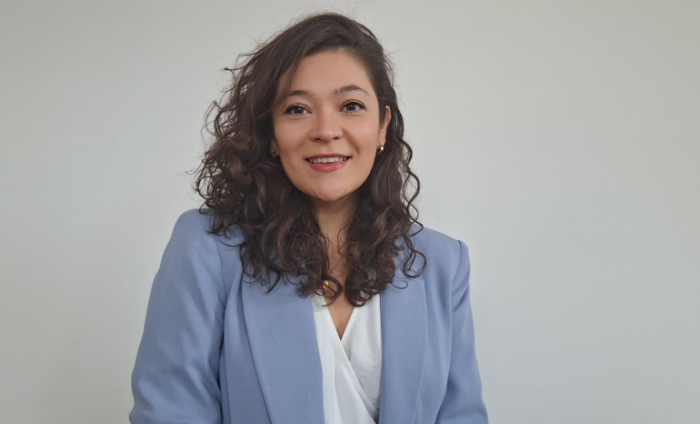 In 2018, Alejandra García graduated from the UCL School of Management's MSc Business Analytics programme and has since launched her incredible career at Zalando, an online retailer specialising in beauty, fashion and footwear.
Currently the company's Head of Product Management and Analytics, Alejandra recently featured in a panel at Zalando's internal Women in Tech event to discuss the advice she would give to women just starting a career in the tech industry. We recently caught up with Alejandra to find out more about her passion for science and technology, as well as her career journey so far and the tips she would give to those wanting to break into large organisations.
tell us about yourself
I was born and raised in Mexico and pursued my studies in Industrial Engineering, completing a minor in Supply Chain in France during my second year. After some years of experience in the fast-moving consumer goods (FMCG ) industry, I made the decision to further my education in London. I am proud to hold an MSc in Business Analytics from UCL School of Management.
My interest in science and technology has always been there. However, I also enjoy driving business decisions and establishing strong connections with people. I enjoy creatively solving complex and analytical problems using technology, which is why I have chosen to pursue a creer in Product Management. In addition to my professional pursuits, I find joy in dance, photography, travelling, and exploring diverse cuisines from around the world.
How did your career at zalando come about?
Zalando, a dynamic and rapidly expanding company in the fashion industry, first caught my attention five years ago. Recognised for its strong growth and commitment to leveraging technology, Zalando has emerged as a frontrunner in shaping the future of fashion. Throughout my tenure at Zalando, I have had the privilege of exploring diverse roles encompassing planning, analytics, and product management. This journey has empowered me to acquire knowledge, as well as collaborate with very talented teams and spearhead transformative initiatives.
Over the past three and a half years, my focus has been on crafting innovative B2B and applied science products. These solutions have improved our decision-making processes in critical areas such as demand forecasting, automated replenishment, assortment segmentation, and risk management.
what does a typical week look like for you in this role?
What I love about product management is that it offers a dynamic and ever-changing environment where each week brings new challenges and opportunities to explore. My role involves a wide range of tasks, including creating strategies to deliver incremental value to customers, developing tech and analytical solutions with applied science, engineering, and product design teams, or connecting with brands and stakeholders, making each week unique and exciting.
have you always been interested in tech?
Yes. Throughout my life, I have always had a keen interest in science, business, people and arts. I firmly believe that technology serves as a powerful medium to connect all these diverse fields together.
what is the gender split like in your current industry?
Amazingly in 2023, there is still a lot to do in order to achieve fair representation for women across all industries and areas - especially within the world of STEM. Women represent 48% of total Zalando employees. Our goal is to reach 40-60% of women in the Top 5 leadership levels and in all of our tech roles.
To support this objective, I have been actively involved in a number of initiatives since I joined the company in 2019. As a member of the Zalando Women's Network, we aim to raise awareness about the needs of women in STEM and create opportunities for them to connect, learn, and grow. Additionally, I prioritise recruiting, hiring, mentoring, and developing women to level the playing field and foster equal opportunities for all.
what advice would you give to students who are trying to break into these big companies and industries?
1. Be open to different opportunities. Finding the 'dream job' on your first try is very hard. It's therefore important to be constantly open to change and to actively look for opportunities that can help you develop the core skills and experience that you need.
2. Communicate with your line manager. Always be vocal about what you enjoy and what you expect from your manager, but also be very open to feedback and work on it.
3. Be curious and keep challenging yourself. Tech and STEM fields are areas that constantly change and it is important to keep learning.
4. Have fun and enjoy the ride! The tech industry is full of exciting challenges, opportunities and innovation, so enjoy it!
have you got any exciting proejcts coming up?
I recently moved to the 'Size and Fit' team, which develops in-house solutions to provide size advice to customers. By combining human expertise and technology, such as machine learning and computer vision, we help customers to find the right size the very first time.
I am excited to work on this customer problem, which is a challenge for the whole industry, and find solutions that can satisfy not only our customers, but our partners and internal teams also.
Find out more about UCL School of Management's MSc Business Analytics programme.