Immersions and orientations
Maximise in-person interactions – and your network
Our MBA programme is intentionally people-focused, bringing together minds from around the world to have powerful conversations about 21st-century business challenges.
Our on-campus orientation and immersions are a valuable opportunity for you to take those conversations to the next level – and connect with your peers and academics in an entirely new way.
"Our students come from all over the globe, which makes the orientation and immersion experience so powerful. When everyone comes together in London, it's amazing to see how the connections they make with their peers extend beyond the digital campus."

Eugene Washington Walker​
Teaching Fellow/Immersion Coordinator
Orientation
The three-day programme orientation is designed to familiarise you with UCL and members of your cohort. You'll spend time at our Bloomsbury campus, as well as our home in Canary Wharf. You'll also meet your support team, from senior management to teaching faculty and professional services.
It is our hope that you'll emerge from orientation with a deeper understanding of the programme, UCL's legacy and the dedicated systems in place to help you throughout your MBA journey.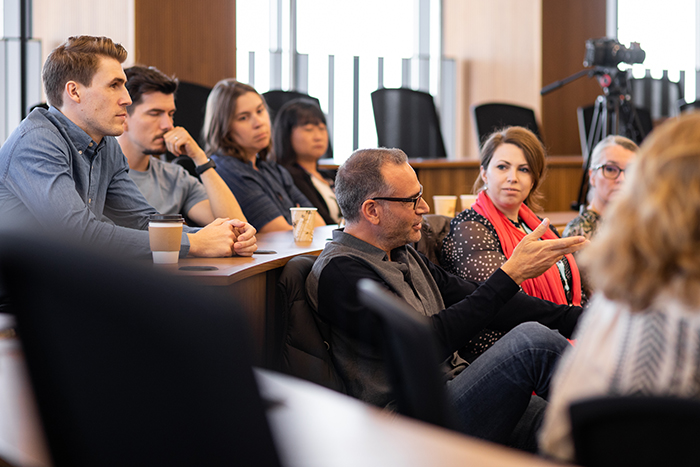 Immersions
Four-day immersions take place periodically throughout the year and allow you to collaborate with peers from all kinds of industries, in the heart of London's financial district.
Immersions serve as a personal and professional development summit. You'll gain key insights into executive-level leadership challenges through experiential learning activities tailored to you and led by our faculty, researchers and other professionals.
In addition to networking with your cohort, UCL School of Management faculty and London-based business leaders, you'll participate in leadership development training, workshops and reflections to help you drive lasting change in your organisation.
Orientation and immersion fees
Students who wish to attend orientations and immersions are responsible for all travel and accommodation fees associated. These costs will vary depending on personal travel and incidental preferences.
Depending on the content covered and activities scheduled, some immersions may require additional fees of up to £500 on average (fees may vary depending on country of origin).